IRS Commissioner John Koskinen said Tuesday that his agency's policy is not to allow any use of personal email for work, and said he learned about that policy almost instantly when he sent a few work emails to his personal account in order to work from home. He said IT workers at the IRS talked to him about those emails "within a couple of days."
In contrast, former Secretary of State Hillary Clinton spent more than four years at State using her personal email, and working with her top aides who also used their personal email. But instead of putting a stop to that practice, the State Department accepted it, and only recently became aware that Clinton may have been holding onto some work-related emails that she never gave back to the government.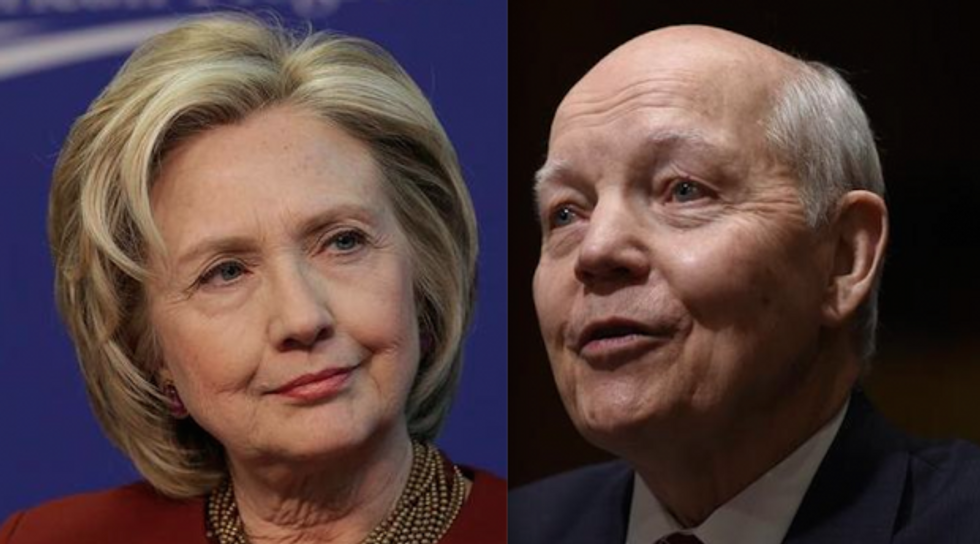 A tale of two email systems. Hillary Clinton was allowed to use her personal email for years, while it was notice almost immediately when IRS Commissioner John Koskinen sent a few work items to his personal email. Images: Win McNamee/Getty Images, AP Photo/Susan Walsh
The two very different stories seem to reveal that vast differences that can exist between how different federal departments handle email, but may also reflect the State Department's deference to Clinton.
Koskinen was asked questions about email policy at a Washington, D.C., speech on Tuesday, and said IRS policy is clear that workers are not supposed to do any IRS business with their personal email.
"We monitor our systems regularly for security purposes, [as] I discovered early, I mean very early in my career, when I was preparing testimony and I wanted to work at home," he said. "I sent the testimony home to my home computer so I could print it out and edit it."
"Within a couple days, I had a visitor from IT security noting that I had been sending a couple emails to my home computer," he said. "They assumed, correctly, that I was actually trying to edit my testimony, and they therefore gave me a computer and a printer for home from the IRS so that I would have my account available to me at home, because in fact, our strong policy is you can't do personal business on your personal email account."
Koskinen said that experience gives him the impression that even if some of the 87,000 IRS workers are trying to use their personal email for work, they won't get away with it for very long.
"I can guarantee we're keeping a close watch on it, and if somebody is doing it, they'll hear from us pretty soon," he said.
In Clinton's case, the former secretary of State said she was allowed to use her personal email out of "convenience," and said she often wrote to people with a state.gov email address. She said that practice would ensure that all work-related emails get archived.
But the State Department later confirmed that until very recently, most State Department officials weren't required to archive their emails, and that it was left to each employee to do that. As a result, Clinton may have sent emails that were never archived by anyone.
In addition, it was later reported that some of her top aides were also using personal email, apparently without anyone at State telling them they could not.
As a result of the slipshod archive system at State, the department announced last week that it would start a review of how it keeps records and how it maintains control over work-related emails.