© 2023 Blaze Media LLC. All rights reserved.
Report: Hillary Clinton's underlings were also using personal email at the State Department
The New York Times reported Monday that former Secretary of State Hillary Clinton wasn't the only one using her personal email for work, and that some of her top aides were also doing the same thing.
The revelation is the latest twist in the ongoing effort to figure out exactly what emails Clinton and her team may have withheld from the State Department when the left office in 2013, and whether any of those emails shed any light on the administration's reaction to the 2012 Benghazi attack.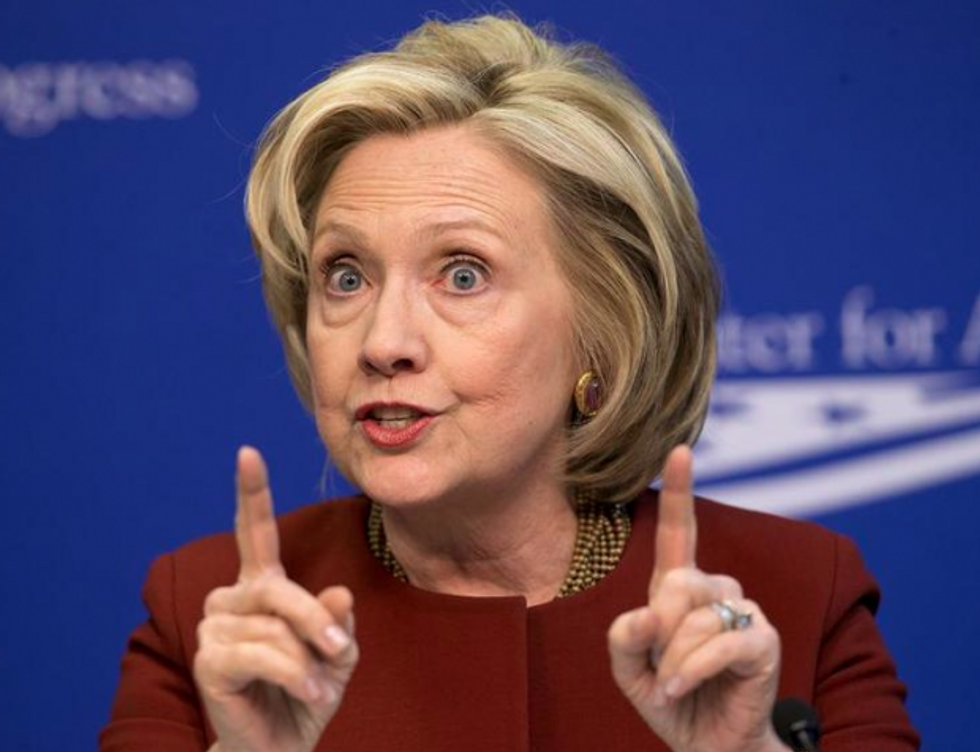 Hillary Clinton reportedly received work emails from State Department officials who used their own personal emails, raising new questions about how difficult it might be to collect potentially missing email information about Benghazi. Image: AP Photo/Pablo Martinez Monsivais
Clinton said earlier this month that she routinely used her personal email to do work, but routinely copied in people with "state.gov" email addresses, which she said would ensure they are archived by the government. But by the middle of the month, State said that wasn't a fool-proof plan, since emails that get sent to and from those government email addresses aren't automatically archived.
According to the Times, the issue appears to be even stickier, because some of her top aides also used their personal email addresses for work. That could mean some of those officials also have information or past notes from Clinton dealing with Benghazi or other issues that have not yet been seen by Congress.
When asked about this new glitch on Monday, the State Department only repeated that it is up to each official to ensure their work-related emails are archived.
"Each of the individuals that are referenced in the story had a State Department email, as you all probably are well aware," said spokeswoman Marie Harf. "There are times employees use personal email addresses for work. We said there are ways people can take appropriate steps to preserve those records."
But she also indicated that the department is trying to track down any emails that were possibly lost.
"The State Department sent a letter earlier this month to a small group of current and former employees whose emails have been subpoenaed by the Select Committee, in which we asked for any records in their possession," she said.
That's a reference to the Select Committee on Benghazi, which first uncovered the existence of Clinton's trove of personal emails, and has been pressing Clinton to turn over her personal server. Late last week, Committee Chairman Trey Gowdy (R-S.C.) threatened that Congress could take some action to compel Clinton to turn over the server if she doesn't do so voluntarily.
Want to leave a tip?
We answer to you. Help keep our content free of advertisers and big tech censorship by leaving a tip today.
more stories
Sign up for the Blaze newsletter
By signing up, you agree to our
Privacy Policy
and
Terms of Use
, and agree to receive content that may sometimes include advertisements. You may opt out at any time.