Think one of the world's best-selling singers can nail "The Star-Spangled Banner"?
Think again.
Vince Neil, former vocalist of the glam metal band Mötley Crüe and owner of the Arena Football League's Las Vegas Outlaws, performed the national anthem at the Outlaws' debut game Monday night.
He appeared to be very drunk and unable to stick to a single key.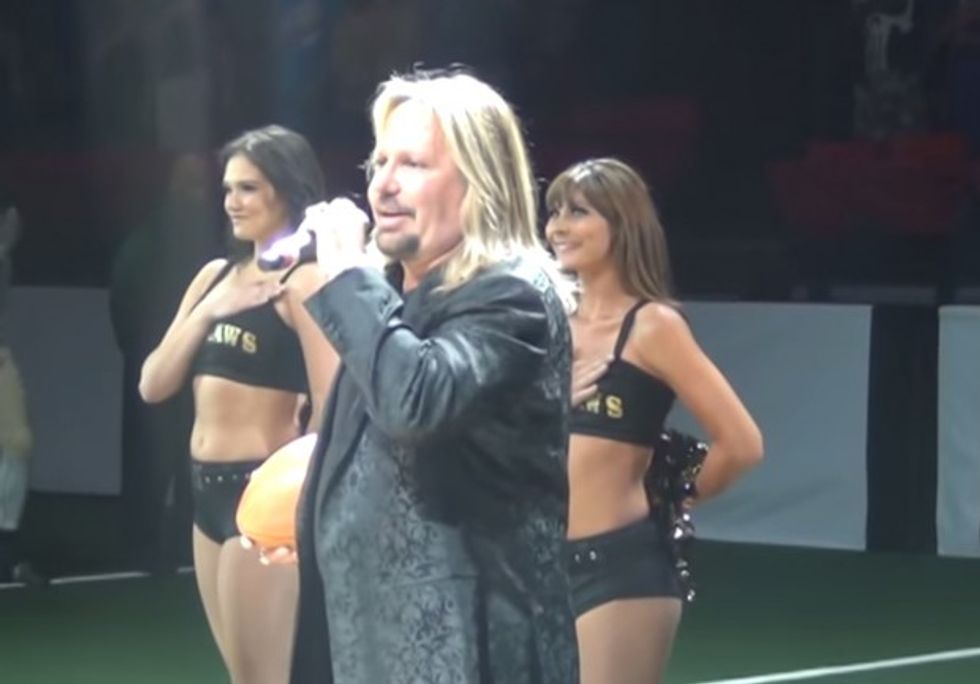 Image via YouTube
Watch the sloppy performance below:
Reactions to the performance were decidedly negative.
"This video has more fails than the whole Internet," wrote one commenter on YouTube, while another chimed in, "That was almost as bad as Roseanne Barr."
"I'm sure his intentions were good, but his execution bordered on disrespect," wrote YouTube commenter Rich Johnson, who claimed to be at Monday's game. "He clearly didn't rehearse. He looks about half in the bag. To say he phoned it in is to disrespect phones."
Johnson noted that the game itself was a good time.
"Thanks, Vince, for bringing AFL back to Vegas," he wrote. "But please never try the anthem again."
Of course, while some may deem Neil's apparently drunken performance disrespectful, it's worth noting that "The Star-Spangled Banner" was, in fact, set to the tune of an old English drinking song.
—
Follow Zach Noble (@thezachnoble) on Twitter