They put the "super" in "super sticky."
After staring at blank, boring office walls for months, Reddit user bruck7 decided to do something about it, so he designed a massive, intricate, temporary cure for drabness: Post-it superheroes.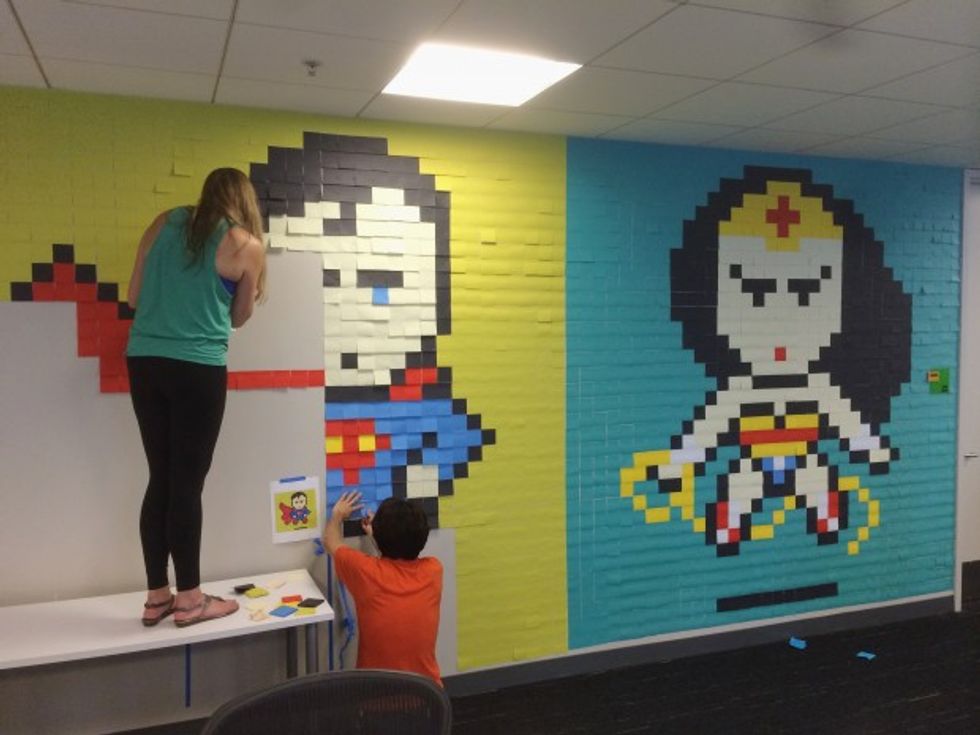 Image via imgur
Bruck7 planned for weeks and wrangled his entire office together for a full Saturday of sticking the walls.
The results were brightly colored masterpieces — watch them come together below:
The Shop SF_Superhero Post-It Mural from Ben Brucker on Vimeo.
On Reddit, commenters reacted to the massive murals with a mixture of envy and admiration.
"Drab office places are the worst," wrote one commenter. "In some offices, you can just feel the energy drain as you enter the building. Good job on helping make the world a better place!"
"Where do you work that you get to drink beer and put up post-its?" asked another. "I want your job."
Chimed a third commenter, "As a 3M shareholder [I'd] like to thank you for your purchase of a million post it notes."
Bruck7 noted that the project was a group effort and that it was long-needed at his company — a creative agency.
"I think I could say each was kind of my favorite while creating," Bruck7 wrote online. "As I got to each one, I realized they each needed something special, and each had a problem to solve. Spiderman's pose, Batman's belt, boots and bat symbol, Iron Man's mask and armor...they were all fun to do!"
See the full gallery of Post-it superheroes below:
—
Follow Zach Noble (@thezachnoble) on Twitter