Famed magician Penn Jillette clashed with conservative attorney Kristen Waggoner over the controversial religious freedom laws that have been passed in Arkansas and Indiana during a Wednesday night appearance on "CNN Tonight," with Jillette proclaiming that those opposed to same-sex unions are "not being asked to engage in gay sex or even endorse gay sex."
Addressing the balance over passing laws that protect religious freedom verses taking into account fears that these measures will allow businesses to discriminate against gays and lesbians, Jillette said that he's personally conflicted.
"I don't want to misrepresent myself as an expert, but there is more to gay sex than cake and flowers. These people are not being asked to engage in gay sex or even endorse gay sex," he said. "They're being asked to sell flowers and cake to people."
He continued, "Now, I'm a libertarian and an atheist, so I'm kind of fighting myself on this. I don't like the government involved in telling people what to do, and I certainly want people to have religious freedom."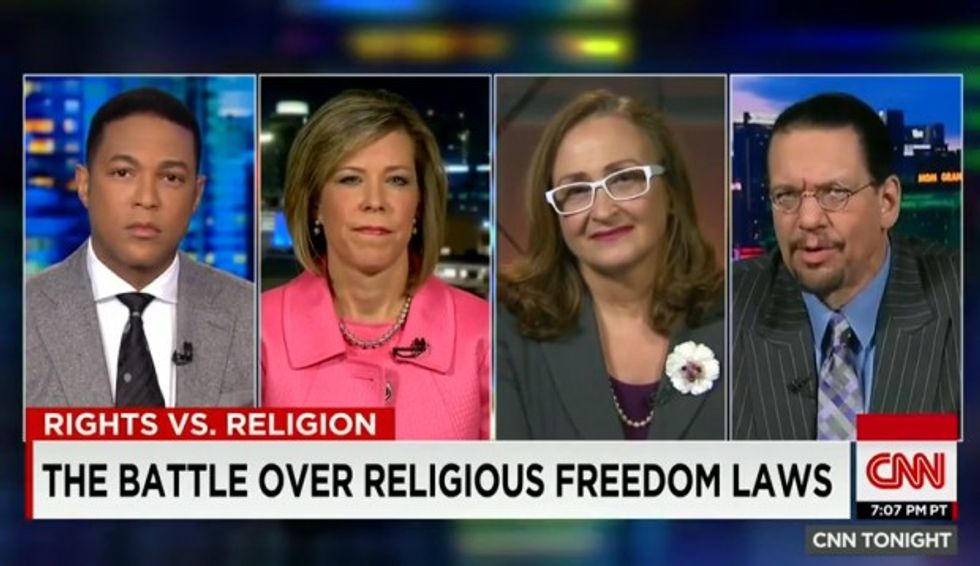 CNN
That said, the magician noted his opposition to businesses refusing services to gays and lesbians.
"We have to make sure we don't get too crazy in the hypotheticals. We are not talking about forcing people to engage in gay sex," he said. "It's okay — I suppose, although goofy — to be against gays, but it's not okay to be against people that simply want to use your services as a business."
He made these comments after Waggoner, an attorney with Alliance Defending Freedom, decried many of the "absurd hypotheticals" emerging in the debate over religious freedom laws "mere conjecture," and said that these measures "actually benefit all Americans."
"They benefit all faiths in all different contexts," she said. "It's about ensuring a fair process, regardless of what the facts and circumstances are of a particular case."
But CNN host Don Lemon challenged Waggoner to explain why provisions banning business discrimination against gays and lesbians weren't initially included in the laws if, indeed, they weren't about restricting services to that population.
"What is un-American is not to allow everyone to have the same rights," Lemon said. "That's what is un-American here."
And Rita Sklar of the Arkansas office of the American Civil Liberties Union said that she believes the laws are "about fear."
Watch the segment below:
(H/T: Mediaite)