More than 90 percent of Americans believe that Jesus Christ was a real person and nearly six-in-10 endorse the biblical sentiment that he was God, according to a new report released by the Barna Group.
And with 56 percent claiming to believe that Jesus was Lord in human form, it's interesting to note how people responded when asked whether they believe he committed any sins.
While 52 percent said that Christ likely committed sins during his time on earth, 46 percent rejected this notion, showing a starkly divided populace.
In the end, the research showed that, despite claims by some that religion is waning, the majority of Americans remain predominately committed to Christ.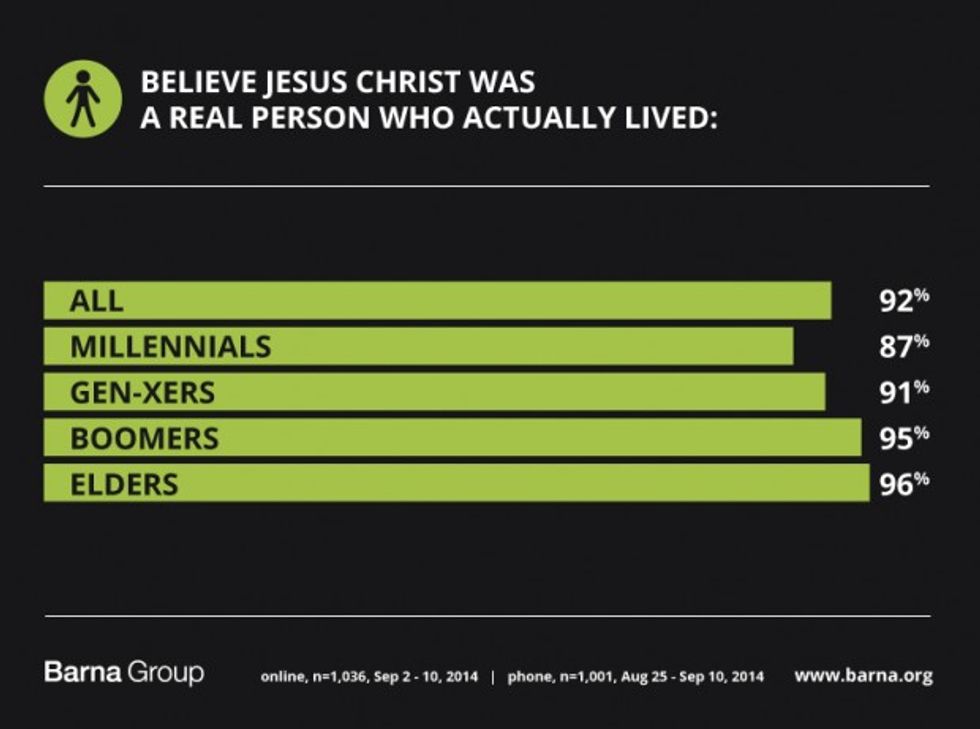 Barna Group
"On the whole, America is still committed to Jesus," Barna explained. "The act of making a personal commitment to Jesus — often seen as the 'first step' in becoming a Christian — is a step that more than six in 10 Americans say they have taken and, moreover, that commitment is still important in their life today."
Two out of five Americans are considered "born-again Christians" in that they have deemed themselves sinners and embraced Jesus' salvation message. Among those who have committed to Christ, 63 percent believe that they are heaven-bound after they die due to their confession of sins and faith in Jesus.
Interestingly, when comparing subgroups, it appears that the more money someone makes, the less likely he or she is to have made a commitment to Christ.
"Those making more than $100K per year are significantly less likely (53%) to have made such a commitment than those making between $50K and $100K (63%) or those making less than $50K (65%)," Barna reported.
Overall, there are also some important considerations surrounding Millennials — born between 1984 and 2002 — who are somewhat less likely to believe that Jesus actually lived (87 percent versus 92 percent of the general public); only 48 percent believe that Jesus was God (compared to 56 percent of the general population) as well.
What do you think? Do you believe in the divinity of Christ (i.e. Do you believe that he was God?)? Take the poll below:
--
Front page image via Shutterstock.com.