Story by the Associated Press; curated by Dave Urbanski
WASHINGTON (AP) — Congressional scrutiny and approval of any nuclear agreement with Iran are essential and will help ensure the deal isn't a bad one, the chairman of the Senate Foreign Relations Committee said Sunday.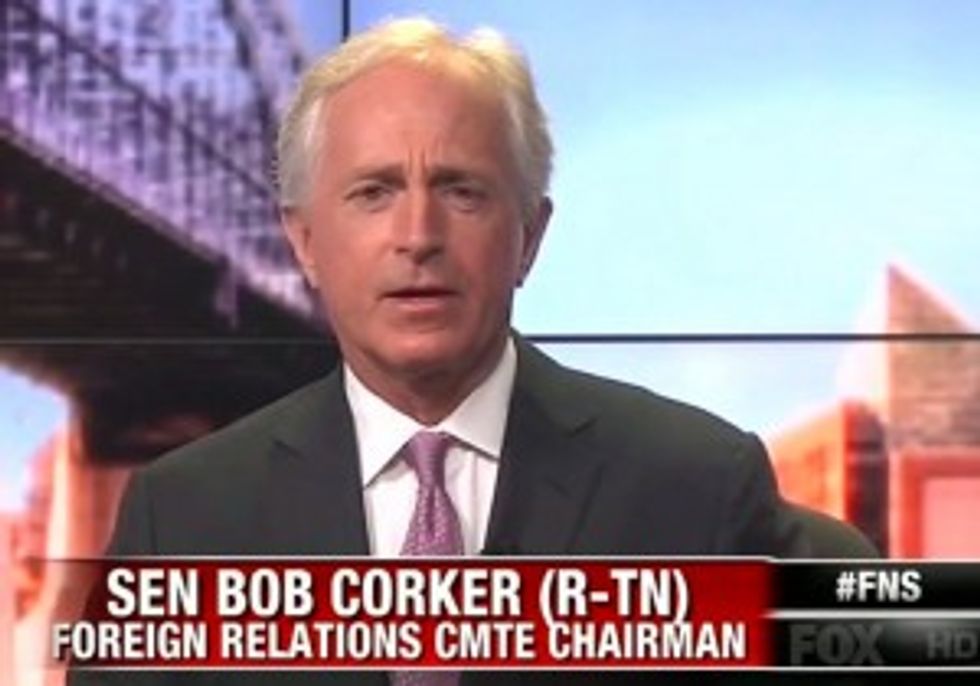 Image source: YouTube
Sen. Bob Corker, R-Tenn., said Congress has a responsibility to scour the details of a final plan — including any classified annexes — ask the Obama administration hard questions and then vote on it. Negotiators announced on Thursday a framework deal, which would be finalized by June 30.
"It's very important that Congress is in the middle of this, understanding, teasing out, asking those important questions," Corker said.
Speaking on "Fox News Sunday," Corker sought to counter President Barack Obama's assertion that partisan politics in Washington could derail the landmark agreement to curb Iran's bomb-capable nuclear technology.
Congressional oversight "doesn't mean there won't be a deal," Corker said. "We just set in place a process to insure that if there's a deal, it's a deal that will stand the test of time, that will keep Iran from getting a nuclear weapon."
The Senate Foreign Relations Committee is scheduled to meet April 14 to consider Corker's legislation to ensure that Congress debates and signs off on any pact. The bill requires the president to transmit, within five days of reaching a final deal, the text of the full agreement along with materials related to its implementation.
[sharequote align="center"]The deal gives Tehran quick access to assets and markets now blocked by international sanctions.[/sharequote]
With key elements still to be finalized, the framework agreement sealed by U.S.-led world powers describes a program for stunting Iran's capacity to produce nuclear weapons while giving Tehran quick access to assets and markets now blocked by international sanctions.
In defending the framework and a potential final pact, U.S. Energy Secretary Ernest Moniz cited what he called "unprecedented access and transparency" into Iran's nuclear activities that will allow the U.S. and its partner negotiators to know almost instantly should Iran try to evade the oversight. This is a long-term arrangement, he stressed, with requirements lasting a quarter century or longer.
"We'll have eyes on the entire supply chain of uranium," Moniz said on CBS' "Face The Nation." ''Going back to mines, the mills, we'll have continuous surveillance of centrifuge production."
Israeli Prime Minister Benjamin Netanyahu has criticized the framework as deeply flawed and a threat to Israel's very existence. He is urging negotiators to improve the agreement or scuttle it.
Other Republicans have echoed Netanyahu's concerns. Sen. Lindsey Graham, R-S.C., said Sunday the proposed deal is a bad one — but it was the best one Obama could get because the Iranians don't fear or respect him. Graham said he favors waiting until a new president, Democratic or Republican, takes office in January 2017 and then trying again. In the meantime, economic and financial sanctions would stay in place.
"Is there a better deal to be had? I think so," Graham said on CBS' "Face The Nation."
But a senior Senate Democrat, Dianne Feinstein, warned that bashing the proposed deal could backfire on Netanyahu. The Israeli prime minister and other critics of the framework agreement have offered no viable alternatives, she said on CNN's "State of the Union." Feinstein said imposing more and stiffer economic sanctions would only drive Iran's nuclear program deeper underground and make it more difficult to monitor.
"I wish he would contain himself," Feinstein, the top Democrat on the Senate Intelligence Committee, said of Netanyahu.
Here's Corker's interview with "Fox News Sunday":
—
Follow Dave Urbanski (@DaveVUrbanski) on Twitter