A Utah man driving to work last week received the surprise of his life when a large orange bag fell onto the highway ahead of him.
"He just swung the door open like that. And a bag fell out," Kennedy told KSL-TV. "It looked like a big orange garbage bag."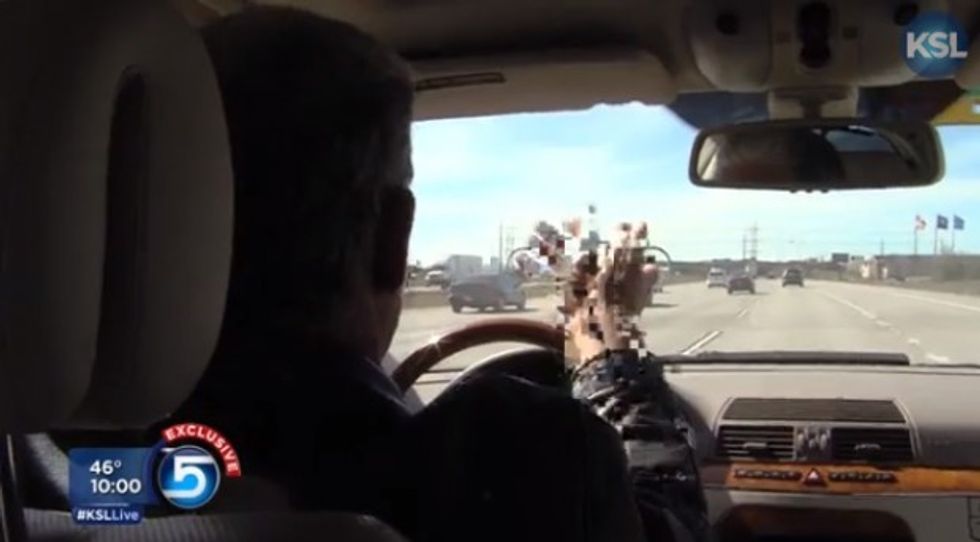 Image source: Screen grab via KSL
Worried that the item might pose a risk to fellow commuters, Dan Kennedy stopped on the stretch of highway near the Salt Lake City International Airport to move the bag off the road.
What happened next, he couldn't believe. The bag was full of cash.
"Holy smokes! This is a big bag of money," Kennedy told KSL. "I would have liked to think there was a million dollars in that thing."
[sharequote align="center"]"I would have liked to think there was a million dollars in that thing."[/sharequote]
Kennedy placed the large bag in his trunk and made a pit stop.
"I had to show a couple of people at work. I said guys you wouldn't believe this. Check this out," he said.
After taking a few photos, Kennedy called authorities.
"It was just wads and wads of very cleanly stacked, very, very expensive $50s, $100s and so on. There was a lot of money in there," Utah Highway Patrol Trooper Brady Zaugg told KSL.
"I've seen a lot of crazy things, but this is one of them. This is one I won't forget," he added.
"That sack of money was sitting there, and they all just kind of just looked at it stunned for a minute," Kennedy said of the troopers' reaction. "They all stepped back and watched."
Zaugg applauded Kennedy for doing the right thing and contacting police.
"He hadn't disturbed it at all, so he obviously did the right thing for the right reason. … It's not like he had to sit and have that moral dilemma. … He didn't sit and dither on it. He immediately did the right thing," Zaugg told KSL.
It wasn't clear exactly how much money was in the bag, authorities said. Kennedy added to KSL that Brink's had not yet offered him a reward for turning the package in.
—
Follow Oliver Darcy (@oliverdarcy) on Twitter