Jump up, cross your arms, slam your body into the hood of a stranger's car: That's all there is to the "put 'em in a coffin" craze.
Of course, checking to see if you're doing it in front of police might go without saying.
A group of teenagers in Kansas City, Missouri, was arrested Saturday after they were caught red-handed vandalizing parked cars — and one of the teens recorded the whole thing.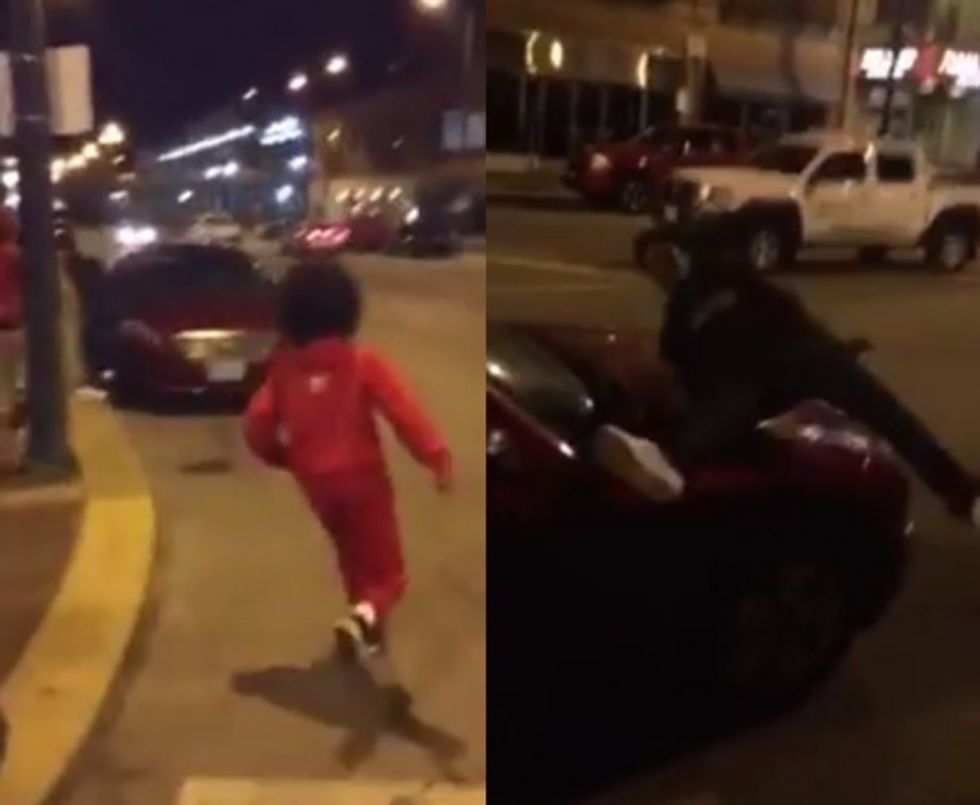 Teenagers in Kansas City seen damaging parked cars by body slamming them. (Images via YouTube)
"This is some dumb n**** s***," the person recording the group can be heard saying over and over again as he follows his companions up the street, recording several teens slamming cars at random.
One car had its lights on, and the group pauses near it before pressing onward.
But it seems that vehicle — and one that pulls up down the street seconds later — was a police car.
Watch what happens when police witness the teens slam more cars below (content warning: strong language):
On Reddit, commenters reveled in the instant justice that the vandals faced.
"I've got a huge dent in the hood of my car from someone doing this," one commenter wrote. "I'm glad to see these dudes go down."
WDAF-TV reported that several juveniles had been arrested and three cars had been damaged in the incident, though information on the teens' charges was not immediately available.
WDAF also noted that a new curfew will hit Kansas City starting the Friday before Memorial Day, banning anyone under 17 from being outside without an adult after 9 p.m.
Watch WDAF's report below:
—
Follow Zach Noble (@thezachnoble) on Twitter