Middle Eastern intelligence agencies believe Iran is making military preparations for war in case efforts to reach a permanent agreement over its nuclear program collapse, an Israeli television station reported Sunday.
According to Israel's Channel 10, intelligence agencies in the Arab world conveyed a message to the U.S., France and Britain suggesting that Iran is so concerned that current understandings with the U.S. and five other world powers might unravel, its Revolutionary Guard is preparing for armed conflict.
The report said that Iran is concerned that differences of opinion over what has already been agreed to could spur a total collapse of efforts to reach a final agreement by June 30, the designated deadline.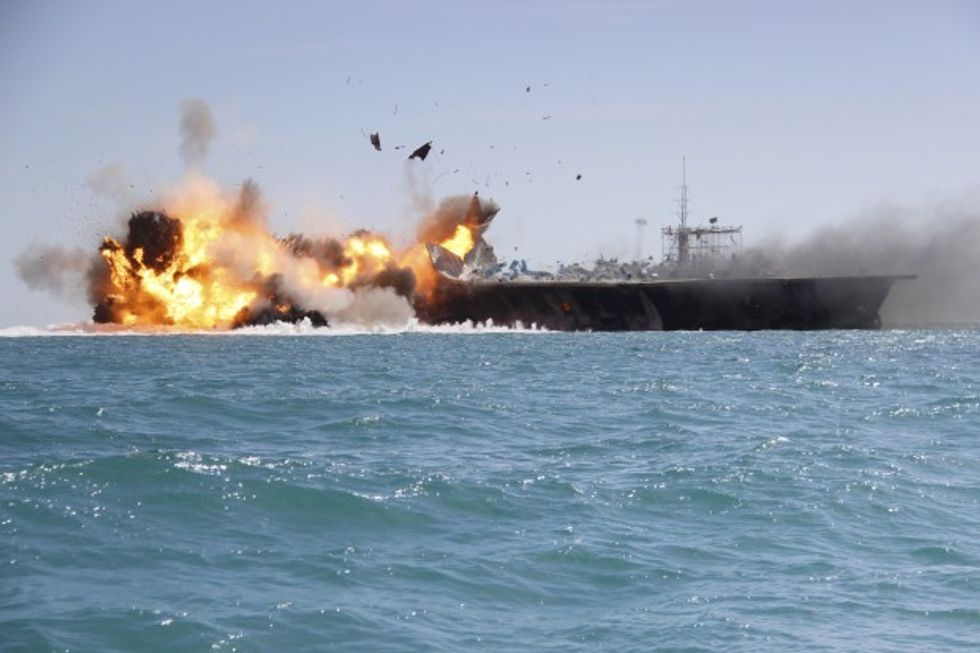 In this picture released by the Iranian Tasnim news agency on Wednesday, Feb. 25, 2015, a replica of a U.S. aircraft carrier is exploded by the Revolutionary Guard's speedboats during large-scale naval drills near the entrance of the Persian Gulf, Iran. (AP/Tasnim News)
Iran is reportedly prepared to close the Strait of Hormuz, a key Persian Gulf shipping point for international oil shipments.
Channel 10 reported that Saudi Arabia, which along with the Israeli government is critical of Thursday's framework agreement, is especially concerned about the monitoring mechanisms outlined in the temporary deal. Saudi diplomats are troubled that international inspectors will not be able to stage surprise inspections of Iranian nuclear facilities to ensure Iranian compliance, a concern that's been expressed to the U.S., according to the Israeli station.
The Wall Street Journal, quoting senior U.S. officials, reported Friday that even while negotiations were underway, the Pentagon "upgraded and tested the largest bunker-buster bomb in the U.S. arsenal … readying a weapon that could destroy or disable Iran's most heavily fortified nuclear facilities should a nuclear deal fall apart and the White House decide to take military action."
During a large-scale naval drill in the Strait of Hormuz in February, Iranian forces destroyed a mock U.S. aircraft carrier used as a target.
(H/T: Times of Israel)