Iraqi forensics teams have begun exhuming the bodies of soldiers killed in last summer's massacre by Islamic State militants.
A mass grave in Tikrit near the former U.S. Army base Camp Speicher is believed to contain as many as 1,700 bodies of Iraqi soldiers.
The killings were widely publicized after the Islamic State group posted photos last June showing the captured Iraqi soldiers, most of them Shiites, being loaded by the dozen onto trucks, then gunned down into shallow ditches with their hands tied behind their backs. The soldiers were in civilian clothes in an effort to hide their government affiliation from the approaching Islamic State fighters.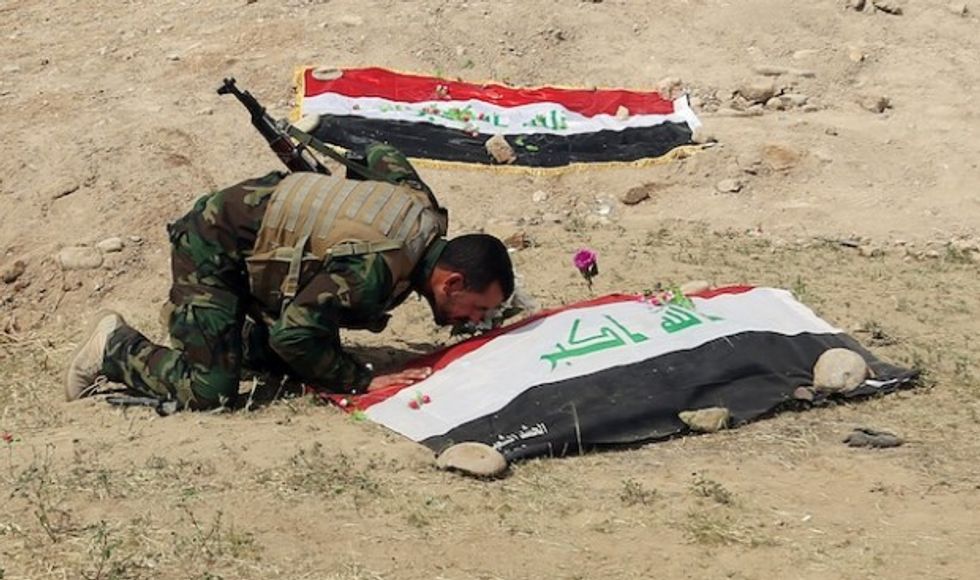 A Shiite militiaman kisses the grave at the site believed to be a mass grave where Islamic State militants killed hundreds of Iraqi soldiers when they overran Camp Speicher military base last June, in Tikrit, Iraq, 80 miles north of Baghdad, Friday, April 3, 2015. (AP Photo/Khalid Mohammed)
Survivors of the massacre later said that the jihadist militants first verified if soldiers were Shiite before executing them.
"We dug up the first mass grave site today. Until now we found at least 20 bodies. Initial indications show indisputably that they were from the Speicher victims," Iraqi health official Khalid al-Atbi told Reuters.
"It was a heartbreaking scene. We couldn't prevent ourselves from breaking down in tears. What savage barbarian could kill 1,700 persons in cold blood?" he added.
CNN reported from Iraq:
Grieving Iraqis, apparently not related to the soldiers, gathered to pray over the bodies. When the first three bodies were found, 10 Iraqi soldiers saluted the dead by firing seven shots into the air. The national anthem was played while soldiers wept.

All the bodies were decomposed. Some had their hands bound [...] The remains will be sent back to Baghdad for DNA tests to establish identify, said Ali Tahir, a director in the Iraqi morgue who was supervising the digging and extraction.
Some families even 10 months after the massacre have not received confirmation if their relatives were among the dead.
The Iraqi government is now trying to discourage revenge killings, which some Shiites have vowed to pursue.
Iraqi troops along with Shiite militias retook Tikrit from the Islamic State group last week, which allowed the exhumation process to begin.