Did Sen. John McCain (R-Ariz.) accidentally reveal that Sen. Lindsey Graham (R-S.C.) is going to run for president in 2016?
For months, McCain has floated the idea of a Graham candidacy for his "closest of friends."
On Wednesday, McCain was back in his home state of Arizona and stopped by the "Mike Broomhead Radio Show" on KFYI. The senator and Broomhead were discussing McCain's recent decision to run for a sixth term when the conversation turned to the 2016 White House race.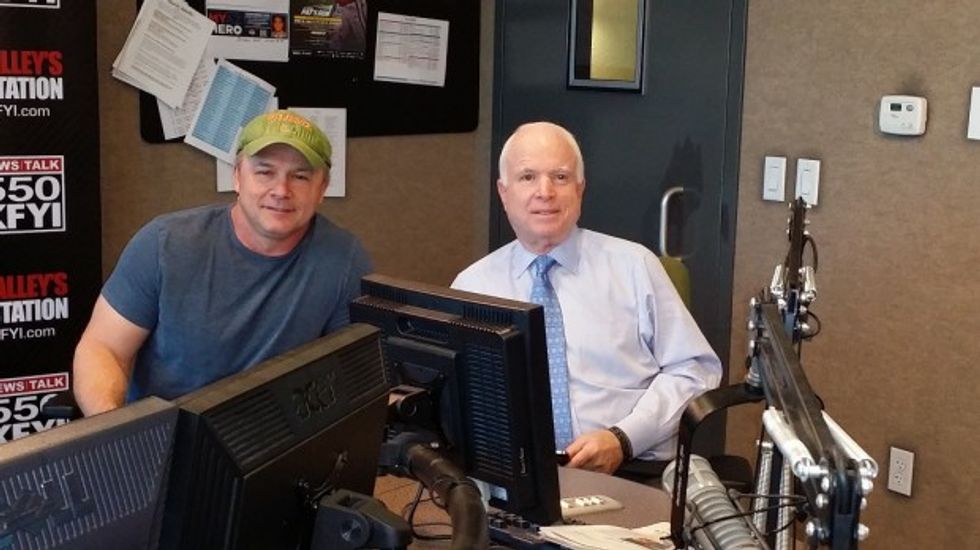 Image Source: KFYI
Broomhead wondered if any announced or potential 2016 candidates had approached McCain.
"Now we've got Rand Paul, Ted Cruz, anybody else - how many of them come to you for advice?" the radio host asked.
"All of them, literally all of them, except Rand Paul, he's never come for advice," McCain replied.
[sharequote align="right"]"I'm confident he will run, so start considering him."[/sharequote]
Then, without pausing, McCain appeared to break some news about his good friend from South Carolina, adding, "But, I want everybody to keep an eye on Lindsey Graham. Nobody knows national security like Lindsey Graham, and he's a very very interesting man."
Broom head pressed for more information, asking, "Now, are you saying Lindsey Graham is going to run for president?"
"He is," answered McCain without hesitation.
"You heard it here first," Broomhead told his audience.
McCain then backtracked a little bit.
"I'm 90% sure he's gonna run," the senator said. "I don't want to step on his parade here."
A chuckling Broomhead added, "Your staff's right now on their phones going 'oh, crap!'"
"I'm confident he will run, so start considering him," McCain concluded. "He's worth looking at, I say to our undecided republicans out there."
Listen to the exchange here:
__
Follow Mike Opelka (@Stuntbrain) on Twitter.