Rev. Jesse Lee Peterson took a very contrarian position on Sean Hannity's Fox show Thursday night. So contrarian that one guest couldn't stand it and walked off set.
Peterson argued that he was trying to give South Carolina police officer Michael Slager the "benefit of the doubt" regarding his firing eight shots at Walter Scott's back during a traffic stop, killing him. According to Peterson, all the details and facts aren't known and we need to let the justice system play out.
But Hannity and fellow guest Leo Terrell, a civil rights attorney, were more stern, saying the video evidence is clear and that Slager is giving a bad name to all the good officers out there.
"In America you are innocent until proven guilty," Peterson argued, "and right now, Sean, white officers are under attack by angry black folks in this country, and when they're stopped by these officers, they're not listening, they're not obeying the authority of the police officers."
"But he's given them a bad name!" Hannity retorted.
"We don't know what the evidence is!" Peterson shot back.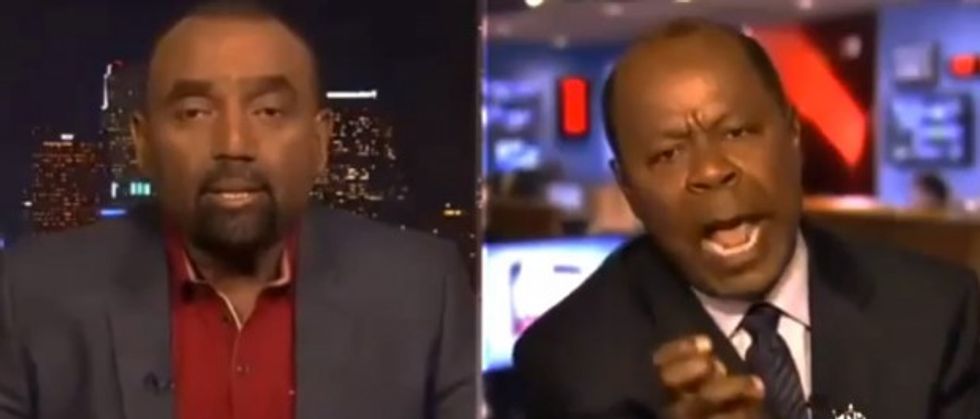 Image source: YouTube
That's when Terrell lost it.
"This is the second time in Fox News cable that you and I, Sean Hannity, agree," Terrell began. "Jesse Lee Peterson is the only man on the face of this earth who is talking about everything else but the unlawful shooting of this man. ... And for you to come on this show as a black man and to say somehow — to justify this shooting, you are an embarrassment to the world right now! The whole world is looking at how stupid you are!"
"This is embarrassing. You are embarrassing," Terrell continued while he and Peterson talked over each other.
"All that I'm saying is that we should wait for due process because I don't think Americans understand how angry and brainwashed these young black folks are," Peterson said after Hannity finally got control of the crosstalk.
"You better come to me or I'm gone," Terrell interrupted. "Come to me right now or I'm gone! Because I'm not going to sit here and listen to this hate."
After Terrell made the point again that he agreed with Hannity and there is no justification for shooting an unarmed man in the back, Peterson interrupted him. That's when Terrell had enough.
"I'm done, I'm done, I'm done, I'm done," Terrell said disgustedly before ripping out his ear piece and walking off set.
When Hannity informed Peterson that Terrell had left, Peterson responded, "Leo's a little coward."
Watch the heated segment below:
This story has been updated to reflect that the reverend's name is Peterson, not Jackson.