It's no secret, the National Rifle Association has been targeting females for the past few years. In fact, the NRA is openly pushing new programs and offering membership discounts and incentives to women, hoping to match the group's five million male members with five million females.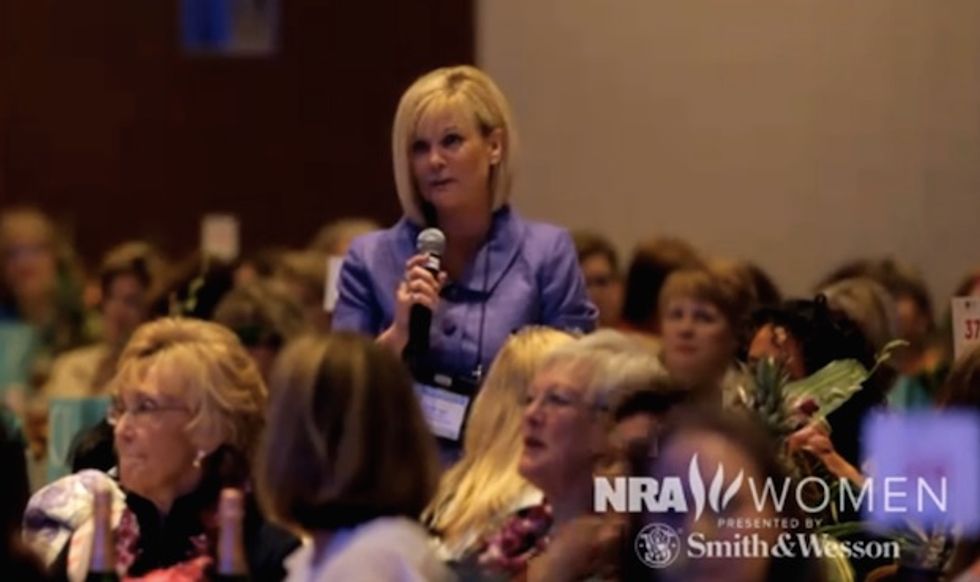 Image source: YouTube
This strategy appears to be paying off. The NRA reports a spike in female membership enrollment. Casually observing the packed exhibit hall at the convention, it was evident to this reporter that women make up a strong 25 to 30 percent of all attendees.
Gun companies also recognize the opportunity to increase their profits by attracting more women customers. Female shooters are now being given a great deal of attention, especially from the biggest names in the business.
Smith and Wesson teamed up with the NRA to present a program about women shooters called "Armed and Fabulous."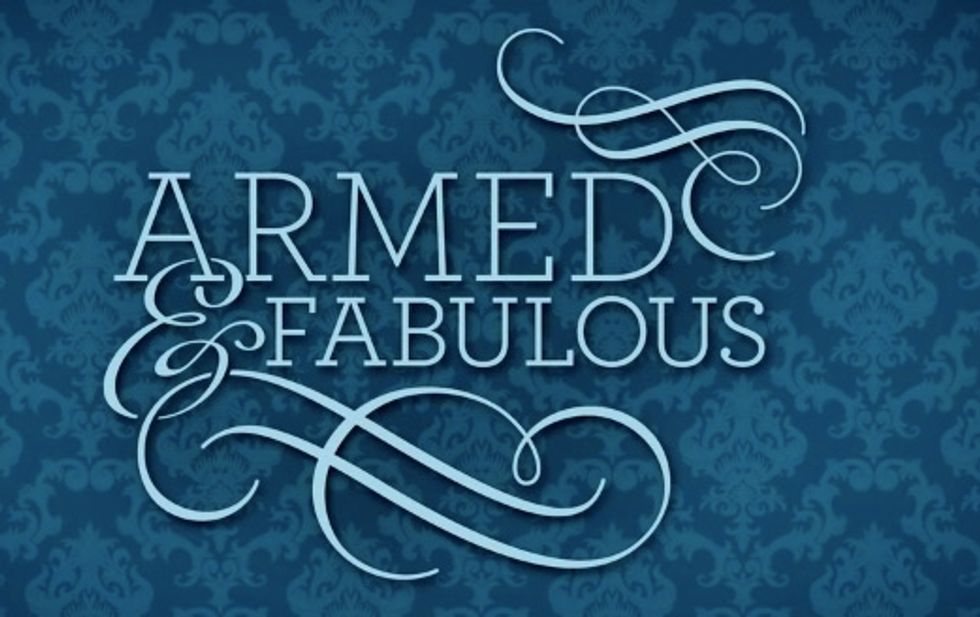 Image source: YouTube
In the middle of the Remington booth, you can't miss the "Ladies Zone" — a section dedicated to promoting shooting sports to women.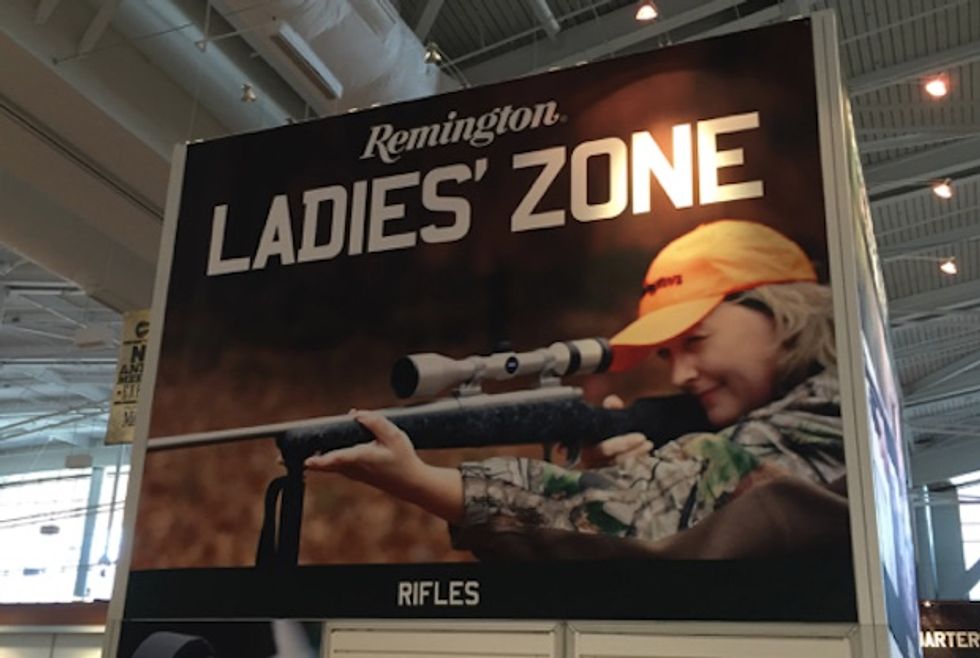 Image source: TheBlaze
Inside the "Ladies Zone" there is a display blatantly telling men, this is not for you.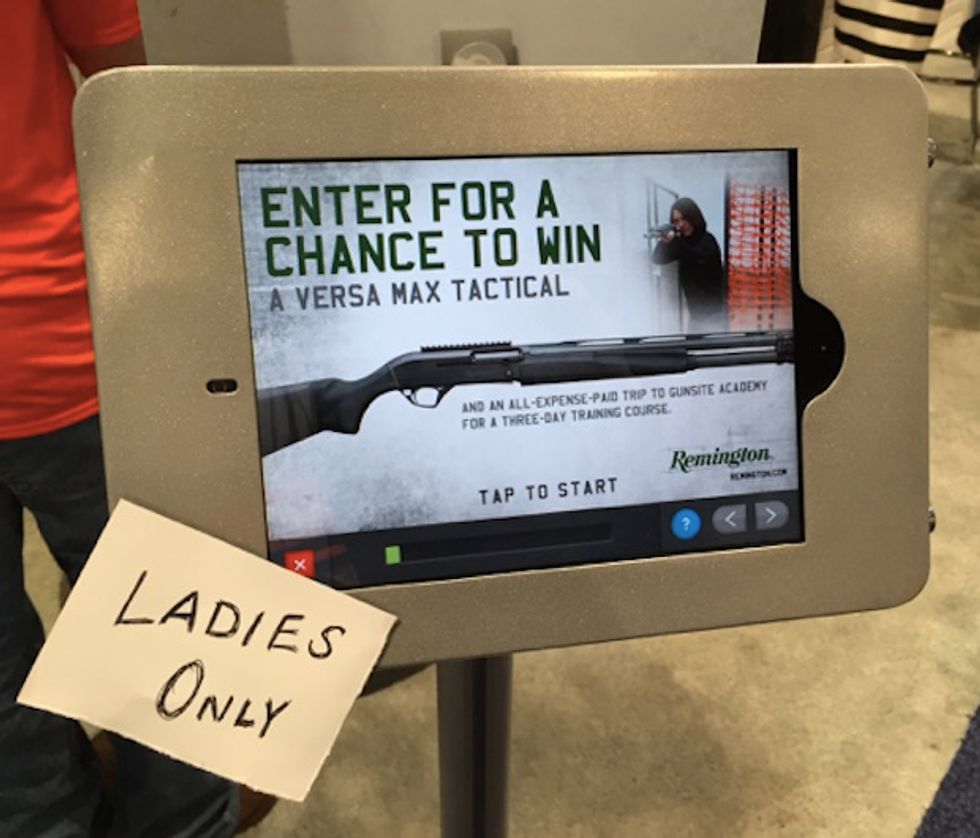 Image source: TheBlaze
Also in the "Ladies Zone," we also found a booth for an all-women's shooting league called "A Girl & A Gun." The for-profit, national network is the brainchild of an Austin, Texas woman named Julianna Crowder.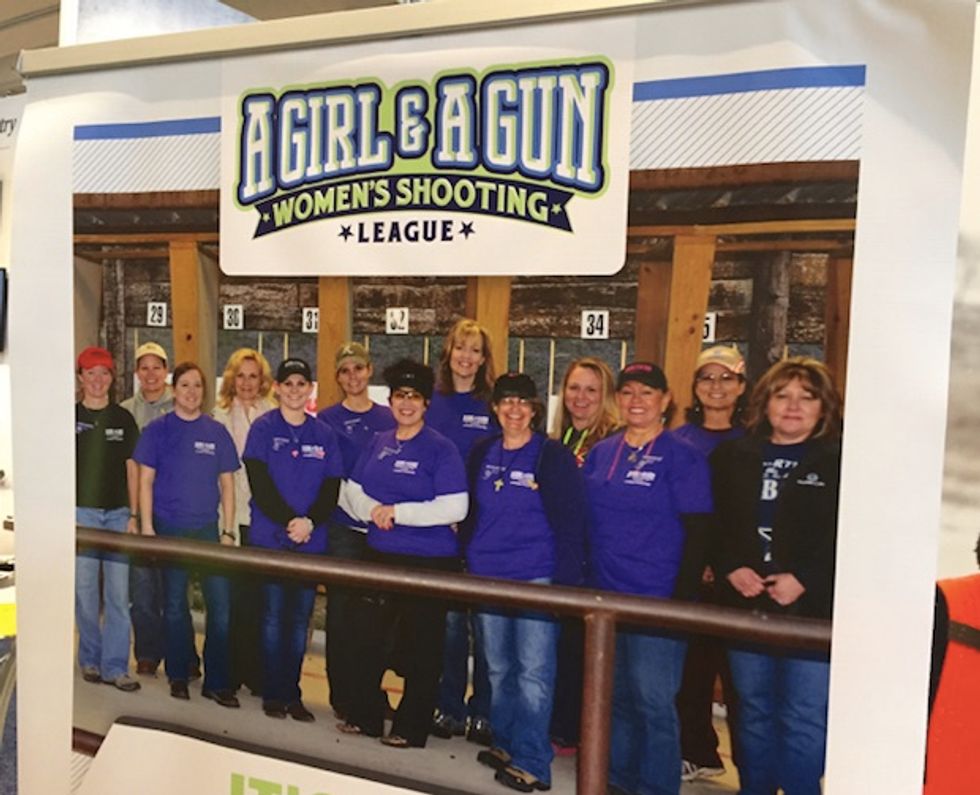 Image source: TheBlaze
It was just about four years ago that Crowder invited a few of her girlfriends to come to the shooting range for a "girls' night out." She told TheBlaze, "They loved it, and 'A Girl & A Gun' was born."
Today, "A Girl & A Gun" has grown substantially, with 2,500 members and chapters in eighty-five cities.
Crowder, an NRA-certified instructor told TheBlaze the group does more than just teach women to shoot and participate in competitive events. "We are building friendships, we're building a support system," said Crowder. "We're taking somebody who may be afraid or just doesn't know where to look for guidance, and we're showing them the right way to do this the first time."
Watch our interview with Julianna Crowder.
See more videos from the NRA's "Armed and Fabulous" series here.
Update: This post was edited to clarify that "A Girl & A Gun" is for-profit organization and not a non-profit as originally listed.
__
Follow Mike Opelka (@Stuntbrain) on Twitter.