LOS ANGELES (TheBlaze/AP) — Robert Downey Jr. brought his fellow Avengers to their knees while accepting the Generation Award at the MTV Movie Awards Sunday night. Though that might have been a mock moment, the star got serious during his speech as well, drawing upon his past experience to give some advice to young people watching the show.
"I partied way too much. I've squandered, resisted, repented," he said, imploring the audience to "dream big, work hard, keep your nose clean, be of service, and, yes, because you can, define your generation."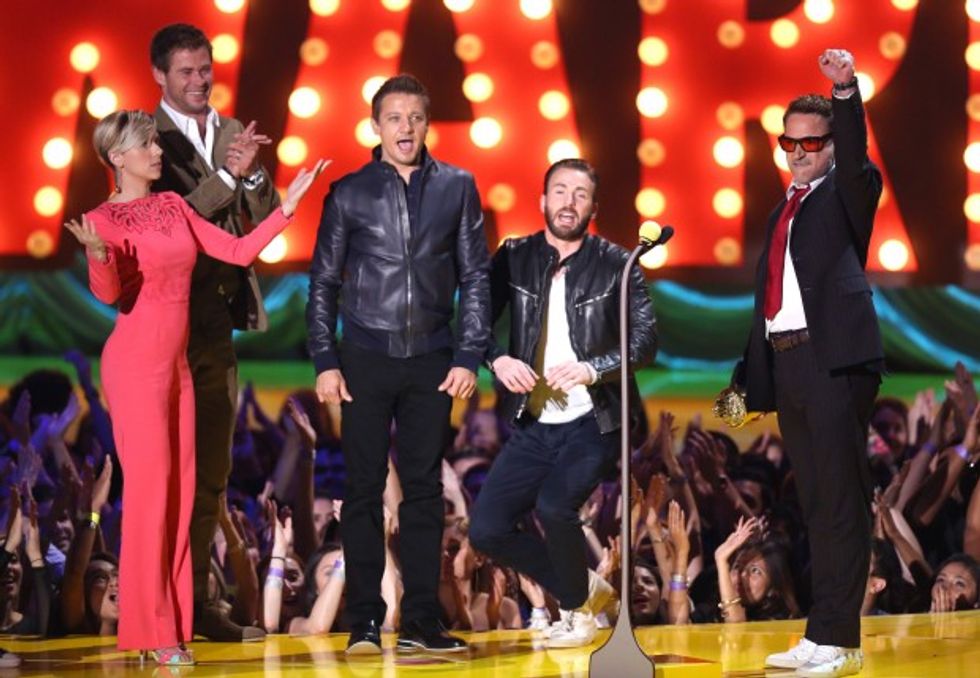 Scarlett Johansson, from left, Chris Hemsworth, Jeremy Renner, and Chris Evans present Robert Downey Jr. with the generation award at the MTV Movie Awards at the Nokia Theatre on Sunday, April 12, 2015, in Los Angeles. (Matt Sayles/Invision/AP)
Downey's words, though shorter, were somewhat reminiscent of the advice Ashton Kutcher gave his audience at the Teen Choice Awards a couple of years ago.
Downey's Avengers class mates Scarlett Johansson, Chris Evans, Chris Hemsworth, Mark Ruffalo and Jeremy Renner took the stage to present their co-star with the award, which Downey called "the recognition I so desire." They then fell to their knees as Downey talked about his memories of the first MTV Movie Awards, and "clawing" his way to the top.
Watch the highlights from the speech:
The irreverent show doles out such cheeky honors as best kiss and best shirtless performance, but also serves as an unofficial promotional platform for the upcoming blockbuster season. Early winners included Shailene Woodley, Jennifer Lopez, Channing Tatum, and Dave Franco and Zac Efron for best duo.
As the first winner of the night for best female performance in "The Fault in Our Stars," Woodley, who also received the Trailblazer Award, gave an emotion speech dedicated to the book's author, John Green.
"He gave this world a beautiful masterpiece," she said directly to Green, who was seated in the audience. Woodley said that the book changed her life when she read it and that his words will transcend the test of time.
Lopez won for best scared-as-s--t performance as the unlucky teacher in the campy thriller "The Boy Next Door."
Tatum, who danced on stage with his co-stars from the upcoming "Magic Mike XXL" while presenting the award to Lopez, went on to win a prize of his own for best comedic performance in "22 Jump Street."
"It's unfair for me to get an award for just hanging out with my buddy Jonah (Hill)," he said.
Films such as Marvel space adventure "Guardians of the Galaxy" and coed comedy "Neighbors" are also competing for the fan-voted Golden Popcorn statuettes. In addition to the kiss and shirtless categories, other wacky awards included best villain, and best WTF moment. Vin Diesel, Sofia Vergara and Mark Wahlberg are among the presenters.
Host Amy Schumer, still a rising comedian, joked at the outset that, "half of you don't know who I am and half of you think I'm Meghan Trainor," she said, referring to the "All About that Bass" singer, before poking fun at MTV, Hillary Clinton and even Harrison Ford.
"This is going to be the party of the year. I just hope Harrison Ford doesn't crash it," Schumer said, referring to the actor's recent plane crash.
But the real focus was on what's coming up at the multiplex this summer, with previews planned for "Pitch Perfect 2" and other films.
There was even an agenda behind Downey Jr.'s accolade, of course: the promotion of "Ultron." The "Iron Man" star introduced a new clip from the summer blockbuster, which bows May 1.
Stars like Rebel Wilson from other summer films were also expected to appear on the show in support of their projects.
The team behind "Paper Towns," an adaptation of John Green's novel, debuted a new clip from the summer film during the pre-show featuring the main characters (played by Cara Delevingne and Nat Wolff) on a night of pranking.
Even host Schumer had a film to promote: "Trainwreck," a relationship comedy from director Judd Apatow that Schumer wrote and stars in.