The morning after Hillary Clinton announced her 2016 run for the White House, possible GOP contender, Carly Fiorina appeared on MSNBC and got into a tense exchange with host Mika Brzezinski.
The eight-minute segment opened with Fiorina speaking briefly to "Morning Joe" regular Willie Geist about her time frame to make a decision about a run and why she thinks her "track record of leadership" would be a good fit for the job of president.
As the former Hewlett-Packard CEO finished the sentence mentioning her track record, Brzezinski jumped in and took over the interview, "I've been reading your comments about Hillary Clinton. You say she does not have a track record of accomplishments. Why do you say that?"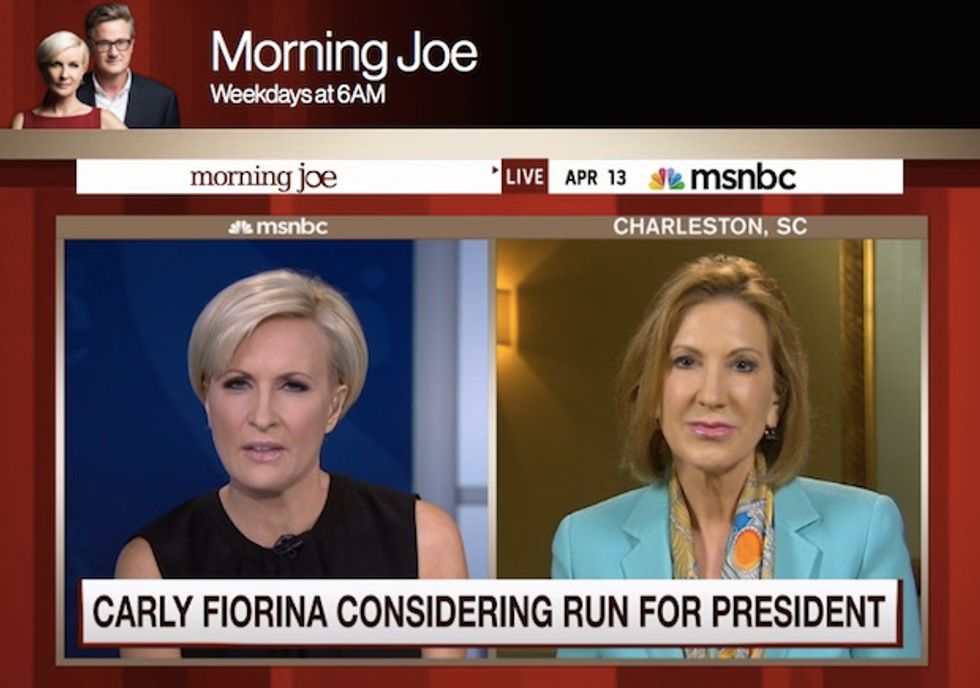 Image source: MSNBC
"Because she really doesn't," replied Fiorina. Adding, "I mean, she's had a lot of very impressive titles. But a position is just a position, it's all about what you do in it. And I think her time in the position of secretary of state is demonstrably one that lacks accomplishment but that also has some real blemishes on it."
Fiorina then delivered a slew of statements about Hillary Clinton's history and some of the problems she sees with the candidate's background:
It's a problem when you mislead the American people for a month about what really happened in Benghazi.

It's a problem when you believe that Vladimir Putin can be thwarted by a red reset button. I've met Vladimir Putin, I've sat across the table from him. There's no way a red reset button is gonna work.

It's a problem when our relationship with Israel has deteriorated so badly.

It's a problem when terrorism is on the rise and not on the wane, as she and the president try and convince the American people.
Brzezinski waited for Fiorina to finish and  fired back, questioning her own background, which includes a failed 2010 U.S. Senate run and a period of time as CEO of Hewlett-Packard that saw the company shed jobs and fire her.
"Are you really the right person to be criticizing Hillary Clinton's accomplishments or lack thereof?" Brzezinski asked.
Fiorina barely got out the words, "Well, you've clearly been reading the Democratic talking points..." when she was interrupted by Brzezinski.
"I'm reading Fortune, I'm reading the New York Times," said Brzezinski.
Fiorina responded with her own resume highlights, "We accomplished a lot at Hewlett-Packard. We doubled the size of the company to almost ninety billion dollars, we quadrupled the growth rate from two percent to nine percent, we tripled the rate of innovation to eleven patents a day, we quadrupled cash flow, we went from lagging to leading."
Brzezinski steered the conversation away from Fiorina to panelist and former Treasury Department official, Steve Rattner.
Rattner and Fiorina briefly tussled about the merger of Hewlett-Packard and Compaq Computers (which happened under Fiorina's watch) was a success or a failure. Rattner sees it as a failure while Fiorina insists "everyone now acknowledges it was a successful merger with Compaq."
Things calmed down a bit near the end of the segment. Brzezinski complimented Fiorina on some of the "incredible things" she has done for women  before asking, "Do you think Hillary Clinton has opened doors for women?"
"Of course," answered Fiorina, calling Mrs. Clinton "an example and inspiration for many women."
After she complimented Clinton, Fiorina circled back to her earlier points, "If we are going to have a real conversation about tapping the potential of men and women, then we also have to be able to talk beyond gender and talk about track record and accomplishments and policies."
Brzezinski wrapped the segment with a simple, "Fair enough."
--
Follow Mike Opelka (@Stuntbrain) on Twitter.