The air defense missile system that Russia is selling to Iran is not only entirely separate from the pending nuclear deal, but underscores the need to proceed on the agreement, White House press secretary Josh Earnest said Tuesday.
"Even if we reach an agreement by the end of June, there is still a long list of concerns we have about Iran's behavior, all separate from the nuclear agreement," Earnest said.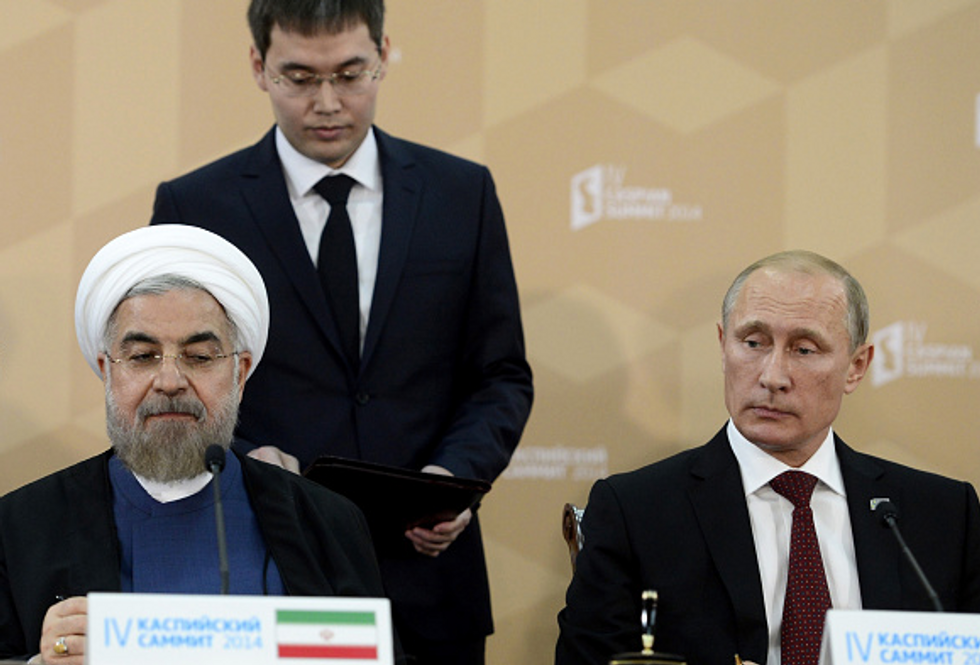 Russian President Vladimir Putin  and Iranian President Hassan Rouhani meet during the 4th Caspian Summit on September 29, 2014 in Astrakhan, Russia. Leaders of Russia, Iran, Kazakhstan, Turkmenistan and Azerbaijan attend to 4th summit of the Caspian Sea. (Sefa Karacan/Anadolu Agency/Getty Images)
Russia announced it was still six months away from selling S-300 missiles to Iran, but confirmed lifting the ban on the sale imposed in 2010.
Earnest ticked off Iran's weapons technology, human rights record and the country's stance toward Israel as concerns. But he added that's all the more reason to push the U.S.-led agreement with Britain, France, Russia, China and German to prevent Iran from getting nuclear capabilities.
"All these concerns would be enhanced and more dangerous if we are talking about a nuclear armed Iran," Earnest said.
Secretary of State John Kerry criticized the government of Russian President Vladimir Putin for lifting the five-year ban, which could give Iran the ability deter air attacks.
Russia tied the 2010 ban of S-300 sales to United Nations sanctions, but on Monday, Russian Foreign Minister Sergey Lavrov said the 2010 ban was voluntarily as part of efforts to encourage progress in nuclear talks.
The announcement of the sales has prompted critics of the Iran deal to be even more skeptical. The parameters of the deal reached this month requires that Iran open up its nuclear sites for international inspection in exchange for sanctions relief. However, Iran would be allowed to continue to enrich uranium for energy purposes under the agreement.