Presidential candidate Hillary Clinton's first official campaign stop in Iowa featured a "round table" discussion with six locals (three men and three women) -- a combination of students and educators at Kirkwood Community College in Monticello. That's where Clinton praised Common Core and its effects on the "most important, non-family enterprise."
The former Secretary of State asked a few questions and then took questions from the six people selected for the sit-down.
Diane, a high school English teacher with twenty-one years in the classroom, asked one of the last questions. She first endorsed Common Core, the controversial national takeover of the education system.  "I think the Common Core is a wonderful step in the right direction of improving American education," said Diane. Adding, "It's painful to see that attacked."
The veteran teacher wondered what Mrs. Clinton could do to "bring that heart back to education in the United States?"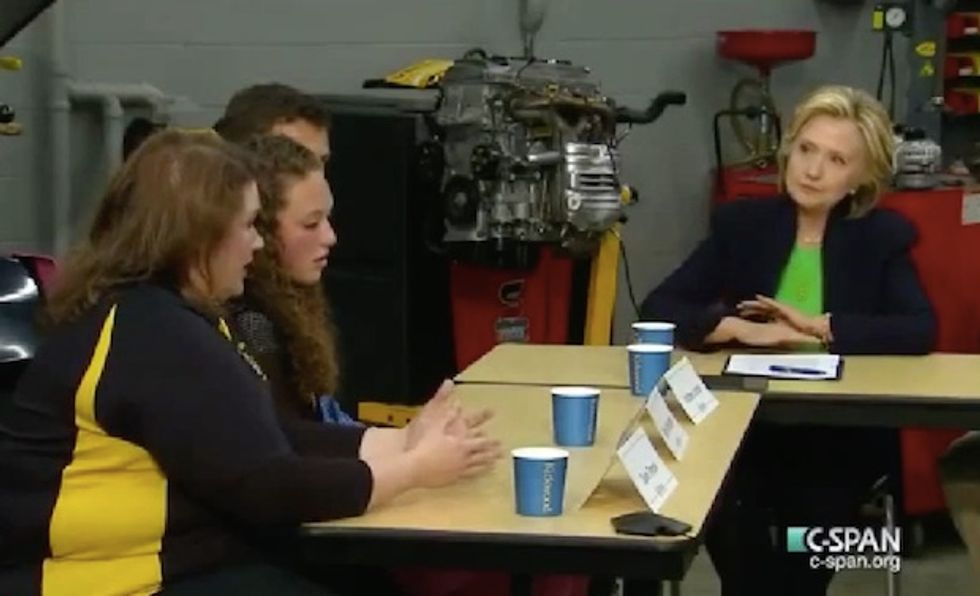 Image source: C-Span
Clinton called Diane's statement a "powerful, touching comment" and called the debate about Common Core a "really unfortunate argument."
"Your question is a larger one, " Clinton continued, "How do we end up at a point where we are so negative about the most important, non-family enterprise and the raising of the next generation -- which is how our kids are educated?"
Calling the public education system a "non-family enterprise" triggered a strong reaction from libertarian journalist, John Stossel.
Today, in defense of #commoncore, @HillaryClinton called education a "non-family enterprise." I really don't want to live in HER village.

— John Stossel (@FBNStossel) April 14, 2015
Curiously, after giving Common Core a solid endorsement, Clinton also talked about the fact that different towns have different issues that deserve tailored attention (a common argument used against Common Core): "(T)the problems in Monticello are not th same problems you will find in the inner city of our biggest urban areas." Adding, "We have to do things differently."
Watch the exchange:
__
Follow Mike Opelka (@Stuntbrain) on Twitter.