A news site serving Israel's ultra-Orthodox Jews that reported on reality TV star Kim Kardashian's visit to Jerusalem this week cropped her image out of the photos accompanying the story.
The site didn't even mention Kardashian's name, instead referring to "singer Kanye West and his wife."
Kikar HaShabbat ran two versions of the same photo, one that digitally covered Kardashian with a receipt allegedly showing what the group ate and another with the reality star digitally obscured.
Here's how the photo originally appeared, courtesy of Jerusalem Mayor Nir Barkat, who joined the famous couple for a meal:
Joined @KimKardashian and @kanyewest in #Jerusalem to toast and celebrate hosting them in our beautiful city pic.twitter.com/RX4PKx3E4J

— Mayor Nir Barkat (@NirBarkat)

April 13, 2015
Here's how it appeared in Kikar HaShabbat: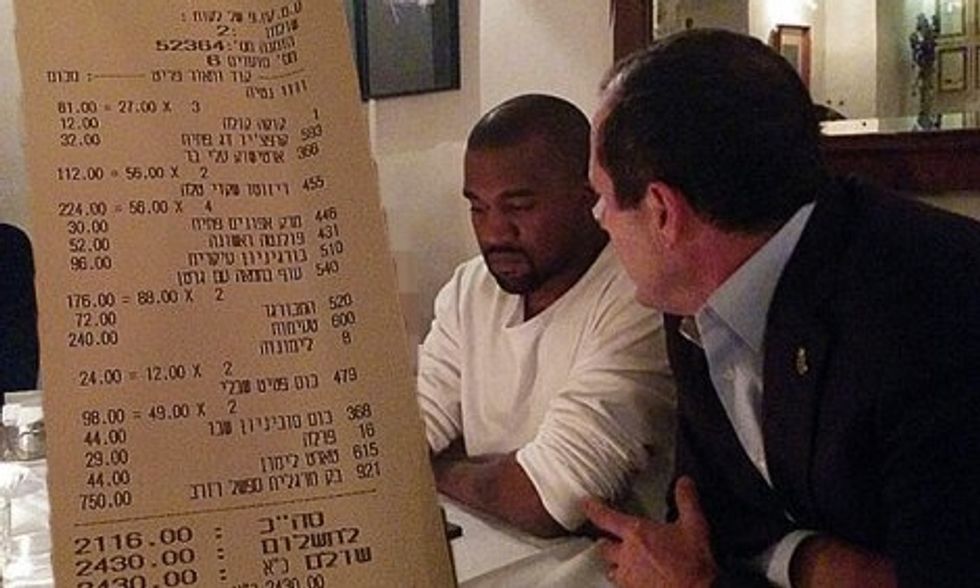 In one image, the news site used a receipt to block Kim Kardashian during her visit to Israel. (Image source: Kikar HaShabbat)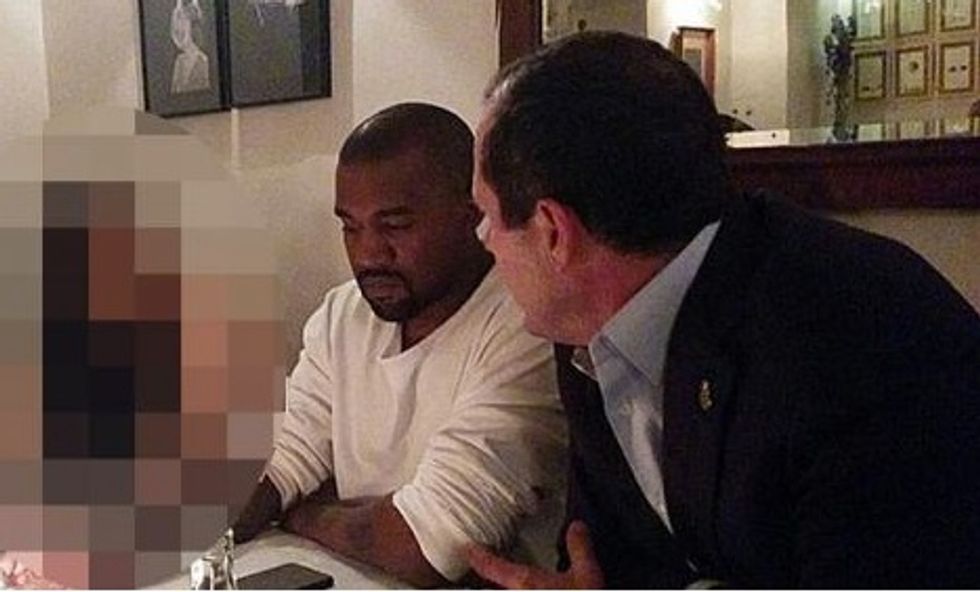 The reality star was also digitally obscured by the ultra-Orthodox news outlet. (Image source: Kikar HaShabbat)
Some ultra-Orthodox Jews oppose displaying photos featuring women, believing it to be immodest. A similar edit gained attention when another ultra-Orthodox newspaper removed female world leaders from images of an anti-terrorism march in Paris in January.
Besides nixing Kardashian's name and photo, Kikar HaShabbat criticized the Jerusalem mayor for eating at a non-kosher restaurant.
"Barkat hosted famous couple at a restaurant that serves 'treif,'" the headline blared. Treif refers to foods that are not kosher, including shellfish and pork. Under the headline, the paper quoted a source "close to the visit" who said the mayor did not eat non-kosher food during the meal.
The paper lamented that one of the dishes supposedly ordered by the group was chicken cooked in butter. Religious Jews do not eat milk and meat in the same meal, based on the biblical mandate from the book of Exodus forbidding cooking a kid, or baby goat, in its mother's milk. Ynet reported that the restaurant receipt pictured was for the group's meal.
On Monday, Kardashian baptized her daughter, North, in a 12th-century Armenian church in Jerusalem's Old City. Last week, she traveled to Armenia with her husband, their daughter, her sister and cousins where they paid tribute to victims of the Ottoman Empire's 1915 genocide of 1.5 million Armenian Christians.
Kardashian's father, Robert Kardashian, was of Armenian heritage.
(H/T: Jerusalem Post)