WASHINGTON (AP) — The postal carrier who flew a gyrocopter onto the lawn of the U.S. Capitol is facing two criminal charges. But he's being released from federal custody to return to Florida.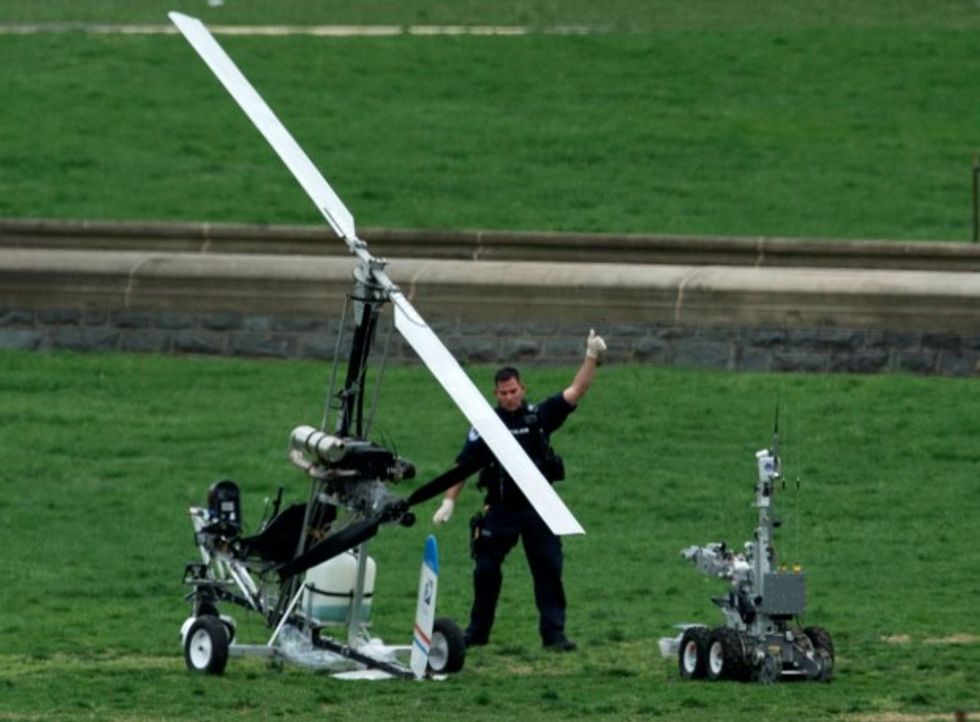 A Capitol Police officer flashes a thumbs up after inspecting the small helicopter a man landed on the West Lawn of the Capitol in Washington, Wednesday, April 15, 2015. Police arrested a man who steered his tiny, one-person helicopter onto the West Lawn of the U.S. Capitol Wednesday, astonishing spring tourists and prompting a temporary lockdown of the Capitol Visitor Center. (AP Photo/Manuel Balce Ceneta)
Doug Hughes made his initial appearance in U.S. District Court in Washington on Thursday. That's one day after he steered his tiny aircraft onto the Capitol's West Lawn after flying through restricted airspace around the National Mall. He was charged with operating an unregistered aircraft and violating national airspace.
Hughes said it was a political protest.
Hughes was released on his own recognizance afterward and instructed to check in weekly with authorities in Tampa starting next week. In a soft voice, Hughes appeared to ask the judge a clarifying question about that obligation but otherwise he did not say anything significant.