© 2023 Blaze Media LLC. All rights reserved.
Meet the 27-Year-Old Who Left a Swanky Job at Google to Make a Living Doing What He Loves...Hunting
"I needed to be outside, chasing those adventures that I was dreaming about."
It was 2013 and the beginning of hunting season in southern Ohio when Mark Kenyon's obsession began. Little did the 27-year-old lifelong hunter know at the time, but a 6 1/2-year-old buck he named Jawbreaker that October would develop into a predator-prey relationship that would span two seasons and ultimately end in heartbreak.
Jawbreaker pictured in 2013 on the land in southern Ohio where Mark Kenyon, who lives in Hillsdale, Michigan, hunts. (Image source: YouTube)
"I'm gonna go in there and I'm gonna kill Jawbreaker," he said in a video taken a year after his first sighting.
Kenyon explained that he had been watching where the buck bedded and he was waiting for the perfect weather conditions. Though it would take more than a day of staking out the area, the Wired to Hunt writer and podcaster's hunch for where and how he would find Jawbreaker was correct.
He took the shot and the arrow flew. It hit, but Jawbreaker didn't go down.
"Oh my God, I just got a shot at Jawbreaker, but I hit back," Keynon said in the video, his voice shaken and his eyes wide in disbelief. "Oh my God. Oh my God. I think he's a dead deer.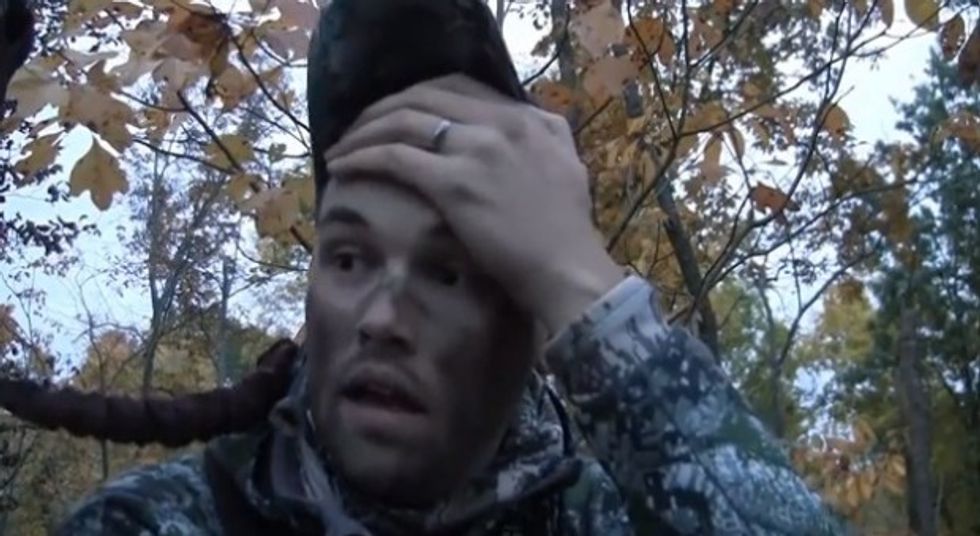 Kenyon would describe his saga with Jawbreaker as heartbreaking. (Image source: YouTube)
"I hit him. He ran off a few steps," Kenyon whispered. "Oh my God. It happened so fast."
"Oh my Lord, please let him be OK," he prayed a moment later. "Please, Lord, let him go down."
Kenyon's shot deflected off a tree limb and hit Jawbreaker further back than he would ever want. The deer didn't drop. He didn't die — at least not right away.
"I knew I had wounded the animal and he was going to suffer, and that's the worst thing that can happen as a hunter," Kenyon told TheBlaze. "I have such a respect and appreciation for those animals. To know that I've caused that kind of suffering is a horrible feeling.
"From a selfish standpoint, I had worked so hard to accomplish this goal, and then I botched in this last step," he said.
Afterward, Kenyon was in mourning. The months spent waiting, tracking, planning and plotting were over and in the worst way possible. Kenyon tried to track down Jawbreaker for two days but didn't find him, not then.
"It was a very low point for me as a hunter and as a person," he said.
After he first saw Jawbreaker at the beginning of hunting season in 2013, Kenyon would spot him several times on trail cams. Eventually, he had his shot, but his target was off. (Image source: Wired to Hunt/Facebook)
After two days, he pulled himself out.
"It made sense to me that best therapy was to go back out there and get back into it," he said. "Back out in woods, I came to terms with it.
"Later, I was able to analyze the situation, look back on what happened and think 'what can you learn from this?'"
Kenyon made some action items, things he could improve upon.
"I think that's the only way you can get over something like that, whether it's hunting or screwing up in your job," he said.
And it's this try-try-again mentality that's brought the man who arms himself with cameras as well as his bow to a position that many would envy. He's living the dream of supporting his family doing something he loves.
From Google to the Tiny Town of Hillsdale, Michigan
Though being an outdoorsman was always a part of his life, you might be surprised to learn that for four years, Kenyon worked at one of the country's most prominent tech companies: Google.
But he left that job of his own choosing in 2013, something that might be hard to imagine for Google outsiders who often hear about the swanky employee amenities. Kenyon confirmed that it's just as swanky as everyone says.
"I knew after not too long that this wasn't going to be for me," the Michigan State University grad said of his time at Google as an online marketing account manager. "I needed to be outside, chasing those adventures that I was dreaming about."
"That first fall when I started working for Google, I buckled down," he said.
And so Wired to Hunt was born. It started as a hobby, but by 2013 Kenyon was on his own making a living off of sponsorship for his website and podcasts and by freelancing articles.
Kenyon hunts first and foremost to feed his family. He joked that with all the tracking grocery stores do to target customers with coupons, they probably assume he and his wife are vegetarians.
"But I'm the furthest thing from vegetarian," he said.
The second reason he hunts is still to fill a need, albeit an intangible one.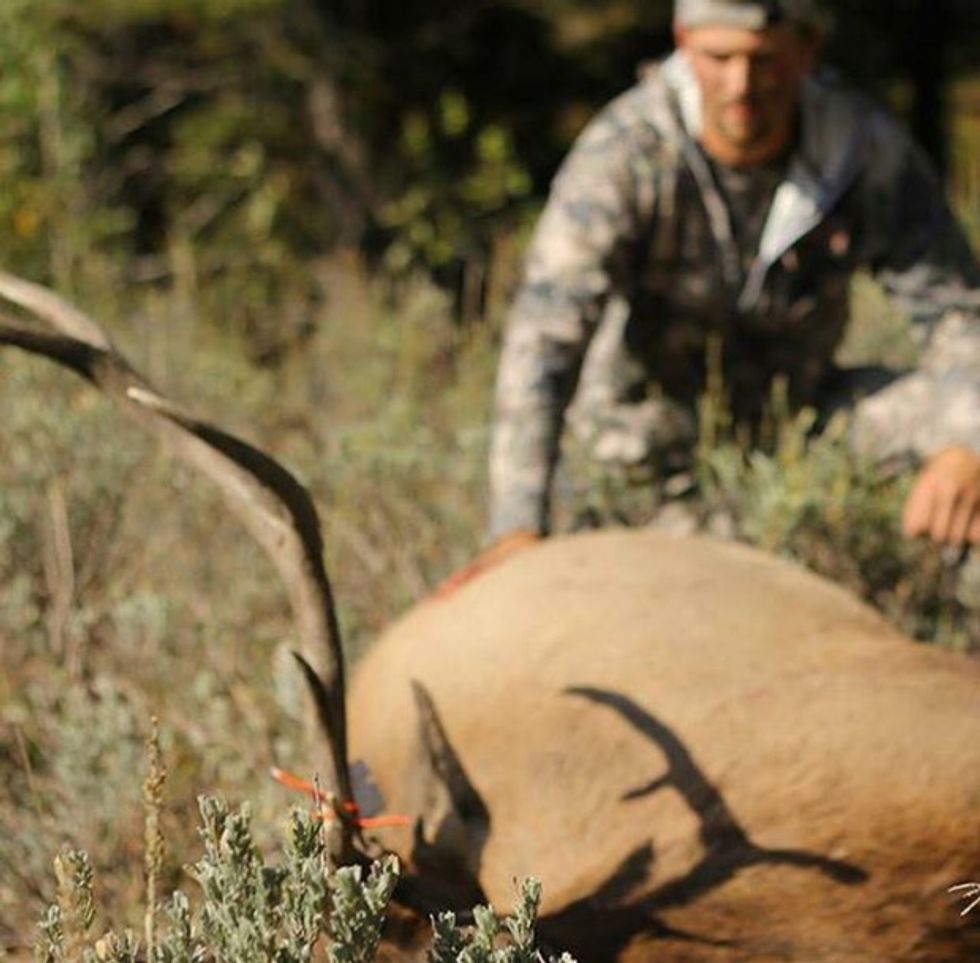 Image source: Wired to Hunt/Facebook
"Some people look down on hunting; they think it's savage. I understand the reality of death and life. I think it helps me become more aware of what my impact is and become more appreciative of my impact," Kenyon said of the connection hunting gives him to nature.
'There Is Another Way'
Like Kenyon, many 20-somethings say  they don't like their 9-to-5 desk job, but that complaint about as far as it gets them. Kenyon said he hears this among his peers as well and offered this advice: get outside your comfort level and don't be afraid of failure.
"So many people, whether it be where we come from or where we grow up, they develop this game plan of going to high school, college, find a job, get the job, keep the job, have a family, get a house. I kind of blindly followed that because that seemed like what you did.
"Then I discovered resources that there is another way. I think the biggest thing is surrounding yourself with people or finding resources that can help you realize the possibilities available to you.
"Have confidence that you really can chase these things. The confidence thing for so many people ... they think it's just not possible; it's too risky. Look for people or resources that can help establish that confidence within yourself," Kenyon said.
Once Kenyon knew what he wanted to do — to tell hunting stories and how-tos in a compelling way using new age mediums — he set "a very clear goal and keep on grinding at it."
Which brings Kenyon to his next point on failure.
"If you talk to enough entrepreneurs, they'll tell you you'll fail more times than you succeed. People who succeed are the ones who failed the most," he said.
Going forward, Kenyon said he wants to continue to help hunters from a tactical side of things. Though he doesn't claim to be an expert, which is actually what so many people probably like about him. He's honest, real and shares his failures as much as his successes.
Then he'd like to find a unique way to reach the non-hunting community.
"I want to talk about why hunting is a good thing and why it can be a sustainable part of our society," he said.
All the while, he plans on doing this with the latest "it" thing.
"I always want to be on that next medium," Keynon said. "I think always paying attention to what's next [is important]."
And, as he's shown with the popularity of his Wired to Hunt podcasts that being ahead of the curve in an industry that, let's face it, isn't the most tech-savvy when it comes to social sharing, obviously has its benefits.
"There aren't many good podcasts covering deer hunting and what it takes to be successful at it. Check this podcast out to learn more about what you can do to become a better and more effective hunter," the user going by Cmruikka wrote on Apple's app store about the podcast. 
"Mark Kenyon just keeps improving and improving on his hunting blog 'Wired To Hunt,'" huntandskate chimed in as well among the other more than 200 5-star ratings given to the podcast. "The podcasts are fun and have great whitetail information in them too. Mark makes you feel like you're right there at home with him. Great podcast! Keep 'em coming, Mark!!"
Earlier this month, Outdoor Life called Kenyon a "new media star."
That's true. But at the heart of it, he's just a passionate hunter, which is probably what has turned him into such a star.
Find out how to subscribe to the Wired to Hunt podcast here. Check out more stories from Kenyon on his Wired to Hunt website.
And if you're wondering how the story of Jawbreaker ended, officially, read how Kenyon finally found his No. 1 buck in March.
Want to leave a tip?
We answer to you. Help keep our content free of advertisers and big tech censorship by leaving a tip today.
more stories
Sign up for the Blaze newsletter
By signing up, you agree to our
Privacy Policy
and
Terms of Use
, and agree to receive content that may sometimes include advertisements. You may opt out at any time.