Two sixth grade Boy Scouts sat before Michigan lawmakers Thursday asking for their school's "Wacky Wednesday" back.
What is Wacky Wednesday and why are two middle school students having to testify in front of lawmakers at a committee meeting in order to get it reinstated?
According to MLive, Wacky Wednesday was a ounce-month-fundraiser the students at Canton Charter Academy and Boy Scout Troop 743 conducted by selling sports drinks and doughnuts. The money would fund school trips.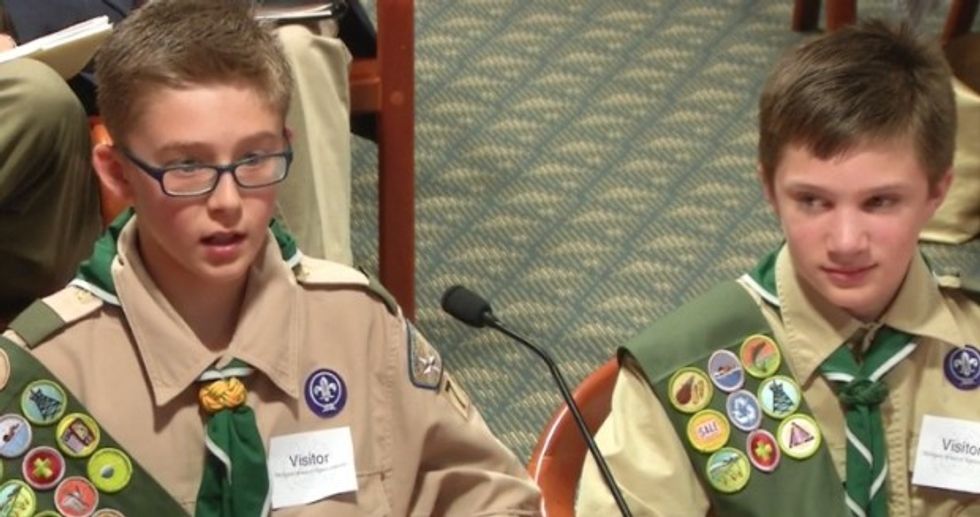 William Cothron and Kevin Kapanowski told the lawmakers that their Wacky Wednesdays were so successful they would sell out of their goods. (Image source: Michigan House)
"It helped us learn too because when we go on field trips we learn stuff," William Cothron told lawmakers, according to MLive.
The cancellation of Wacky Wednesdays came with the implementation of the federal Smart Snacks In School standards. The U.S. Department of Agriculture clarified last year that it hasn't banned all bake sale goods from schools, but is allowing schools to "set policies on fundraisers and bake sales" on its own.
In Michigan, MLive reported a bill recently passed in the Senate that would allow three bake sales per week.
Rep. Winnie Brinks, a democrat, said that the legislation is difficult for her to justify because it's "putting bad choices ... in front of our students as we try to consider healthy behaviors," MLive reported.
Lauri Levi though, the mother of a Canton student who passed out muffins at the meeting, said that the law has "nothing to do with healthy kids.
"This has to do with control," she said, according to the news outlet. "There is one bagel approved on the list, and it is this brand only. It has nothing to do with health."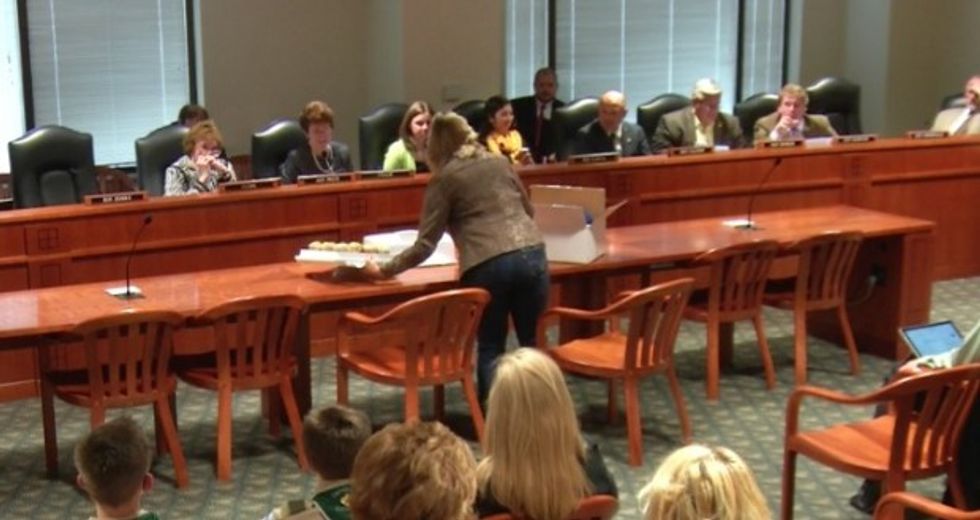 A mother brought muffins that were not on the government "approved" list for foods in schools, but that she argues are far healthier than the foods that are on the list. (Image source: Michigan House)
Lawmakers discussed various provisions that could be implemented to still allow bake sales while helping students make smarter choices, such as notifying parents ahead of time. Rep. Andy Schor, a democrat, said notifying parents that a bake sale is coming up is one thing, but he expressed concern that it didn't offer enough oversight for parents to make sure their children are eating the right thing while not in their care.
"My big concern over this is if I give my child money for lunch ... my son might not necessarily make the best decision, he might say 'Well, I think I'm going to spend that money on doughnuts instead," Schor said.
Sen. Patrick Colbeck, a republican, who introduced the bill said later that he'd like more of the decision making control for bake sales to rest with the principals, because those are the people parents regular have access to.
The two boy scouts made a point that just because it's not in school doesn't mean that kids won't get their hands on treats elsewhere.
"I definitely think we should have a balance between our healthy foods and our junk foods. But ... if you can't have it when you want it, then when you can have it, you can binge on it," Cothron said. "And also, with sports ... if you don't get your calories, you can't stay fit. So sometimes, eating the junk food is good."
You can see the full meeting in the video posted to the House website.
Update: Scoutmaster Dan Kurt told TheBlaze via email that the two boys have since earned their citizenship in the National Merit Badge.
They first brought the issue before Sen. Colbeck when he spoke at one of the Scout meetings about the Constitution. At that point, he was asked about the bake sales being stopped at school and said he would get back to them, Kurt said. Later, he asked Kurt to tell the boys that he would be introducing the legislation that passed in the Senate and that is now under review at the state House.
"What a great civics lessons for these boys," Kurt wrote.