On the left, the Los Angeles Dodgers' payroll.
On the right, the total payrolls of all MLB teams.
Take a look at the top and bottom of each side.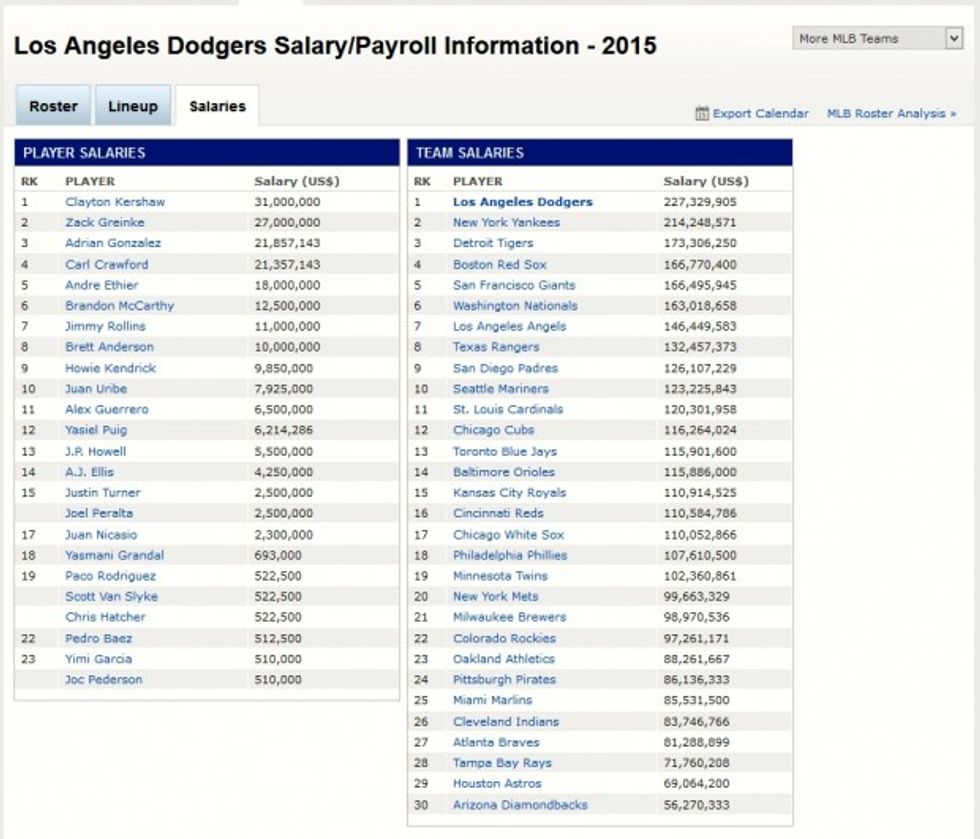 Image via imgur
The image, pulled from ESPN's database here, shows that the Los Angeles Dodgers pay pitchers Clayton Kershaw and Zack Greinke a combined $58 million — almost $2 million more than the Arizona Diamonbacks pay their entire roster.
"Does MLB need a salary cap?" asked the Reddit user who posted the image late Friday.
The question prompted more than a thousand comments and furious debate.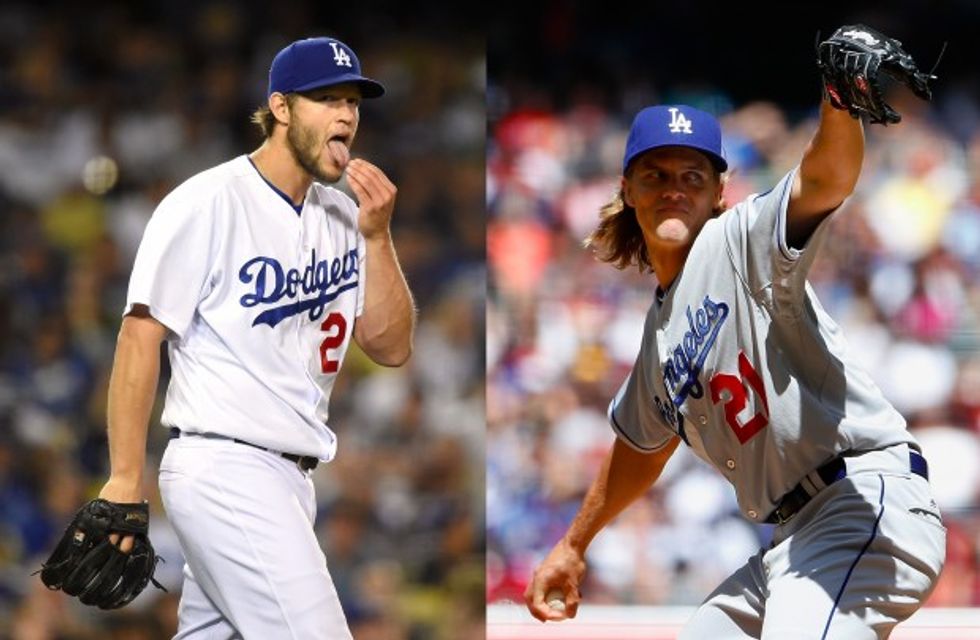 Clayton Kershaw, left, and Zack Greinke of the Los Angeles Dodgers. (Photos by Christian Petersen and Harry How/Getty Images)
One commenter responded:
Yes there needs to be a cap. Do you know how much it sucks having 14 losing seasons in a row as an O's fan and getting out of it with careful youth scouting work and small purchases on players. But then you constantly see the Yankees pay their way out of rebuilding years to be back on top again. It's f***ing annoying to have the same teams in contention every few years. i.e. Yankees, Dodgers, Red Sox.
Another commiserated, "I know how that feels. I'm a pirates fan. 20 years of under 500 baseball."
But some defended the current system.
"Every MLB team has made the playoffs in the last 22 years," one commenter weighed in. "That longest stretch is the Toronto Blue Jays, who had just come off back to back World Series. That's pretty solid parity. Not sure the salary cap is necessary."
Still others pointed to the fact that there is a salary cap in place — sort of.
The so-called "luxury tax" charges teams with payrolls over $189 million and has cost the Dodgers and the New York Yankees tens of millions of dollars.
Many of the top commenters pointed to another sport altogether as a model for baseball: hockey.
"[The] NHL has [a salary] floor, cap, maximum contract, and minimum contract and players make something like 51 [percent of team revenue]," one commenter noted. "[It] works great."
But even the pro-hockey commenters had their detractors.
"Bahahaha, 'works great,'" one responded. "Besides the continual and repeated lockouts, yeah, it works perfect."
What do you think? Take the poll below and discuss in the comments.
—
Follow Zach Noble (@thezachnoble) on Twitter