Picture this: You pull into your driveway, hop out and find half a dozen police officers and social workers who, without having a warrant, bar you from your own home.
It's what happened to one woman in Kansas last month.
The ordeal of Shona Banda, an activist who touts the medicinal benefits of marijuana, was initially reported by investigative journalist Ben Swann's website and non-profit the Human Solution International and later picked up by the Washington Post.
On March 24, Banda said, police showed up and blocked her from entering her home on the suspicion that she had drugs in the house.
Where did they get that suspicion?
Banda's 11-year-old son had argued in favor of marijuana at a school anti-drug presentation, and so the school called the state child protection agency.
Banda captured some of the confrontation on video.
"You are not free to enter the residence," a police supervisor, who identifies himself as "Sergeant Chase," tells her.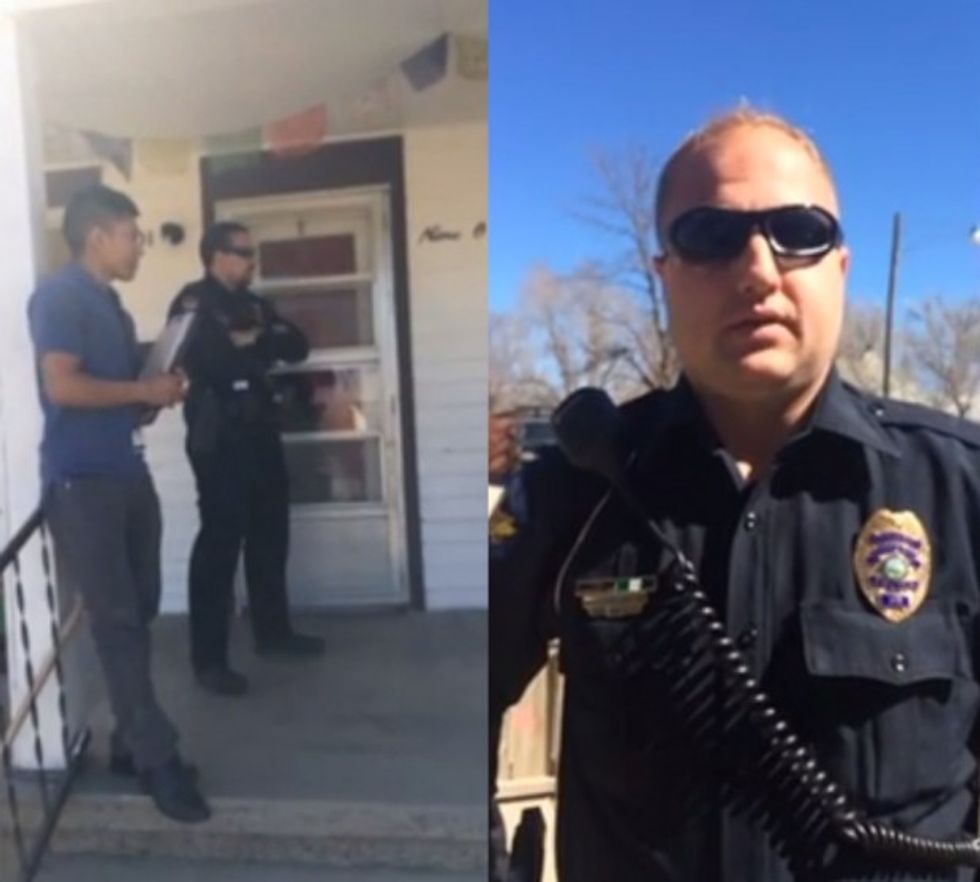 Images via YouTube
Banda repeatedly asks whether police have a warrant, and they repeatedly admit they do not — but they stake out her property and refuse to let her enter.
When she asks why officers believe marijuana to be in her home, the sergeant responds, "Doesn't matter."
"You are not allowed in my backyard," she tells several officers. "It is not public property, you don't have a warrant!"
Again the sergeant responds, "Doesn't matter."
The police several times tell her, "You're free to leave at any time."
After three hours of waiting, the police got their warrant and found 2 ounces of cannabis oil in Banda's home, the Post reported.
According to Banda, the oil is medicinal — she uses it to treat her Crohn's disease — and the family actually used to live in nearby Colorado, where marijuana is legal.
In Kansas, marijuana possession is strictly outlawed, police confirmed to the Post.
Now Banda could lose her child, and temporary custody has already been granted to her ex, she said, even though no criminal charges have been filed against her, the Post noted.
She's not completely alone in her fight: A crowd funding campaign in support of Banda had raised nearly $17,000 as of Saturday afternoon.
Banda's next custody hearing is scheduled for Monday.
This story has been updated.
—
Follow Zach Noble (@thezachnoble) on Twitter