ATLANTA (TheBlaze/AP) — Bobby Brown apparently told a concert crowd Saturday night that his daughter Bobbi Kristina Brown is awake nearly three months after she was found face down and unresponsive in a tub at her Georgia home.
In a video, Brown sounds as though he tells the crowd at the Verizon Theatre in Dallas, Texas, that "Bobbi is awake," adding that "she's watching me." The crowd screamed after his remark.
Brown's family has said she's "fighting for her life" since she was found unresponsive Jan. 31. The 21-year-old Bobbi Kristina is the only daughter of Brown and the late Whitney Houston.
But some aren't so sure about the new report. Access Hollywood and TMZ noted it was unclear if Brown meant his daughter is literally out of her coma. And a Brown family source told People "as far as I know, there's been no change." In the clip it sounds as though Brown may have said his daughter is "waking" rather than the widely reported "awake."
Tina Brown, Bobbi Kristina's aunt, reportedly posted on her Facebook page that "she woke up and is no longer on life support!!!!!:):)," but that post didn't show up on her Facebook page Sunday night.
But a friend of Tina Brown's, Keliah Fell, posted a screenshot of the message: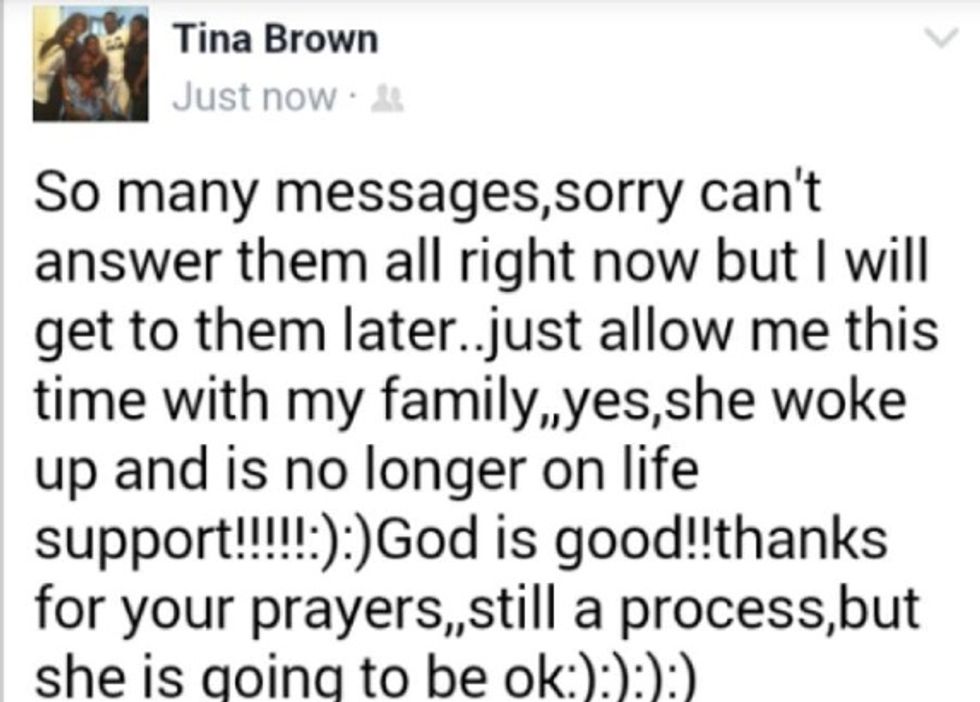 Image source: Facebook
Fell also confirmed that Bobbi Kristina is awake and added, "If y'all dont believe that prayers were answered I have witnesses. All you none believers need to go do research if u dont believe the news."
Bobbi Kristina Brown has been moved to an undisclosed location since being released last month from Emory University Hospital in Atlanta.
Brown's attorney, Christopher Brown, declined to comment.
—
Follow Dave Urbanski (@DaveVUrbanski) on Twitter