It was a damp day for the 30,000 competitors who participated in the world's oldest annual marathon, seeing its 119th edition in Boston this year.
Still only two years after the bombing that killed three people and wounded 260 more, the memory of that tragic event and the words "Boston Strong" remained a common theme throughout the day.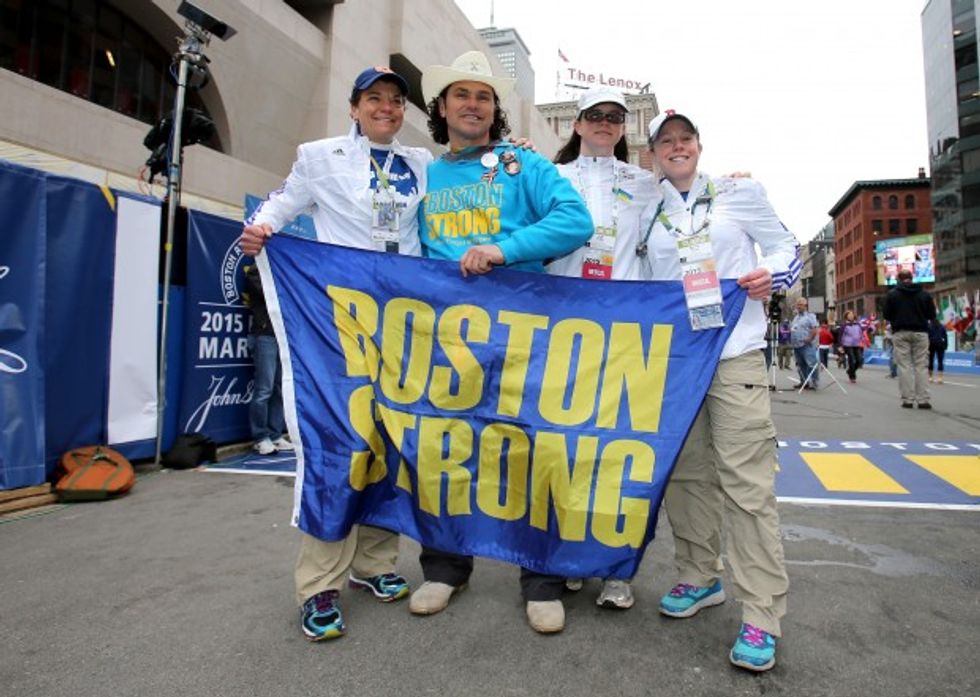 First responder Carlos Arredondo poses at the finish line before the start of the 119th Boston Marathon, April 20, 2015 in Boston. (Photo by Jim Rogash/Getty Images)
Here are six inspiring stories related to Monday's Boston Marathon:
Suffered a Freak Accident Less Than a Year Ago
Kevin Koncilja didn't let a freak accident less than a year ago stop him from competing today. According to the Boston Herald, Koncilja was running a month after last year's race when he came down in a way that twisted his leg and fractured his femur. Not only did Koncilja get himself back into marathon-running shape in time for the race, he also raised more than $8,000 for Martin Richard, the 8-year-old who died in the bombing attacks two years ago.
Remembering Martin Richard
Koncilja isn't the only one running for Team MR8, which is dedicated to Richard. Kendra Campbell is on that team as well and, according to Boston.com, she draws strength from a picture of Richard that she keeps in her pocket when she runs.
Campbell was a teacher at Richard's school and hadn't run more than a 5K race when she was offered a spot on Team MR8 last fall.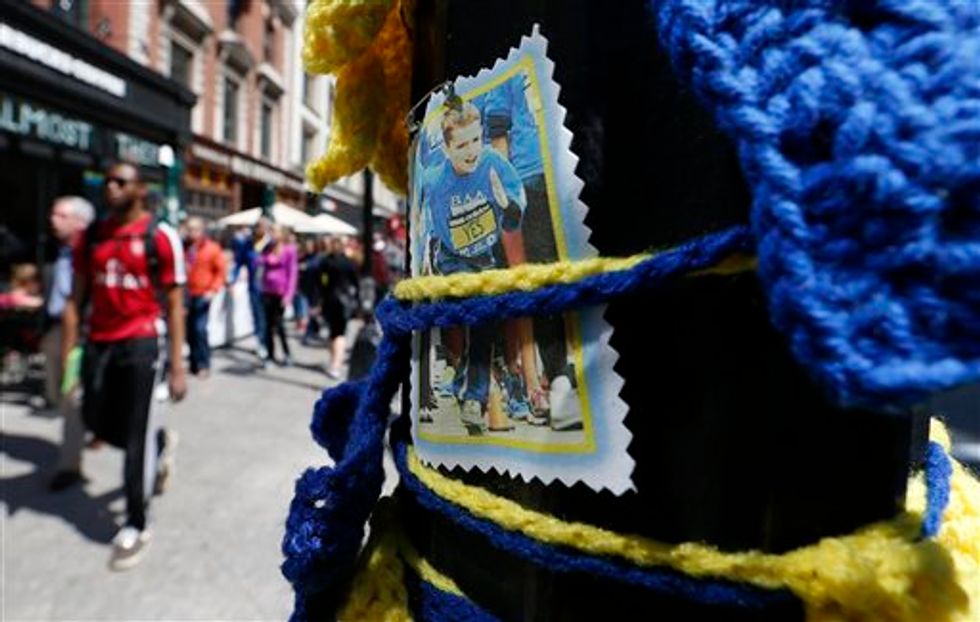 Pedestrians pass a photograph of Boston Marathon bombing victim Martin Richard, Saturday, April 18, 2015, in Boston, at the spot where the second bomb detonated at the marathon in 2013. (AP/Michael Dwyer)
"I still don't see myself as inspiring others," she told Boston.com. "People have donated and left messages and saying things like 'What you're doing is so inspiring.' But I still don't quite see myself as the inspirer, if that makes sense. But it's been really, nice the support, my friends and my family, even people I haven't seen in years."
Tatyana McFadden, who came to the U.S. from a Russian orphanage, won the women's wheelchair version of the race and dedicated her win to Richard:
Hit-and-Run Victim Inspired From Afar
Though not running in the Boston Marathon, John Pulliam was certainly inspired by it, specifically the devastation in 2013 and the will of some survivors to get back out there. According to WAGA-TV, Pulliam lost his leg in a hit-and-run accident a couple of years ago. After seeing the aftermath of the bombings, Pulliam decided to stop feeling sorry for himself and has begun to participate in races with a prosthetic leg.
From Chernobyl to Boston — Twice
Alosha O'Brien, though he was born perfectly healthy, has to use crutches and a wheelchair after the Chernobyl nuclear disaster 1986 when he was almost 2 years old. Now 30, O'Brien is participating in his second Boston Marathon being pushed by a runner while he sits in a wheelchair.
Watch the ABC News report on O'Brien:
School Hall Monitor Inspired Onward by Teen Cancer Victim
Kandi Rasmussen qualified for the Boston Marathon at the Big Cottonwood Marathon in Utah last summer. The person driving her to keep going mile after mile was a teenager she got to know while he was a student at the school where she was a hall monitor, Deseret News reported.
"And then I thought, 'Get back up,'" she told the newspaper, recalling a moment when she fell to the ground with cramps in that qualifying marathon. "I thought of Tyler [Robinson]and [his] 21 rounds of chemotherapy."
"I truly think Tyler carried me those 3 miles," Rasmussen said.
Keep Your Eye on the 'Back of the Pack'
Two-time Boston Marathon winner Joan Benoit Samuelson offered some advice for where to find the best stories as she walked the last mile of the race course Sunday.
"For me, the most inspiring stories come at the back of the pack. So if you're not up front with the elite athletes tomorrow, don't worry about it," Samuelson told WHDH-TV. "You have a story to tell, go out and tell it, and really just enjoy the journey and the experience."
The 57-year-old won in 1979 and 1983.