© 2023 Blaze Media LLC. All rights reserved.
Turkey's top Islamic authority is investigating after a religion class held a celebration honoring the Muslim Prophet Muhammad with a cake shaped and decorated like the Koran.
The class was on the Muslim holy book.
Hurriyet Daily News reported Monday that the alleged confectionery offense occurred in the Turkish province of Tokat in 2013, but that the top religious body in Turkey, the Diyanet, has just now launched an investigation because "the cake did not comply with the spirit of the Holy Birth of the Prophet Muhammad and the Koran."
A photo showed a participant cutting the cake.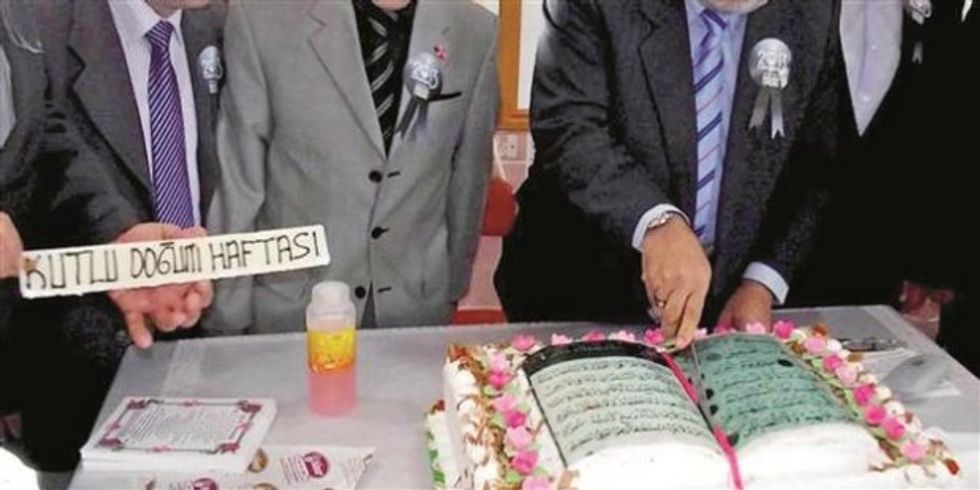 The Koran cake was baked in honor of the birth of the Muslim Prophet Muhammad. (Image source: Hurriyet Daily News)
Here are some comments posted in response to the story:
@HDNER cutting the Quran with a knife, then complaining about #CharlieHebdo. Go figure!

— Tarkan (@TarX68) April 20, 2015
@Joyce_Karam @curdistani @DavidKenner A cake symbolic of the Koran Holy Book,is that acceptable? Not seen a Bible cake?

— edith brown (@poetima) April 20, 2015
The cake has so far refused to comment. RT @HDNER #Quran-shaped cake under investigation in northern #Turkey http://t.co/anIsO1Mc7M

— DavidKenner (@DavidKenner) April 20, 2015
The religious authority was alerted belatedly to the cake after a photo of it was posted online. It reportedly had been prepared in honor of Holy Birth Week, an annual Turkish commemoration of Muhammad's birth. A sign held up next to the cake in the photo noted the Holy Birth Week celebration.
Mehmet Gormez, who heads the Diyanet, said Muhammad's birth is not supposed to be a celebration and that the cake was "unacceptable," despite having been prepared by students in a class about the Koran.
The office of the mufti of Tokat issued a statement in response to the controversy saying while it knew about the cake, the Koran page depicted in icing "was added outside the office's knowledge."
Want to leave a tip?
We answer to you. Help keep our content free of advertisers and big tech censorship by leaving a tip today.
more stories
Sign up for the Blaze newsletter
By signing up, you agree to our
Privacy Policy
and
Terms of Use
, and agree to receive content that may sometimes include advertisements. You may opt out at any time.