It's been a long winter and there's little embodies the unbridled joy that is the coming of spring than Danish dairy cows running out into a green pasture.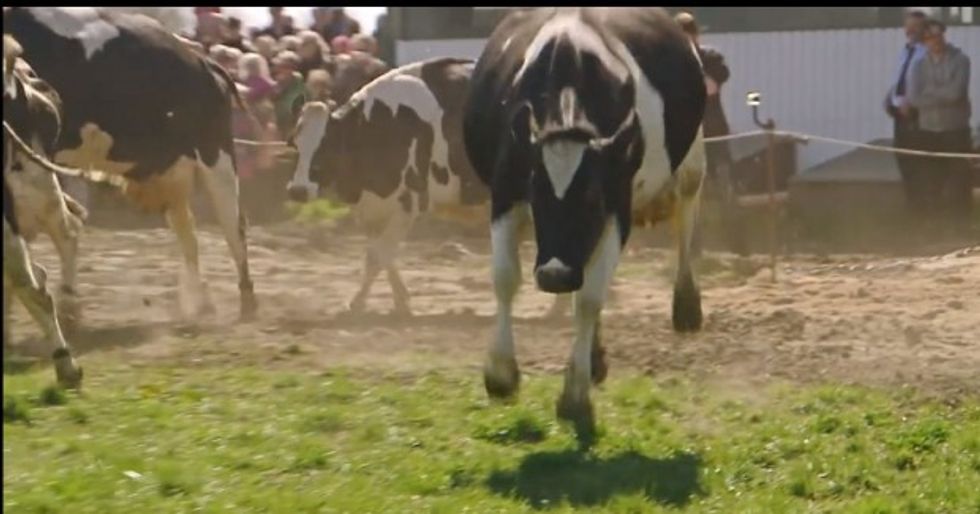 Image source: Arla Danmark/Facebook
Though the lumbering trot of the thousands of organic dairy cows is short lived, mostly because they quickly find a patch of grass on which to settle themselves, seeing the bovines buck and rear with such excitement is quite a moment.
And it's one that NPR reports is a national holiday of sorts in Denmark where organic cows are required to be put out to pasture from April to November.
Here are a few videos capturing the glee.
Sidste Økodag-post i denne omgang. Måske :) Vi og køerne havde en fantastisk dag! Hvad var det bedste, du oplevede på Økodag i går?

Posted by Arla Danmark on Monday, April 20, 2015
"The first time you see the excitement of the [organically raised] cows, how they truly dance around out in the fields, there can be no doubt for anyone that this is where they belong," event organizer Birgitte Nygaard told NPR, noting that non-organic dairy cows are not required to have time outdoors.
The event Sunday called "Dancing Cow Day" or "Organic Day" drew crowds of more than 270,000 people to the country's many dairy farms. Denmark's the Local newspaper reported that Danish Princess Mary and three of her children attended one event.
"It is fantastic that so many Danes come out year after year to share the experience of the dancing organic cows with the organic farmers," Per Kolster, chairman of the national association of organic farmers, said, according to the Local. "It is incredibly contagious to feel the cows' excitement to come out to the fields, and this gives Danes a chance to experience what kind of difference it makes when they buy organic milk."