Traffic in Israel came to a standstill and pedestrians stopped in their tracks Wednesday morning as air raid sirens wailed for two minutes in remembrance of soldiers killed in defense of Israel and of victims of terrorism.
Among those paying tribute was Prime Minister Benjamin Netanyahu, who described what he called the two worst moments in his life.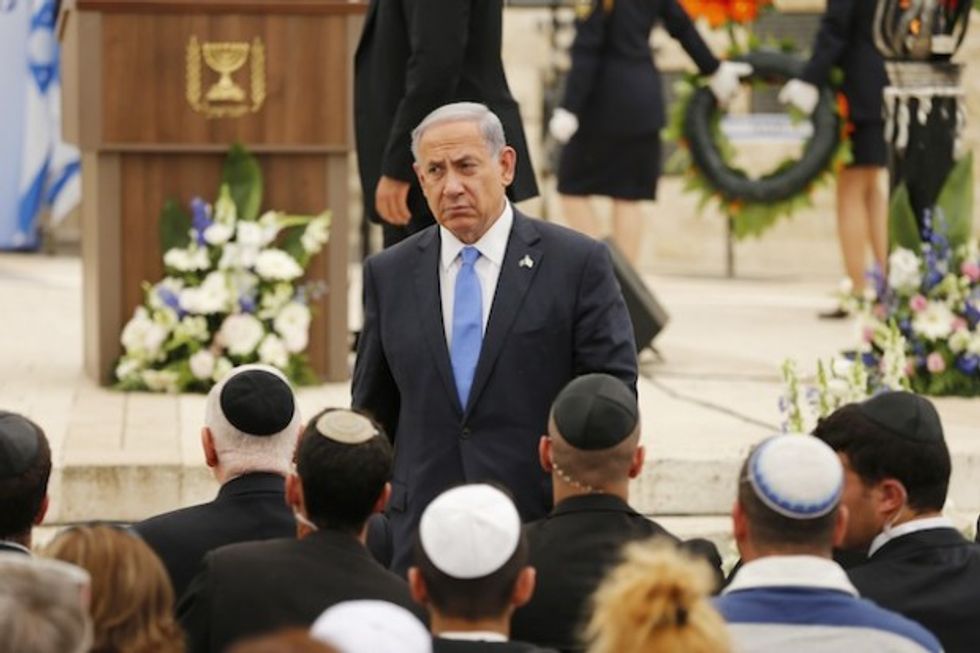 Israel's Prime Minister Benjamin Netanyahu leaves the podium after speaking during a Memorial Day ceremony to commemorate the country's fallen soldiers at Mount Herzl military cemetery in Jerusalem, Wednesday, April 22, 2015. (Ammar Awad/Pool photo via AP)
Speaking at a Memorial Day ceremony at Jerusalem's Mount Herzl military cemetery, Netanyahu said the first worst moment was on July 4, 1976 when he was told his older brother, Lt. Col. Yoni Netanyahu, had been killed in action.
The elder Netanyahu commanded the Israel Defense Forces commando unit that rescued more than 100 hostages in Entebbe, Uganda, after their Air France plane was hijacked by Palestinian terrorists.
The second was when he broke the terrible news to his parents.
"That terrible knock on the door by the bearers of bad news, I got as an Israeli student in Boston, by way of a telephone call from my brother, Ido, who told me about Yoni's death — our older brother. This was the worst moment in my life, except for one — when I became the one to tell my father and mother. I was the one who knocked on my parents' door in New York," Netanyahu said, according to a translation by the Times of Israel.
"Through the large window peering into the house, I saw my father pacing to and fro, lost in thought, his hands behind his back in his typical fashion," Netanyahu recalled. "Suddenly he averted his gaze when he saw me coming up the path. Without saying a word, his expression changed at once, and he let out a bitter cry."
"I went inside. As long as I live, I will not forget his screams, and the screams of my mother," Netanyahu said.
"There is no moment that can compare to the intensity of shock and suffering, and we know that the wound never fully heals," Netanyahu said according to Haaretz.
The prime minister said that whenever is faced with a military decision, he thinks of "every soldier and every family as if it were my son, as it were my family," Netanyahu said.
Ahead of Remembrance Day for the Fallen of Israel's Wars, PM Benjamin Netanyahu visited the grave of his brother Yoni pic.twitter.com/5g7Darm2Ol

— PM of Israel (@IsraeliPM) April 18, 2015
Yoni Netanyahu was the only Israeli soldier killed in the daring Entebbe hostage rescue which involved a successful ruse imitating the convoy of then-Ugandan President Idi Amin. Of the flight's passengers being held hostage, 102 of 106 were successfully rescued and flown to Israel by the Israeli Air Force.
According to Israeli government figures, 23,320 Israelis have been killed as soldiers or as civilian victims of terrorist attacks.