"Last night a Facebook notification showed up on my screen. A friend had posted a picture to my wall. What I saw disgusted me."
That's how Zuri Davis, 19, describes the moment she saw a Facebook post targeting her for being a black, female supporter of Sen. Rand Paul (R-Ky.).
"A FEMALE AFRICAN AMERICAN who is standing with Rand," the post said. "She must not realize the platform. The fact he's pretty much regarded as racist, sexist, a**hole along with the rest of his party."
"Honey, honey, honey," it added.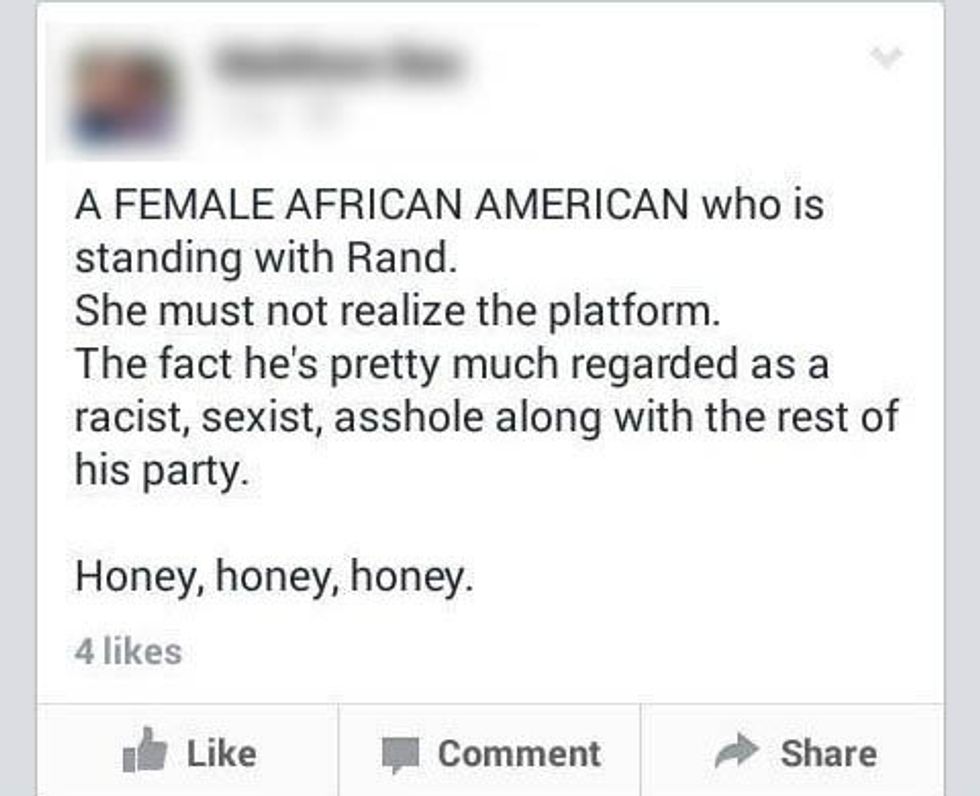 Image source: Facebook
The post was later deleted and the individual later deactivated his Facebook page.
Davis told TheBlaze Friday that it was likely prompted by her commenting on a friend's post about why taxes should be voluntary.
"I have a very obvious 'Stand With Rand' on my cover picture and my public posts indicate my preference," she said. "He made the comment on his own timeline. It was screenshot by my friend and he sent it to me."
The 19-year-old became "determined to set the record straight."
'[I] am really tired of people assuming they can make comments like that and think that they are acceptable," she told TheBlaze. "That was not the first time I had received a comment like that. I get a lot of people that ask me how I can be black and a conservative."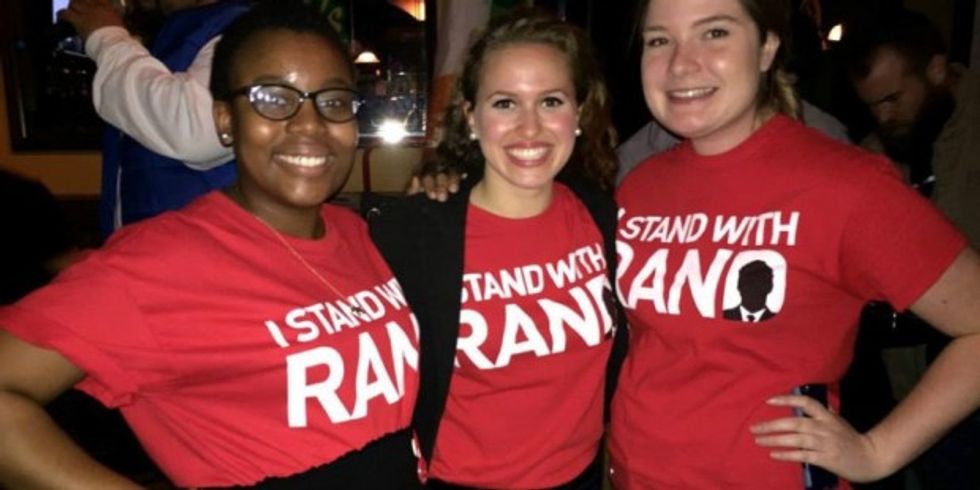 Zuri Davis (left) and friends. (Image source: Facebook)
After some thought, the D.C.-area resident decided to pen a column in response. In it, she wrote that she has researched the 2016 candidates and concluded Paul is "the most liberty minded." For that, she supports him.
But according to the post I was reading, my love for the Constitution is not supposed to be my primary issue.

Social problems are.

I am supposed to support the candidate who panders to minorities. I am supposed to support the candidate who places women above men in a misguided approach to equality. I am supposed to support the candidate who offers free contraception. I am supposed to support the candidate that speaks softly to me in idealistic sweet nothings, telling me only what I want to hear, thinking I am not smart enough to care about the state of our economy.

But despite my color, gender, economic standing, sexual preference or any other imaginable category, I refuse to let the world define me by of what they see on the outside. That's something progressives always insist on doing.

I want no part of it.
Davis wrote that she will not bow down to pressures from society and will continue to proudly support Paul.
Black Americans were once told we could not sit at the front of the bus or drink from whites only water fountains. Today we are often told that we do not possess the freedom of thought.

I choose to support the candidate who believes the federal government should have limited involvement in the economy, a strong but more reasonable national defense and who believes in leaving the powers not delegated to Washington to the people and the states respectively. I will not deny a party that has historically fought for my personhood, my right to vote, and my right to protect my life, liberty, and property.
Her column was widely-circulated Friday, amassing more than 11,000 shares on Facebook. Davis said she has received a mostly positive response.
"Everyone is really proud of me for writing it," she told TheBlaze. "Many of my friends are proud of me for standing up for my beliefs as well."
—
Follow Oliver Darcy (@oliverdarcy) on Twitter