Story by the Associated Press; curated by Oliver Darcy, Zach Noble and Dave Urbanski
UPDATE 11:30 a.m. Sunday EDT: KATHMANDU, Nepal (AP) - Death toll from Nepal earthquake tops 2,500.
—
UPDATE 6:30 a.m. Sunday EDT: KATHMANDU, Nepal (AP) - Nepal police official says at least 2,152 are confirmed dead following massive earthquake.
—
UPDATE 1:01 a.m. Sunday EDT: KATHMANDU, Nepal (AP) - Nepal police official says at least 1,910 have died, including 721 in Kathmandu, in the quake.
—
UPDATE 9:50 p.m EDT: KATHMANDU, Nepal (AP) - Nepalese Home Ministry says quake death toll has reached 1,805.
—
UPDATE 5:11 p.m EDT: KATHMANDU, Nepal (AP) - Nepal police say 1,394 confirmed dead in massive earthquake.
—
UPDATE Noon EDT: Nepal police say at least 1,130 have been killed by the massive earthquake that rocked Nepal Saturday.
—
UPDATE 10 a.m. EDT: A powerful earthquake struck Nepal Saturday, killing at least 876 people across a swath of four countries as the violently shaking earth collapsed houses, leveled centuries-old temples and triggered avalanches on Mt. Everest. It was the worst tremor to hit the poor South Asian nation in over 80 years.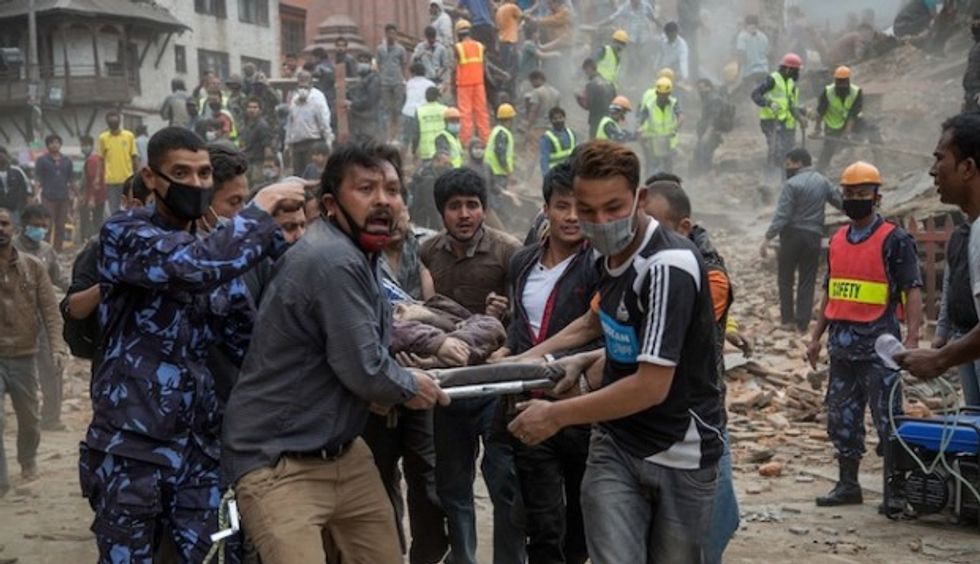 Emergency rescue workers carry a victim on a stretcher after Dharara tower collapsed on April 25, 2015 in Kathmandu, Nepal. More than 100 people have died as tremors hit Nepal after an earthquake measuring 7.9 on the Richter scale caused buildings to collapse and avalanches to be triggered in the Himalayas. Authorities have warned that the death toll is likely to be much higher. (Photo by Omar Havana/Getty Images)
At least 688 people were confirmed dead in Nepal, according to the police. Another 20 were killed in India, six in Tibet and two in Bangladesh. Two Chinese citizens died at the Nepal-China border. Given the scale of the destruction, the death toll is almost certain to rise, said Home Ministry official Laxmi Dhakal.
Original story below
KATHMANDU, Nepal (AP) — A strong magnitude-7.9 earthquake shook Nepal's capital and the densely populated Kathmandu Valley before noon Saturday, causing extensive damage with toppled walls and collapsed buildings, officials said.
PM has convened a high level meeting with Ministers & top officials at 3 PM in the wake of the situation arising due to the Earthquake.

— PMO India (@PMO India) 1429947601.0
Dozens of people with injuries were being brought to the main hospital in central Kathmandu. There was no immediate estimate on fatalities.
Several buildings collapsed in the center of the capital, including centuries-old temples, said resident Prachanda Sual.
He said he saw people running through the streets in panic. Ambulance sirens blared and government helicopters hovered overhead.
I hop everyone is safe. Still shaking from the major earthquake. Damage in my area #kathmandu http://t.co/hUAzcLoLNv

— Bibek Bhandari (@Bibek Bhandari) 1429943495.0
National radio warning people to stay outdoors because more aftershocks are feared. It is also asking people to maintain calm.
Old Kathmandu city is a warren of tightly packed, narrow lanes with poorly constructed homes piled on top of each other.
Roads buckle after 7.5 quake in Nepal RT @iHunnt: #aranikohighway #lokanthali #earthquake http://t.co/a2pg0H0Kly

— BuzzFeed Storm (@BuzzFeed Storm) 1429945336.0
Nepal's Information Minister Minendra Rijal told India's NDTV station that there are reports of damage in and around Kathmandu but no immediate word on casualties.
He said rescue teams were on the scene.
The epicenter was 80 kilometers (49 mile) northwest of Kathmandu, he said. The Kathmandu Valley is densely populated with nearly 2.5 million, with the quality of buildings often poor.
An Associated Press reporter in Kathmandu said a wall in his compound collapsed and there was damage to nearby buildings.
The U.S. Geological Survey revised the magnitude from 7.5 to 7.9 and said the quake hit at 11:56 a.m. local time (0611 GMT) at Lamjung a shallow depth of 11 kilometers (7 miles).
Mohammad Shahab, a resident from Lahore, Pakistan, said he was sitting in his office when the earthquake rocked the city near the border with India.
He said the tremors continued for a while but now the situation was normal.
The sustained quake also was felt in India's capital of New Delhi. AP reporters in Indian cities of Lucknow in the north and Patna in the east also reported strong tremors.
—