Eric Metaxas, a distinguished Christian thinker and author who isn't afraid to speak his mind on both theology and key issues of the day, attributes his successful and eclectic career to a decision that he made long ago: to let God fully guide his professional path.
Author Eric Metaxas (Photo courtesy Eric Metaxas)
Metaxas, whose new nationwide radio program "The Eric Metaxas Show" launched last Monday, gained notoriety by authoring a number of books, including "Miracles" and the famed "Bonhoeffer: Pastor, Martyr, Prophet, Spy."
He's also written for the popular kids show "Veggie Tales," regularly appears on news programs to share his biblical worldview and runs "Socrates in the City," a New York City forum series that brings in well-known names to explore the big questions of the day.
"I've learned to stop worrying and ... love the eclectic nature of my life, career and talents." Metaxas told TheBlaze recently. "I'm a renaissance man. I enjoy doing different kinds of things."
It was after becoming a Christian decades ago that Metaxas made a key decision he says has invigorated and catapulted his career: that he would let God take control.
"I have to say that I can't take credit for any of this," he said. "If you came 10 years ago and you asked, 'Have you ever written a biography?' I would have said 'no.' If you had talked to me 30 years ago and said, 'Have you ever written children's books?' I would have said, 'no.'"
But he's now done both, with his book, "Bonhoeffer" — about Dietrich Bonhoeffer, a Christian leader who was jailed and later executed for plotting to assassinate Adolf Hitler — becoming a coveted best-seller back in 2011.
In addition to discussing the evolution of his career, Metaxas detailed his spiritual journey, describing the "dramatic, born-again experience in the summer of 1988" that forever changed his life.
"[It] just totally blew my mind," Metaxas said of becoming a Christian, and it set his life on a different course.
The son of European immigrants — a mother from Germany and a father from Greece — Metaxas grew up in Danbury, Connecticut, and ended up majoring in English at Yale University, but it wasn't until after college that his conversion experience unfolded.
"When you go to a place like Yale University, it's incredibly secular," he said. "The big questions of life were not being answered at a place like Yale."
But over the past 27 years, Metaxas has spent his time asking, exploring and posing those major theological and existential curiosities.
Metaxas — a Christian with a conservative worldview — now lives in New York City with his family, a place not necessarily known for an overwhelmingly embrace of right-of-center inclinations.
But that's exactly what Metaxas loves about it.
"I would say it's God's calling on my life to really be succinct about it," he said of his reasons for staying in New York, which is also close to family in both New Jersey and Connecticut. "I just feel, culturally speaking, that this is a mission field, and I've always felt kind of a mission to speak to the cultural elites."
Metaxas continued, "New York is one of the most influential places in the world and I really believe that, in terms of moving the needle, this is a place of great leverage."
While he knows that many Christians and conservatives have avoided New York City "for many good reasons," he considers it home.
Taking care not to criticize anyone who isn't interested in being in a place like New York, Metaxas did say that he believes it's essential for Christians to help people see perspectives outside of their own ideological bubbles.
"I do feel that if you want to help people see what you see, you have to go where they are," he said. "There are people here who are good, influential people who never hear what I say in my 'Miracles' book. I believe most of them are hungry for that."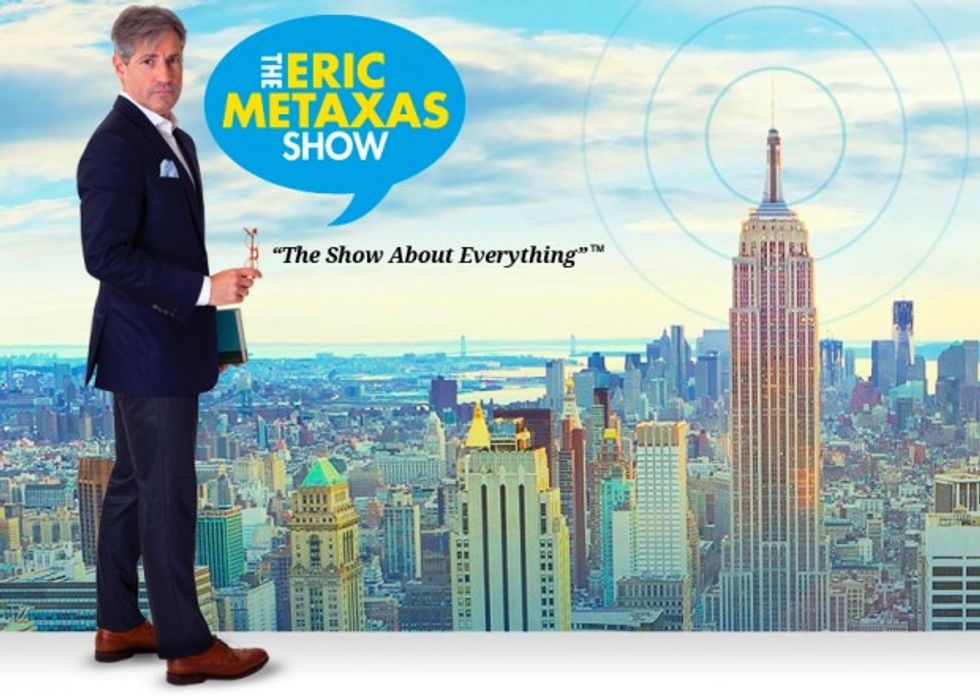 The Eric Metaxas Show
Metaxas said that reaching those unfamiliar with the Christian message "is not about selling something" and is, instead, about "having a civil conversation."
"We live in a culture that doesn't do justice to faith," he said. "People of faith tend to only talk to themselves. They don't know how to speak the language of culture."
Bridging this divide is his mission, as Metaxas said that Christians need to "speak the language of those who are not on the same page as we are."
"I'm commanded by God to love my enemies and to try to communicate with people not on the same page," he reiterated.
Listen to Metaxas speak about "Miracles" below:
As for the monumental success he's experienced, Metaxas doesn't take any of it for granted, praising and thanking God for allowing him to use his gifts to spread the gospel. Learn more about his new radio show here.