Taylor Swift called a 12-year-old Chicago girl with cancer Tuesday night after a social media campaign caught the pop star's attention.
"I CANNOT thank all of you and your efforts that you are ALL making to reach Taylor Swift," her mother, Nadia, wrote on Facebook. "Taylor called Emily Beazley! !!!!! She just got off the phone with her. She couldn't have been nicer. Emily has a smile from ear to ear!"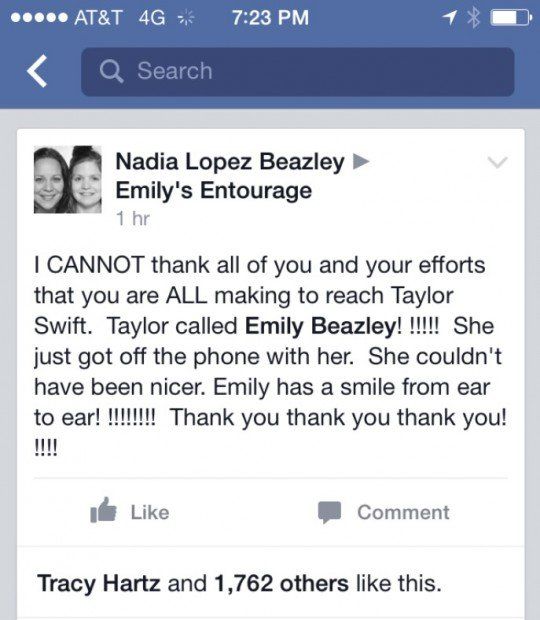 Image source: Facebook
Emily was diagnosed with cancer in 2011, but was recently told by doctors that it will never go into remission, The Beverly Review reported. Treatment was then stopped, according to WMAQ-TV.
Swift called Emily as she left the hospital following radiation aimed at easing her pain.
"Emily was really on cloud nine," Nadia told The Beverly Review, adding that her daughter was "completely starstruck."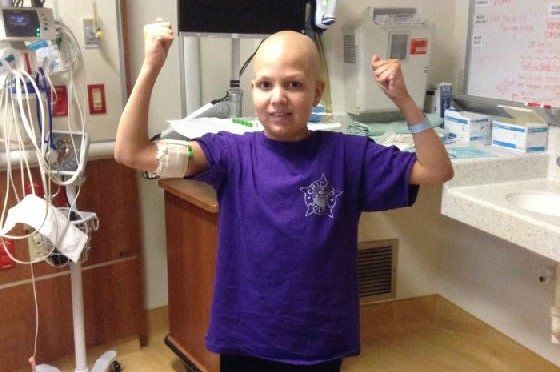 Image source: EmilysEntourage.com
The call lasted for about 10 minutes and covered a variety of topics, inclining how Emily's favorite song is "Shake It Off."
"It was amazing. A very personal conversation. She said how proud she is of Emily for fighting so hard," Nadia told the Beverly-Mtgreenwood Patch.
[sharequote align="center"]"It was a smile I haven't seen in the longest time. It was magical."[/sharequote]
"You should have seen her face," she added. "It was a smile I haven't seen in the longest time. It was magical."
Swift has been known to have a special connection with her fans. For Christmas, she surprised her most loyal supporters with hand-picked gifts. In March, she also called a little girl who was battling terminal brain cancer.
—
Follow Oliver Darcy (@oliverdarcy) on Twitter