New research suggests that the northeast portion of the U.S. is more racist than other parts of the country and has higher mortality rates for black Americans.
According to a study published in the journal PLOS One this month by University of Maryland researchers, areas of the country where the "N-word" was searched more often in Google saw higher mortality rates among blacks.
"Racial disparities in health and disease represent a significant public health concern," lead author David Chae, assistant professor of epidemiology, said in a statement. "Research suggests that racism is a major culprit that contributes to the gap in mortality between blacks and whites. Our study points to the utility of an Internet-search based measure to monitor racism at the area-level and assess its impact on mortality."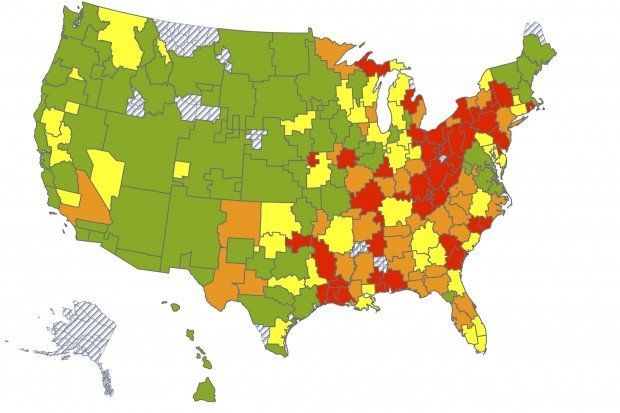 The red areas show a higher number of "N-word" searches from 2004 to 2007. (Image source: University of Maryland)
The researchers noted that previous studies about racism relied on self-reporting surveys. This study, using Internet queries as a measurement, the study authors think, could provide a more honest portrayal of racism because there is less self-censorship online.
"They may also reflect those instances of racism that are covert or hidden," Chae said, noting that he understands not all "N-word" searches equate to racism.
Mortality rates in the 196 designated market areas where "N-word" searches were evaluated by the study were calculated using information from the National Center for Health Statistics, which accounted for 2004 through 2009. The designated market areas with more "N-word" searches had an 8.2 percent increase in Black mortality rate, which equates to about 30,000 deaths annually, according to the study.
"Models further examining cause-specific Black mortality rates revealed significant associations with heart disease, cancer and stroke," the study authors wrote in the abstract. "These findings are congruent with studies documenting the deleterious impact of racism on health among Blacks. Our study contributes to evidence that racism shapes patterns in mortality and generates racial disparities in health."
A previous study conducted by researchers at the university suggested that racism affected individuals all the way down to the cellular level, contributing to cell aging by reducing telomere length.
"We examined a biomarker of systemic aging, known as leukocyte telomere length," Chae said at the time. "We found that the African American men who experienced greater racial discrimination and who displayed a stronger bias against their own racial group had the shortest telomeres of those studied."
In light of this more recent study on "N-word" searches, Chae called racism a "social toxin that increases susceptibility to disease and generates racial disparities in health."
(H/T: Daily Mail)
—
Front page image via Shutterstock.