The most effective way to ensure women get paid as much as men is for women to be prepared to "work harder" and seize any opportunities that may come their way, actress Stacey Dash told TV host Meredith Vieira on Wednesday. One tactic that is not useful, Dash said, is complaining and making excuses.
"I feel like it's an excuse. It's the same thing with race. It's an excuse. Stop making excuses. If there are opportunities, be prepared for them — and be the best if that's what it takes. If you have be extraordinary, then be extraordinary."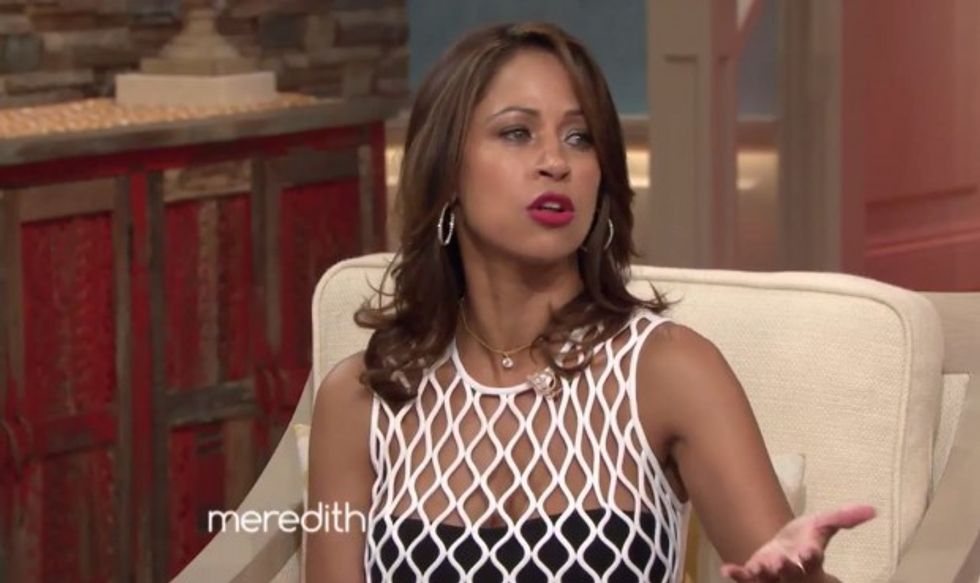 (Screengrab via YouTube)
Vieira quickly brought up the contentious claim that women make 78 cents for every dollar that a man makes. She said it seems like women are fighting an "uphill battle" and argued her 22-year-old daughter will be 65 before there is true wage equality.
"I don't know if that's true," Dash said.
"That's true, that's documented," Vieira interrupted.
"No, I know that the numbers are true, but I feel like your daughter will be able to make as much money as she wants in her life — just like you are. I mean, look at you," Dash said.
Vieira agreed she is now successful, but it took her a long time and she didn't always get as paid as much as her male counterparts.
"And you think it's because you're a woman?" Dash asked.
"I think that had a lot to do with it," the host replied. "If you look at the number, there's a reason why women get 78 cents and men get a buck."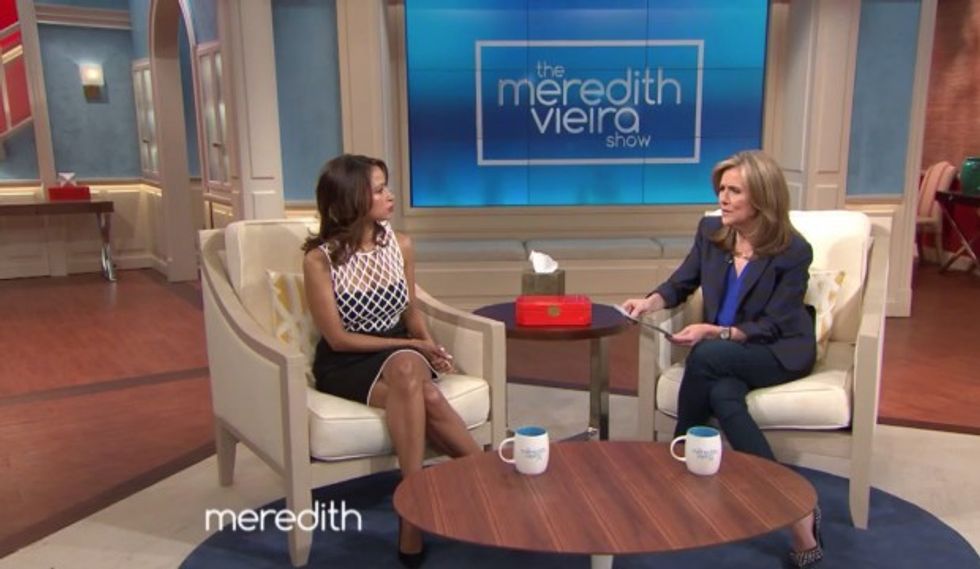 (Screengrab via YouTube)
Dash then declared, "I guess I won't put my fate into anything other than my own action, and taking my destiny in my hands."
"I will not be a victim," she added.
"I'm not saying I'm a victim — I'm pissed off," Vieira said.
The actress told Vieira if women are "pissed off," they should use those feelings to work even harder for higher wages rather than complaining about it because there's already a law mandating women get equal pay.
"Except we don't," Vieira shot back. "We don't. We don't."
Watch the segment via "The Meredith Vieira Show" below:
Though she came under attack from the left almost immediately, Dash held her ground on the issue.
I DON'T CARE IF I AM THE LONE VOICE IN THE WOODS, I WILL NOT LET THE GOVERNMENT MAKE WOMEN AN ENTITLEMENT CLASS. #HOLDINGTHELINE

— Stacey Dash (@REALStaceyDash) April 30, 2015
I am so proud that my FRIEND @meredithvieira & I have sparked an HONEST debate. NOT just a grandstanding Oscar speech http://t.co/o1Vsv7ye5j

— Stacey Dash (@REALStaceyDash) April 30, 2015
I am not ANTI-WOMAN! I just don't believe that my gender needs a bunch of men in Congress to "save us" from the big bad world.

— Stacey Dash (@REALStaceyDash) April 30, 2015
#DashClass: Census data from 2008 show that single, childless women in their 20s now earn 8% more on average than their male counterparts.

— Stacey Dash (@REALStaceyDash) April 30, 2015
"The so-called wage gap is mostly, and perhaps entirely, an artifact of the different CHOICES men and women make..." http://t.co/oouaXS9WHU

— Stacey Dash (@REALStaceyDash) April 30, 2015
---