After Wisconsin Gov. Scott Walker, a prospective 2016 presidential candidate, approached the podium at an Iowa church where the Faith & Freedom Coalition was recently held, he did something that's uncommon among politicians; he read aloud from a Christian devotional.
Sharing excerpts from "Jesus Calling: Enjoying Peace in His Presence," a bestselling book by missionary Sarah Young that was first published in 2004, Walker received both attention and praise from the 1,000-member audience of Christian conservatives at Point of Grace Church just outside Des Moines, Iowa.
But then something else happened.
The 11-year-old book, which is well-known in Christian circles and has sold millions of copies in recent years, "skyrocketed" and shot to the top of the charts on Amazon and Barnes & Noble, receiving a nice sales bump, Religion News Service reported.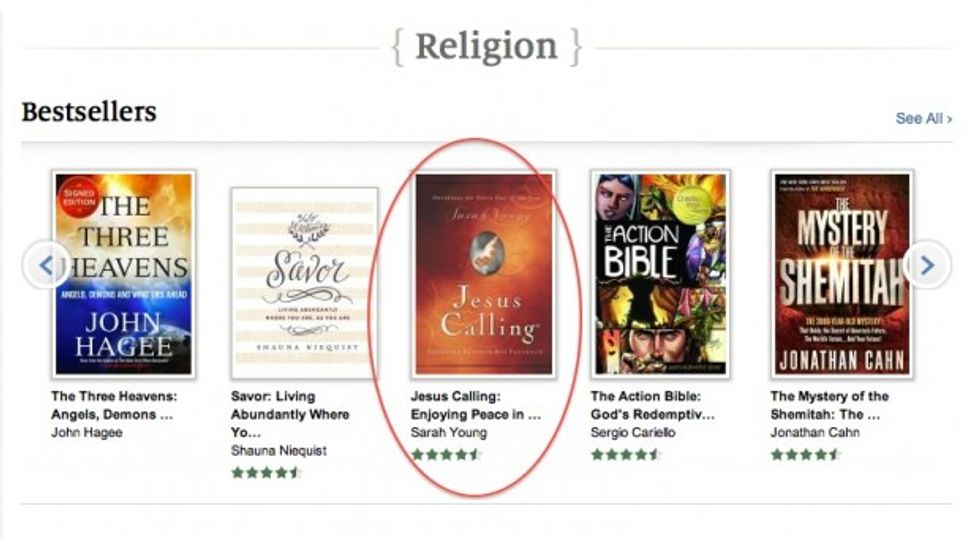 A screen shot from the Barnes & Noble religion sales site shows that "Jesus Calling" is showing up among the bestsellers.
As he stood in front of the audience, Walker read an entry from the devotional — which was written in the first-person voice of Christ — from June 4, which was the day in 2012 that he won the recall election in Wisconsin, according to NewsMax.
Here's the portion of the "Jesus Calling" text that he read just before telling the audience that the book taught him an important lesson about accepting God's calling at the most unexpected of times:
"'Welcome challenging times as an opportunity to trust me. You have me beside you and the spirit within you, so no set of circumstances is too difficult for you to handle.

When the path before you is dotted with difficulties, beware of measuring your strength against those challenges. Without me, you will not make it past the first hurdle.

The way to walk through demanding days is to grip my hand tightly and stay in close communication with me. Regardless of the day's problems, I can keep you in perfect peace as you stay close to me."
Walker's decision to not only cite the book, but to devote in-depth attention to it during his speech might actually be a first among prospective presidential candidates.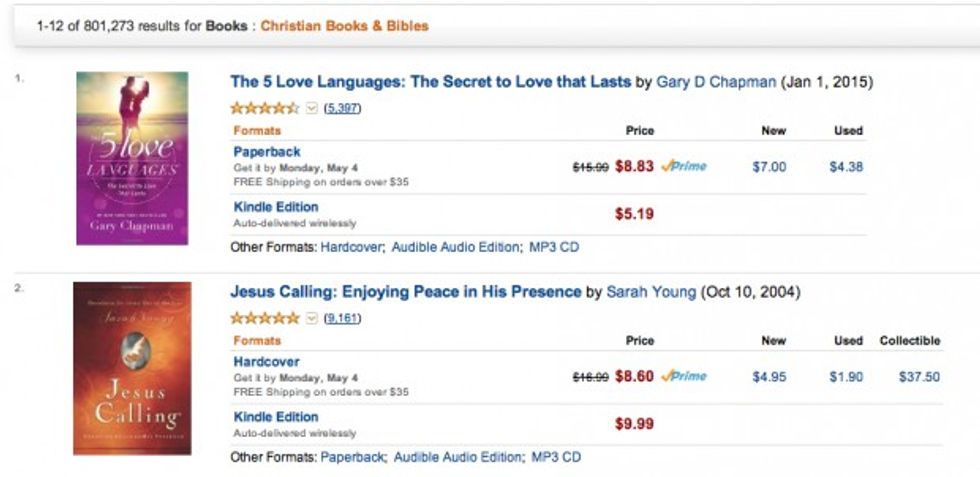 A screen shot from Amazon.com shows that "Jesus Calling" is listed in second in the "Christian Books & Bibles" section.
"I mean, sure, candidates will cite books, but not like this," Christian author Phyllis Tickle told Religion News Service.
But it wasn't only Walker's speech that drew attention to the book. Days before he spoke at the Faith & Freedom Coalition, he told the Milwaukee Journal Sentinel that he and his wife read "Jesus Calling" daily and that his family worships at an evangelical Christian church.
"Overall, my faith drives who I am and how I live," he said. "My relationship with God drives every major decision in my life."
Some experts have said that "Jesus Calling" has remained popular over the years and didn't need Scott Walker's endorsement to be a success, though his speech has elevated the book on sites like Amazon and Barnes & Noble, Religion News Service reported.
(H/T: Religion News Service)