Secretary of State John Kerry accused those who oppose the framework agreement over Iran's nuclear program of engaging in "hysteria" and made a claim that even President Barack Obama has previously repudiated that, under the deal, inspections would remain in place "forever."
"There's a lot of hysteria about this deal. People really need to look at the facts, and they need to look at the science of what is behind those facts," Kerry told Channel 10 News in a rarely granted interview to an Israeli station.
Though Kerry did not mention Israeli Prime Minister Benjamin Netanyahu by name, the Israeli leader has repeatedly called the emerging agreement "a bad deal" that allows Iran an "easy path to nuclear weapons."
"We will not sign a deal that does not close off Iran's pathways to a bomb and that doesn't give us the confidence — to all of our experts, in fact to global experts — that we will be able to know what Iran is doing and prevent them from getting a nuclear weapon," Kerry said.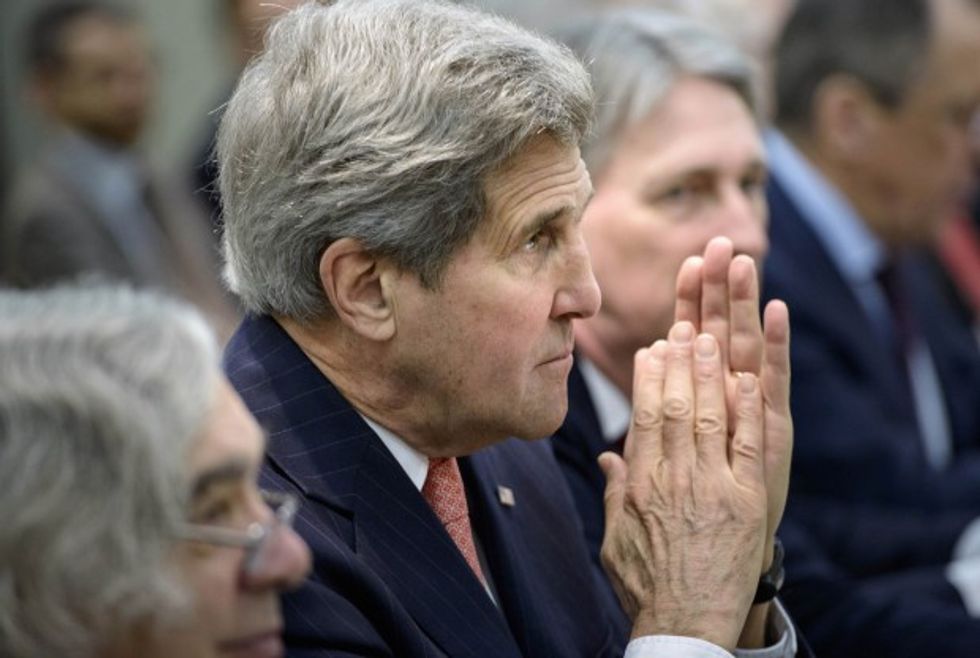 U.S. Secretary of State John Kerry waits with others before a meeting with Britain, Russia, China, France, Germany, European Union and Iranian officials at the Beau Rivage Palace Hotel in Lausanne, Switzerland Monday, March 30, 2015, during Iran nuclear talks. (AP Photo/Brendan Smialowski, Pool)
Kerry also said that the agreement would provide for international inspections of nuclear facilities beyond the deal's 10- or 15-year expiration date timeframe currently being negotiated.
"President Obama has absolutely pledged they will not get a nuclear weapon," Kerry said. "We will have inspectors in there every single day. That is not a 10-year deal, 15. That's forever."
However, Obama last month admitted in an NPR interview that the emerging deal with Iran would only delay Iran from eventually obtaining a nuclear weapon.
"What is a more relevant fear would be that in Year 13, 14, 15, they have advanced centrifuges that enrich uranium fairly rapidly, and at that point, the breakout times would have shrunk almost down to zero," Obama said, apparently admitting that when the deal expires, Iran could immediately build a nuclear weapon.
The president's statement would appear to stand in stark contrast with Kerry's weekend assurances to the Israeli public that inspections will last "forever."
The New York Times reported that Obama told Jewish leaders in a private meeting last month that he won't meet with Netanyahu before the June 30 deadline for a final Iran deal.
With the Kerry television interview, excerpts of which were broadcast Saturday night, the Obama administration made its case for the deal directly to the Israeli public.
"I believe that where we are heading will in fact protect Israel," Kerry said.