PARIS (TheBlaze/AP) — Her message: Send 'em all back.
Far right National Front leader Marine Le Pen says France should send migrants back across the Mediterranean Sea to stop them from taking dangerous boats to European shores.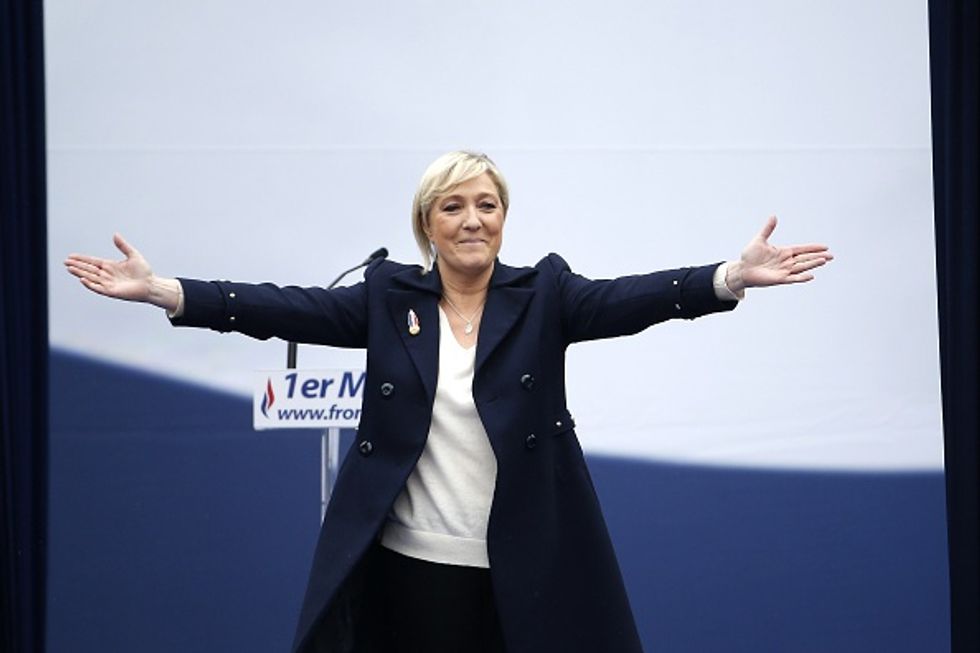 The president of French far-right party Front National (FN) Marine Le Pen gestures on stage at the Opera place in Paris, during the party's annual rally in honour of Jeanne d'Arc (Joan of Arc) on May 1, 2015 in Paris. (Kenzo Tribouillard/AFP/Getty Images)
Criticizing European immigration policy, she said on Europe-1 radio Sunday that France should send migrants back to their port of departure so "traffickers know that no migrant will come ashore on our coasts."
Her remarks come on the heels of story after story of boats full of desperate African migrants, trying to reach Europe, capsizing in the Mediterranean and leaving hundreds dead.
European ships rescued nearly 3,700 migrants on Saturday alone.
Le Pen also said her outspoken father, party founder Jean-Marie Le Pen, "should no longer speak in the name of the National Front."
Jean-Marie Le Pen is facing a party disciplinary board Monday for his anti-Semitic remarks. His daughter, leading the party since 2011, has cleaned up its image as she aims for the French presidency.
—
Follow Zach Noble (@thezachnoble) on Twitter