KATHMANDU, Nepal (TheBlaze/AP) — Rescuers have found three survivors in a mountainous village in Nepal, several days since the earthquake, an official said Sunday.
The announcement came just a single day after a top official said the chances of finding any more survivors were "extremely slim" — though there was some confusion over the timing of the rescue.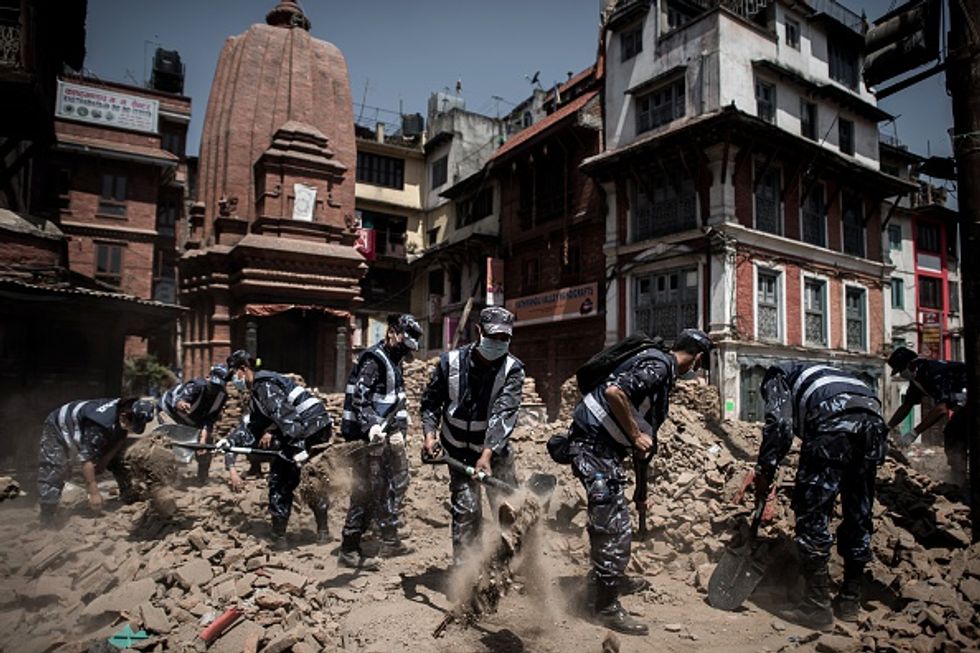 Members of the Nepalese police clear debris from the historical heritage site Durbar Square in Kathmandu on May 3, 2015, following a 7.8 magnitude earthquake which struck the Himalayan nation on April 25. The death toll in Nepal from the devastating earthquake has risen to 7,040, an official from the National Emergency Operations Centre said on May 3, 2015. (Philippe Lopez/AFP/Getty Images)
Two men and a woman had been pulled from the rubble near Syauli village earlier this week, government administrator Surya Prasad Upadhaya said Sunday.
It was not immediately clear which day they were found.
An initial Associated Press report on the survivors misinterpreted the statement about the time of the rescue.
They have been taken to a nearby military hospital for treatment, Upadhaya said.
The district is the worst hit by the magnitude-7.8 earthquake with the highest number of casualties.
It is located about 60 kilometers (35 miles) west of the capital, Kathmandu.
"It will be a miracle if anyone is found alive," Home Ministry spokesman Laxmi Dhakal told CNN on Saturday. "But we have not completely given up yet and are continuing to look."
The death toll in Nepal has topped 7,000.
—
Follow Zach Noble (@thezachnoble) on Twitter