The three GOP senators who have declared a run for the White House in 2016 found themselves somewhat divided on Tuesday when the Senate held a procedural vote on the budget.
The Senate voted to proceed to the Republican budget resolution, which would cut $5 trillion from projected spending levels over the next decade, even as it would continue to allow slower growth in overall spending.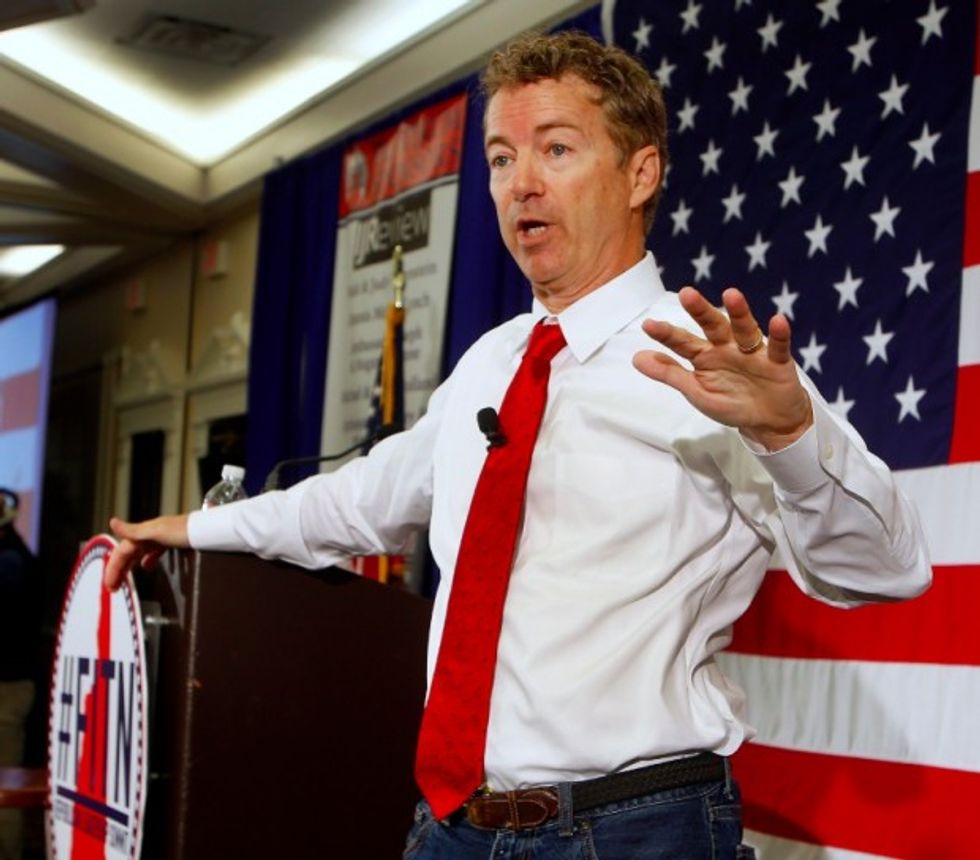 Republican presidential hopeful Sen. Rand Paul (R-Ky.) was the only Senate Republican to vote against the GOP budget plan in a procedural vote on Tuesday, although he was later joined by Sen. Ted Cruz (R-Texas) in the final vote. Image: AP/Jim Cole
The Senate agreed to proceed to the resolution in a 53-44 vote, but none of the three GOP candidates voted together.
Sen. Rand Paul (R-Ky.) was the only Republican to vote against the measure, and his office told TheBlaze that Paul thinks the budget doesn't actually balance as advertised.
"Sen. Paul voted against the budget, because it exceeds the budget caps using a gimmick without offsetting that increase with spending cuts," a spokesperson for Paul said. "The budget contains invalid assumptions — expiration of tax extenders — to achieve balance in ten years, and he does not perceive the budget will make enough of change in spending habits to put us on a sound financial footing."
"Sen. Paul does not believe this trajectory of spending will balance the budget, even in ten years," the spokesperson added.
Sen. Marco Rubio (R-Fla.) voted along with every other Senate Republican to advance the budget resolution, which will get a final vote later this week.
Sen. Ted Cruz (R-Texas) was not present for the procedural vote. Cruz has missed some votes, such as the vote to confirm Attorney General Loretta Lynch, because of campaign scheduling. However, Cruz did ultimately vote against the budget deal later in the day, along with Paul.
Back in March, Cruz said he couldn't support a budget plan that included "gimmicks."
"I congratulate the Senate on its passage of a budget for the first time in years, and I commend my colleagues for their efforts to try to mitigate the unrealistic spending increases and continually expanding deficits proposed by the president," he said. "However, given the gravity of the debt facing our children and grandchildren, I believe that Americans expect us to do more."
"We need meaningful entitlement reforms, without budget gimmicks, and I cannot support a budget that claims to balance in the year 2025 by utilizing revenue increases generated by Obamacare taxes," he said.
Sens. Tim Kaine (D-Va.) and Angus King (I-Vt.) were the only members who usually vote with Democrats to cross the line and vote in favor of getting the Senate onto the budget. However, those votes weren't a sign that these senators supported the GOP budget, and both of them ultimately opposed the budget plan in the final vote.