It was supposed to be a harmless senior prank in the hallways of Sequoyah High School in Madisonville, Tennessee: the usual glitter, balloons, and toilet paper draped over fishing wire.
Instead it turned into a melee, ending with 100 students barred from graduation ceremonies, a principal suspended, a sheriff's deputy fired and a request that the state's Bureau of Investigation launch a probe into the whole thing.
It was around 1 a.m. Thursday after the garden-variety prankery had commenced that a group of students showed up with very little interest in good, clean fun, senior Kody Hampton said.
Those kids dumped garbage cans, splashed walls with urine, ketchup and baby oil, and released chickens and crickets into the hallways, WVLT-TV reported.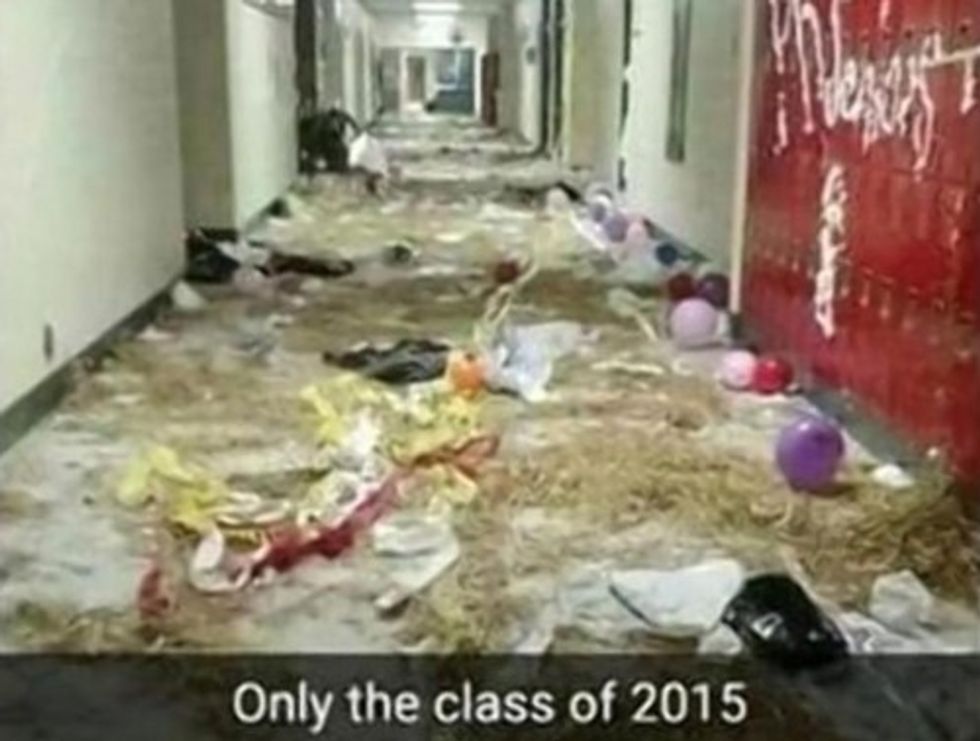 Image source: New York Daily News
That's not all: Students said booby traps with marbles were set for teachers in classroom doorways, aimed to make them slip and fall. One teacher's expensive posters were torn down. There were items stolen from lockers and goldfish in toilets.
And of course, the dead possum atop the trash.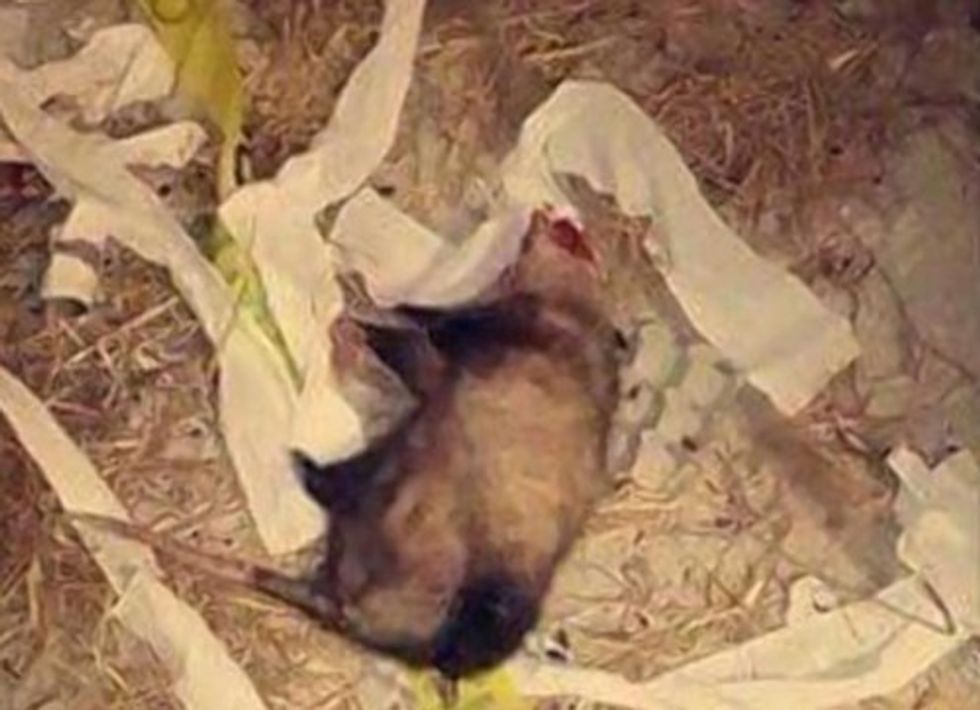 Image source: New York Daily News
"I walked out of the building," Hampton told WVLT. "I looked at the camera and said, 'I was not part of this.' It was awful." A number of witnesses said only 20 students were part of the destruction and that many others left when they saw what was happening.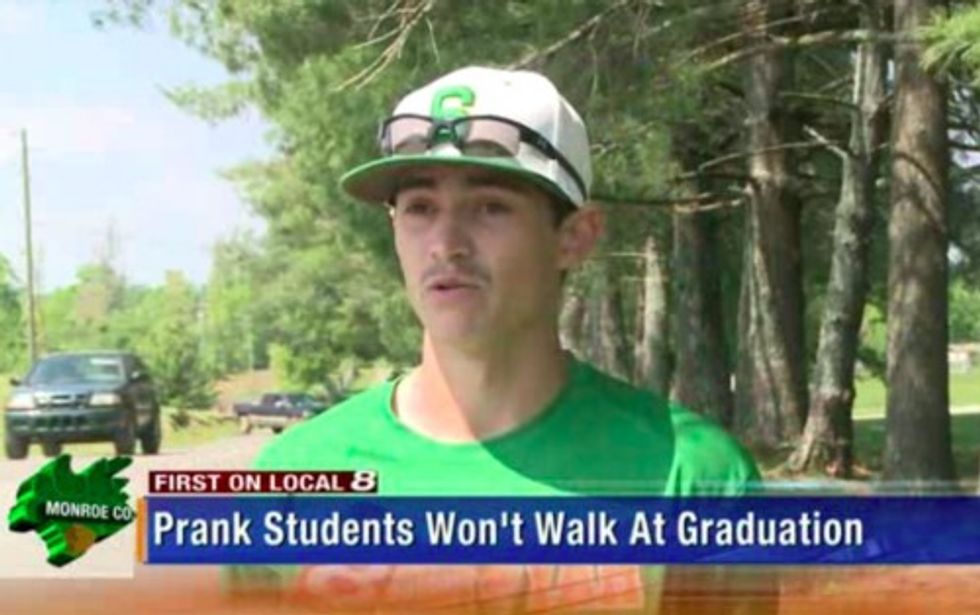 Senior Kody Hampton (Image source: WVLT-TV)
"This isn't our school, this isn't our class, we're not about that," Hampton added to the station.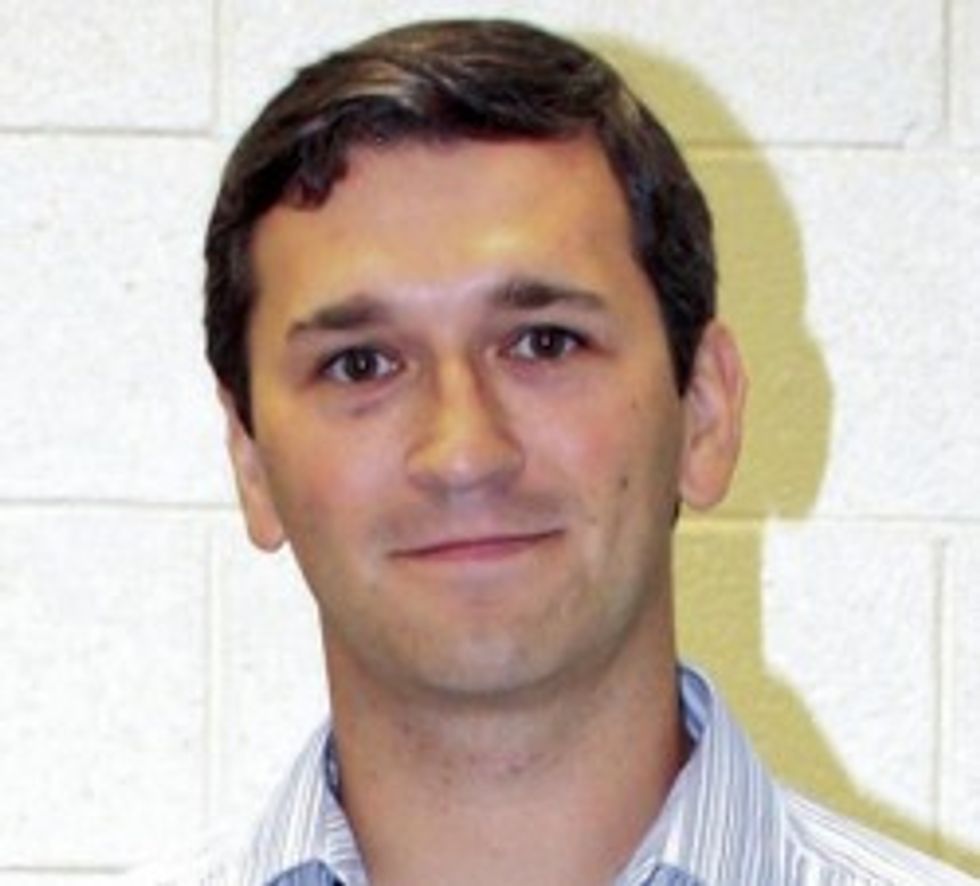 Principal Gary Cole (Image source: New York Daily News)
Nevertheless, Superintendent Tim Blankenship said all involved in the prank to any degree are barred from graduation ceremonies. Principal Gary Cole was indefinitely suspended without pay until an investigation concludes, WVLT said.
In addition, a sheriff's deputy who acted as the school's resource officer was fired for official misconduct for his actions surrounding the prank.
"When the incident was first reported Deputy [James] Fisher gave Director Tim Blankenship and myself a false report about what happened," Monroe County Sheriff Tommy Jones said in a statement. "We reviewed the school's security video and when I spoke Deputy Fisher a second time he admitted to the false statement. The school has had three teachers file workman's comp claims from this incident. The video shows him opening up the school helping the students carry items in and later leaving while the kids were still in the building. He then returns after receiving a call that the prank has gotten out of hand." 
Two Madisonville officers arrived during the prank but did nothing to stop it, Chief Gregg Breeden told the New York Daily News.
Students told WVLT that the school's doors were unlocked when they showed up for the prank.
"The doors in the back of the school were propped open with a chair," senior Katelin Barnes told the station. "They told us when we got in the school, Officer Fisher did, that don't steal anything and don't break anything and we'll be good."
Many seniors now denied a spot at the graduation ceremonies are outraged. Shania Woods told WVLT, noting she left the school before any vandalism took place. "They have surveillance video of the people who did this."
Image source: WVLT-TV
Woods, who told the station she has a 4.0 grade-point average and is graduating with honors, doesn't want to be punished for something she said she didn't do.
"Peeing on the walls is a disgrace," she said, her voice breaking on camera. "And it was not my fault. I'm not gonna take charge for what someone else did."
Hampton added that "for the kids that just did innocent things, it's not fair. It really isn't."
(H/T: New York Daily News)
—
Follow Dave Urbanski (@DaveVUrbanski) on Twitter