The first hour of Wednesday's "Morning Joe" on MSNBC featured Joe Scarborough teasing he would be issuing an apology at the top of the show's second hour.
And so after 7 a.m., there he was, with a "heartfelt apology" that lasted six minutes but seemed to lack some sincere contrition.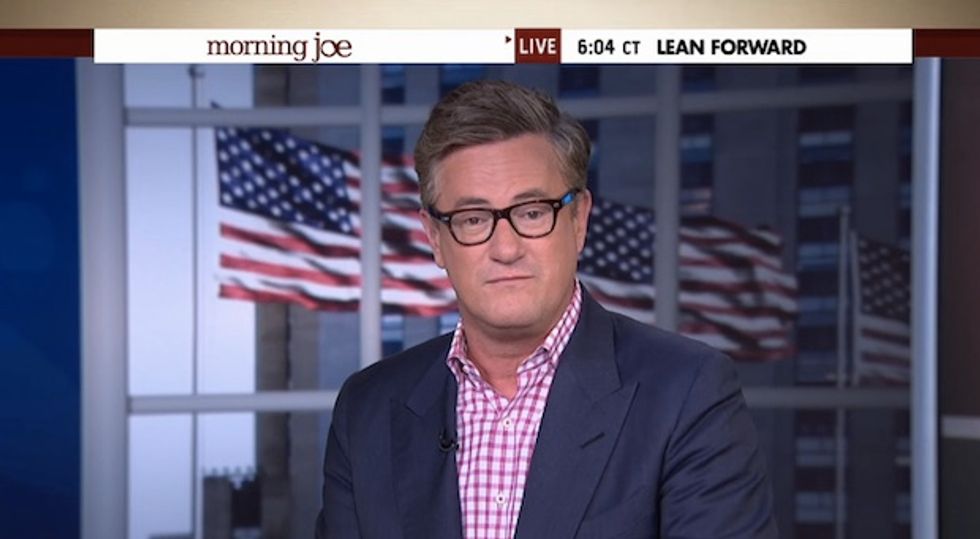 Image source: MSNBC
What sparked this? Two online news outlets calling claims by Scarborough "invented" and "mostly false."
Last week, Media Matters and others jumped on a statement Scarborough made about the Clinton Foundation. The liberal watchdog organization asserted Scarborough had invented an "Algerian terror connection to attack the Clinton Foundation."
"I think it was Algeria maybe that had given a donation that went unreported at a time when they wanted to be taken off of the terror list in the State Department," the host said last week. "They write the check, they get taken off the terror list."
The Tampa Bay Times Punditfact Truth-o-Meter gave Scarborough a "mostly false."
On Monday, Punditfact's Jon Greenberg broke down Scarborough's statement and played the clip he referenced. Greenberg also admited to some murky waters surrounding the donations from foreign governments, stating, "there are serious questions about how the Clinton Foundation reported foreign government donations."
This morning, Scarborough responded.
He did clarify his statement about Algeria and the donations made to the Clinton Foundation, calling his error merely a "footnote" mistake. The money sent to the Clintons and spent to lobby in Washington was not to remove Algeria from a terror list, but to "whitewash the women-abusing country from the State Department's list of human rights abusers."
Watch the entire segment; Scarborough's apology starts at 2:24:
—
Follow Mike Opelka (@Stuntbrain) on Twitter