The State Department on Thursday had no comment about a decision by a Canadian court to release Omar Khadr, a former detainee at Guantanamo Bay who was convicted in the United States of killing a U.S. soldier.
According to the St. Louis Post-Dispatch, Khadr was convicted of throwing a grenade in Afghanistan in 2002 that ended up killing a U.S. soldier. News of Khadr's release came at around noon Thursday, and even though State had been asked about his possible release all week, spokesman Jeff Rathke still had nothing to say about it.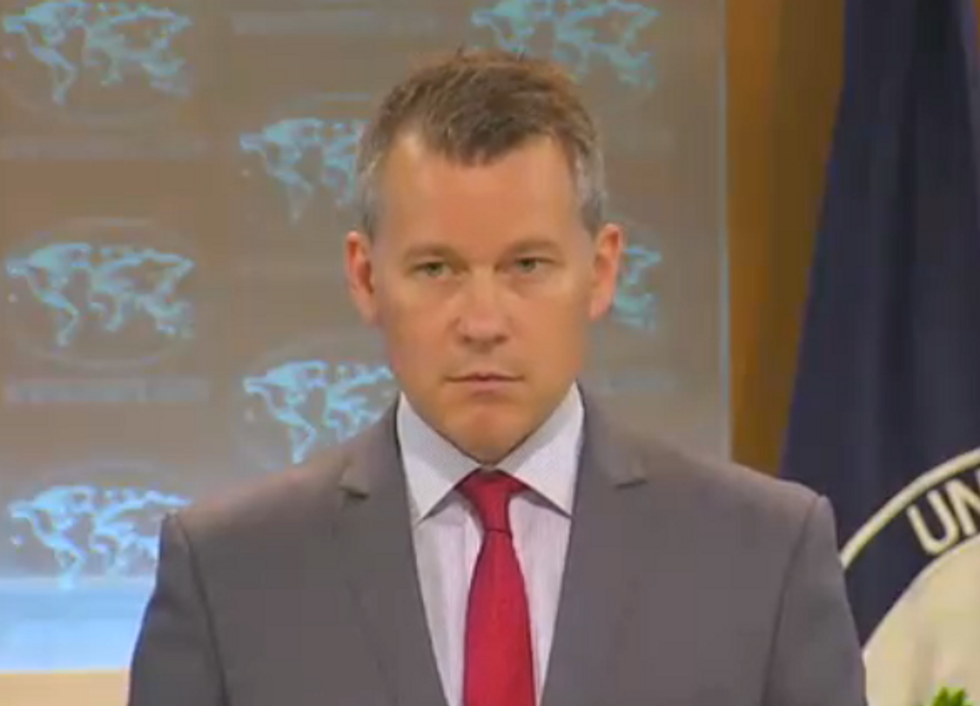 State Department spokesman Jeff Rathke had no comment about the decision of a Canadian judge to release a former Guantanamo Bay detainee who was convicted of killing a U.S. soldier. Image: C-SPAN
"I saw that report ... just before I came out here," Rathke said. "So I don't have a comment right away, but we'll look at that and we'll come back to you."
When asked if the U.S. has any interest in the case, Rathke said the government does have an interest in "mitigating the risks that these detainees could represent."
But when asked whether Khadr poses any current threat to the U.S. now that he's out on bail, Rathke had no comment, and refused to condemn the judge's decision.
Rathke also refused to say if the U.S. leaned on Canada to ensure Khadr stays in prison.
"Of course we've been in touch with the Canadians about the case, as we are when we have transfers," he said. "I'll see if we can say more about timing of those."
Earlier in the week, Rathke had declined to comment at all on the case, and said he wanted to "refer you to the Government of Canada to comment on the decision that will be made by Canadian courts."
"We'll leave it to Canadian authorities and the Canadian judicial system to make their decision," he said Tuesday. "We don't have a comment on it."