Larry "Sonny" Brassfield's 4-year-old Belgian Malinois dog Benno has eaten just everything from rocks to plastic soda bottles to drywall to women's lingerie.
And now live ammunition.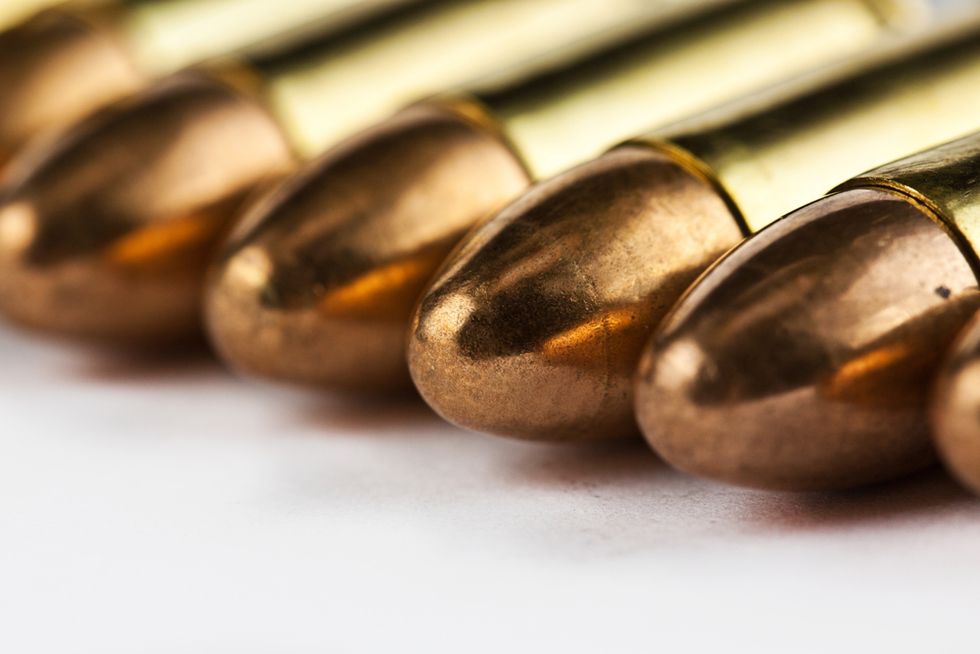 Photo credit: Shutterstock
Brassfield told the Baxter Bulletin that he was at his house in Mountain Home, Arkansas last week putting several hundred rounds of ammunition into cans when he eventually ran out of room to store all of them. So Brassfield left a couple hundred rounds in the bag next to his bed.
"He's never messed with ammo before," Brassfield told the Bulletin.
It turns out there must be a first time for everything.
When Brassfield woke up  the next morning he said his wife told him Benno had thrown up and that there was ammunition in the vomit. Brassfield watched the dog for a while to see if he acted or ate any differently. At first there didn't seem to be any problem but then things got worse.
"Then about 15-20 minutes later, he threw up again and three more rounds came out," Brassfield said, adding that he knew then he needed to take Benno to the veterinarian.
Brassfield took Benno to All Creatures Animal Hospital where Dr. Sarah Sexton took X-rays of the dog's stomach. Sexton said she's seen dogs who have eaten things before – mostly stuffed toys – but added that this one "takes the cake."
The X-ray found that Benno had eaten 23 live rounds of .308 caliber ammunition.
Locked and Loaded - Dog Eats Live Ammo - Vet to Operate http://t.co/5qoxM21mLQ pic.twitter.com/WBCbzW5bPG

— Fox 2 News (@foxrio2) May 8, 2015
Sexton then began a 2-hour surgery on Benno to get all of it out, and it wasn't an easy job.
"If you think of the stomach as a balloon, where I made my incision, all the heavy metal went to the bottom," Sexton said. "I had to scoop it all up and bring it up to the location of my incision."
Once she thought she had it all she did another X-ray but discovered there were two more rounds in Benno's esophagus. But the vet had already sewn the dog's incision back up and decided not to remove the other rounds, opting instead to see if he would vomit them up or pass them.
Sexton was right. Five days later Benno passed one of the rounds and eight days later he'd shot both of them out.
Now free of ammunition, Benno is still the dog who'll eat just about anything. But none of that seems to affect him all that much. See the list of more items he's digested here.
But Brassfield seems to have gotten used to the fact that his dog has such a strange appetite and has learned by now that "you're not going to stop him."
"It's just a question of what he's going to eat next," Brassfield said.
(H/T: Baxter Bulletin)
–
Follow Jon Street (@JonStreet) on Twitter