A 79-year-old military veteran in Riverside County, California, said he noticed someone lurking in his neighbor's lawn on Thursday and he felt obligated to make sure everything was OK.
The veteran, identified only as Richard, confronted the man and asked him what he was doing in the yard. It's also relevant to note that he is always carrying a firearm for self-protection.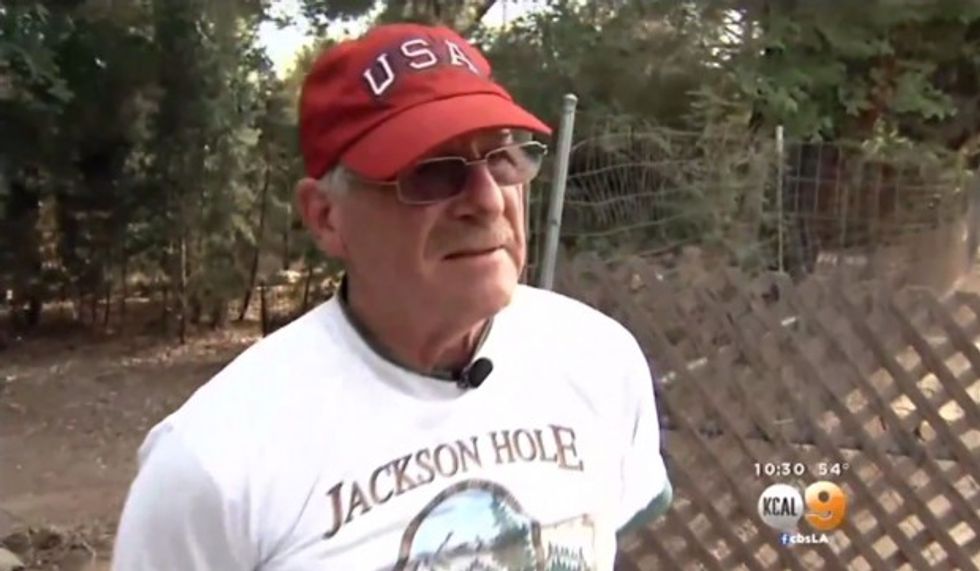 Screengrab via CBS Los Angeles
CBS Los Angeles outlines how his conversation with the suspect went:
"I said, 'What are you doing?'

"He said, 'Well, my stuff is here.'

"I said, 'No, it's not here.'

"He said, Well, Steve lives here.'

"I said, 'No, he doesn't. You just better be on your way.'

"He said, 'Well, you wouldn't shoot me.'

"I said, 'Well, test me.'"
When Richard ordered the suspect to put his hands on a nearby fence or get on the ground, the man reportedly attacked, punching the good Samaritan in the nose. Eventually, Richard was able to use his gun to strike the man in the foot, which caused him to back off.
The 79-year-old vet then gave the suspect a "choice."
"If I run are you going to shoot me or kill me?" the suspect reportedly asked.
"Go for it," Richard responded.
The suspect seemed to wise up at that point and Richard held the 25-year-old at gunpoint until police arrived. He now faces assault charges, according to CBS Los Angeles.
"Nobody's held accountable anymore, you know," Richard said, reflecting on the incident. "They don't have any respect. There's no work ethic. I just won't stand for it. You know, he picked on the wrong guy."
---