A Subway employee allegedly posted celebratory messages on social media following the Saturday night shooting deaths of two police officers in Hattiesburg, Mississippi:
.@SUBWAY you have employees advocating cop killing while in work uniform. pic.twitter.com/Y25mJr7JXq

— John Cardillo (@johncardillo) May 10, 2015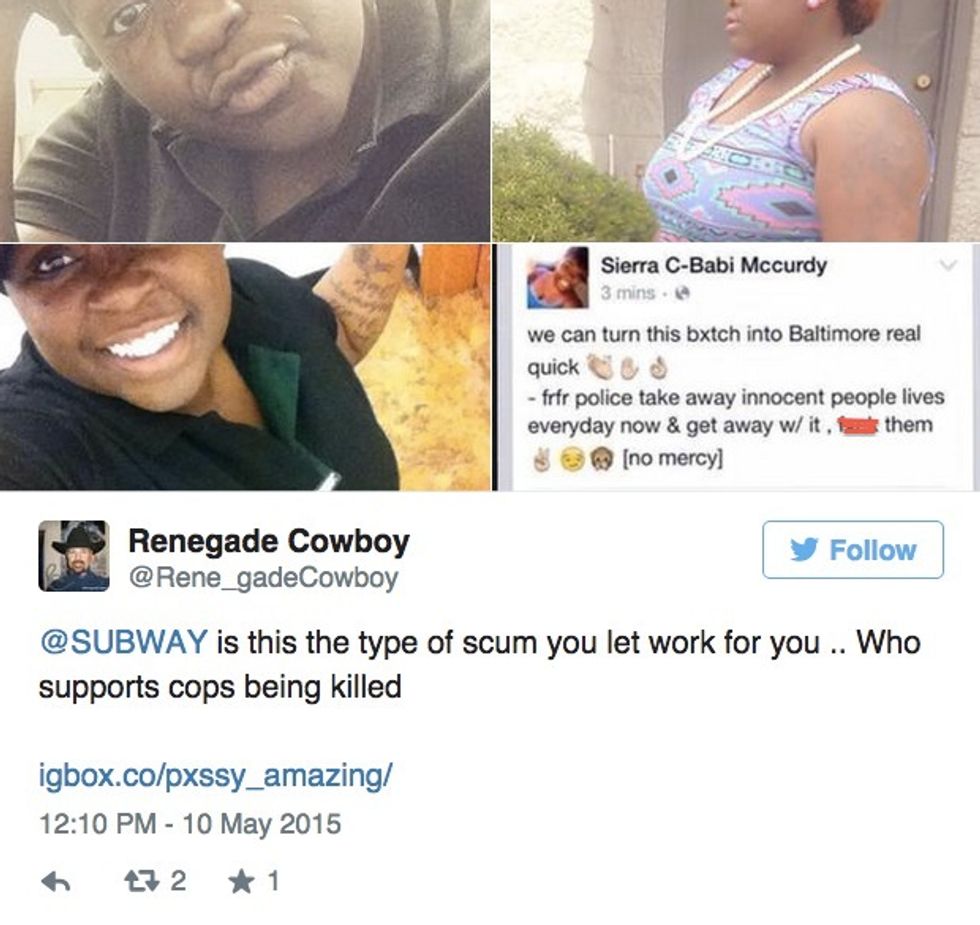 Expletive redacted (Image source: Twitter)
Not long after the posts went live, the Facebook page for Sierra McCurdy was apparently taken down:
I couldn't find #SierraMcCurdy on Twitter or Facebook! She has suddenly gone AWOL... She is a coward! pic.twitter.com/PbXRJq6s2v

— Charlotte E. (@Charro534) May 10, 2015
The sandwich chain did not immediately respond Sunday to TheBlaze's requests for comment about the posts. But John Cardillo, a former New York City police officer and contributor to TheBlaze, posted Subway's reply to him:
.@Subway posting boilerplate replies on Facebook. pic.twitter.com/B9MwYdMiYJ

— John Cardillo (@johncardillo) May 10, 2015
Anthony J. Myers (#CopsLivesMatter) posted that the manager of the Subway store where McCurdy allegedly works told him McCurdy claimed her cellphone was stolen:
@anthonyjmyers @NorthCounty3303 @SUBWAY COWARD - Celebrates a cop being killed and then denies it. Had she reported the theft to cops?

— World Police Family (@PoliceInc) May 10, 2015
TheBlaze was unable Sunday to get through on the Subway store phone number noted in the #CopsLivesMatter tweet. There are several Subways in Laurel, Mississippi, about 30 minutes northeast of Hattiesburg.
As you might guess, more than a few folks weren't too happy with the posts:
.@SUBWAY I will be contacting the OReilly Factor with regards to #SierraMcCurdy of Mississippi. Good Luck winning the PR fight!!

— rc alexander (@rcalexander1) May 10, 2015
@subway fire sierra c-babi mccurdy. #subway #SierraCBabiMcCurdy #boycott until we KNOW she's been #FIRED https://t.co/k61YEJhVD1

— Actually.... (@shelbygc) May 10, 2015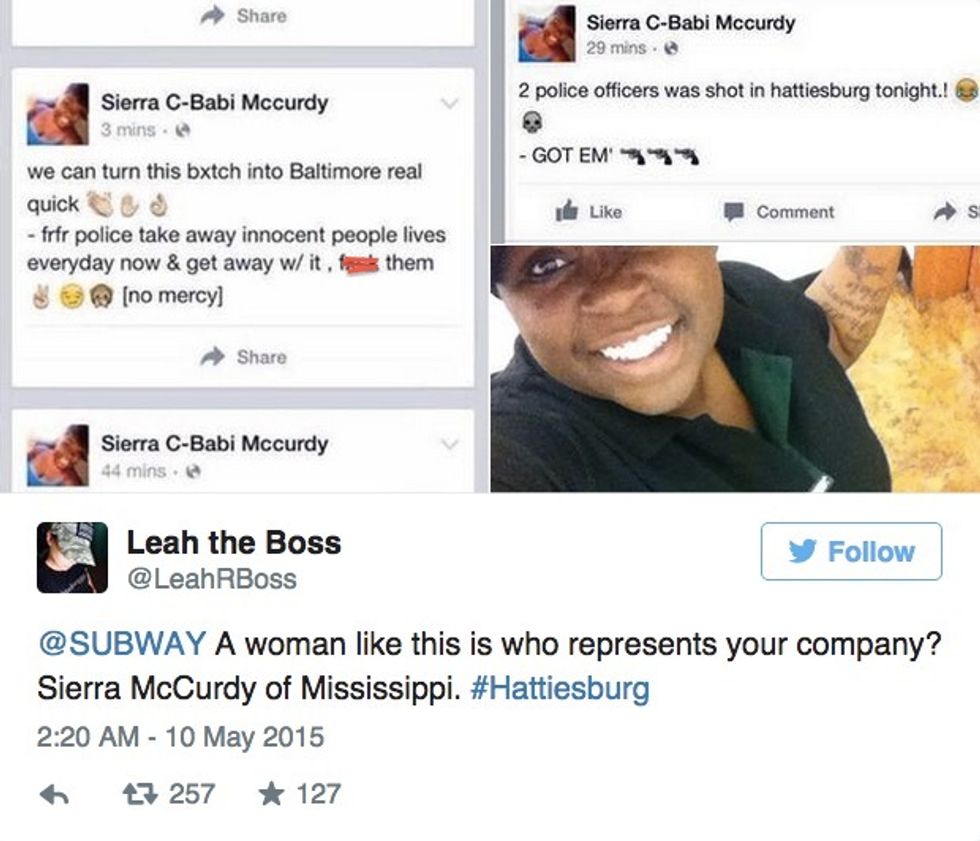 Expletive redacted (Image source: Twitter)
# SierraMcCurdy A 19 year old girl who works at Subway praises the execution/murder of two police officers. #boycottsubway until she's gone.

— amber rose brush (@Rosie_Brush) May 10, 2015
UPDATE 9:30 p.m. EST: The Subway employee has been fired:
@topnotch36532 This behavior is unacceptable & does not represent our brand's values & ethics. The franchisee has terminated the employee.

— SUBWAY® (@SUBWAY) May 11, 2015
(H/T: The Right Scoop)
—
Follow Dave Urbanski (@DaveVUrbanski) on Twitter