The Obama administration insisted Monday that Saudi Arabia's King Salman isn't snubbing President Barack Obama with his decision not to attend a Camp David meeting this week, despite widespread speculation that his absence seems to be a rebuke to Obama's effort to reach a nuclear deal with Iran.
Obama had invited King Salman to meet at the White House and Camp David on May 13 and 14, and the White House had indicated that the two would meet in private before a meeting of other Gulf Cooperation Council states.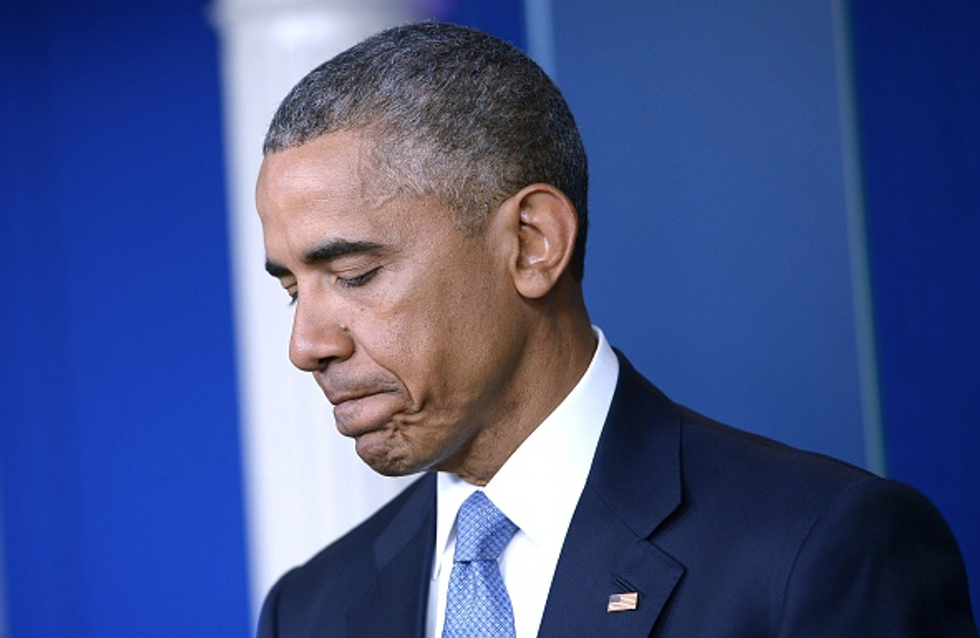 President Barack Obama won't be meeting with Saudi Arabia's King Salman later this week, but the State Department insists that he isn't being snubbed. (AFP PHOTO/MANDEL NGAN)
On Sunday, however, Saudi Arabia said it would instead send the crown prince and deputy crown prince. Only two of the six invited monarchs will make the event.
But while speculation swirled that these absences are a sign that there is little support among Arab nations for the Iran nuclear deal, State Department spokeswoman Marie Harf said that's not true.
"Nothing could be further from the truth, that there was some, some snub, to use the cable news talking point," she told reporters. She added that Secretary of State John Kerry just met with King Salman, and that the relationship was good.
"The secretary had really good meetings with King Salman and other senior Saudi leaders in Riyahd, and also had very good meetings with the GCC foreign ministers in Paris," she said.
Harf said the situation in Yemen called King Salman's attention away from the meeting with Obama, and said in addition that U.S. officials "never expected every head of state would attend."
The goal of the meeting the president planned for Camp David this week is discuss the best way to deepen and modernize the important security relationship between the United States and our GCC partners.
White House press secretary Josh Earnest also insisted Monday, "We agree the right people will be attending and are confident we will have the right people around the table at Camp David for discussing and acting on these priorities."
Asked if it was a "snub," Earnest said, "I think we've identified the word of the day at our briefing today."
"What we are seeing is that they are sending representatives of their country at a level appropriate in terms of being able to represent the views of their country and follow through on any commitments that are made in the context of the meeting," Earnest said. "That what the the president was looking forward to here, a substantive, legitimate discussion of these important issues. I'm sure there will be plenty of pictures taken. So we don't have to get our news photographer friends worried about it. But this is not a photo op."
Fred Lucas contributed to this report.