Update 6:15 EST: An official with the International Organization for Migration says at least four people were killed and a number of buildings collapsed in the isolated town of Chautara after Nepal's latest strong earthquake.
Chautara has become a hub for humanitarian aid in the wake of the massive April 25 quake, with dozens of aid workers now based there to send help deeper into the countryside.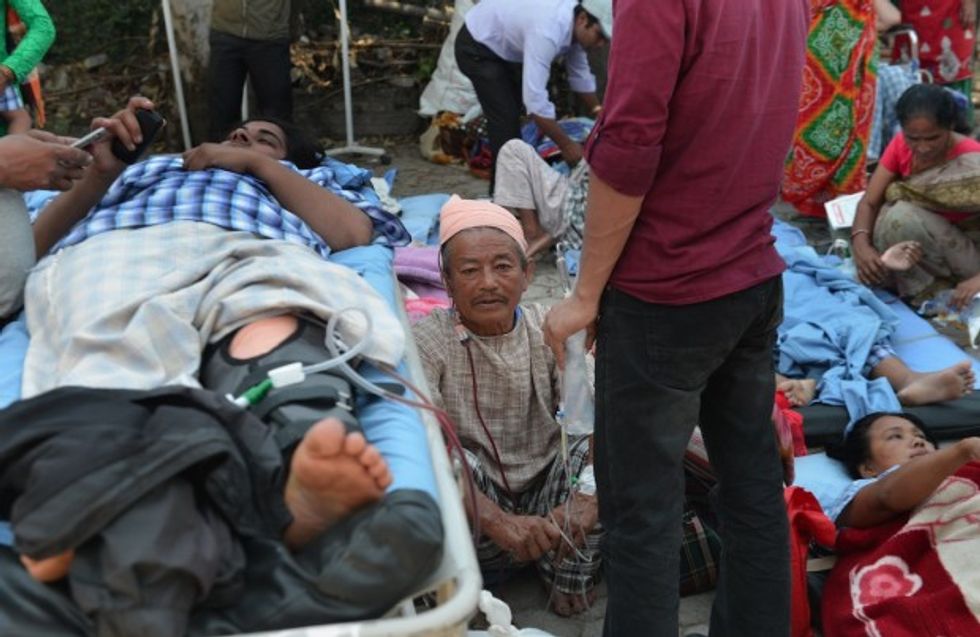 Nepalese patients lie on stretchers in an open area after being carried out of a hospital building as a 7.3 magnitude earthquake hits the country, in Kathmandu on May 12, 2015. (PRAKASH MATHEMA/AFP/Getty Images)
The magnitude-7.3 earthquake that struck Nepal on Tuesday was felt across the border in Tibet's Jilong and Zhangmu regions, and was felt slightly in the Tibetan capital of Lhasa.
Jilong county government vice chief Wang Wenxiang was quoted as saying by China News Service that "rocks fell from the mountains" and that "there might be some houses collapsed or damaged. We are now checking on the condition of the people."
—
KATHMANDU, Nepal (AP) — Another major earthquake has hit Nepal near the Chinese border between the capital of Kathmandu and Mount Everest.
The U.S. Geological Survey said the quake hit with a magnitude of 7.4 in an isolated, conservation area just after lunch Tuesday.
It comes after an earthquake on April 25 killed more than 8,150 people and injured more than 17,860 as it flattened mountain villages and destroyed buildings.
Tuesday's quake was deeper, however, coming from a depth of 18.5 kilometers (11.5 miles) versus the April 25th quake that hit 15 kilometers (9.3 miles). More shallow earthquakes tend to cause more damage at the surface.
Everyone has run in panic out of the airport, now on tarmac. Very strong shaking, scary http://t.co/YsLvucdNHD

— Jack Board (@Jack Board) 1431414540.0
Hundreds of people running of out of Kathmandu airport. Scary shaking from aftershock #NepalQuake http://t.co/XiIdB0BCCS

— Jack Board (@Jack Board) 1431414859.0
In the capital of Kathmandu, the quake sent Nepalese people rushing outside of their homes into the streets. Police gave no immediate estimates of damage.
Seconds after new big aftershock hundreds stream into Chautara hub. Worst aftershock in 2 weeks. #NepalEarthquake http://t.co/SdJMAXOeRi

— Tino Kreutzer (@Tino Kreutzer) 1431414865.0
Strong shaking was also felt across northern India. In the Indian capital of New Delhi, people scrambled outdoors while buildings swayed.
—