The key details surrounding the deaths of the two gunmen who were killed during their assault against a Muhammad cartoon contest in Garland, Texas, earlier this month are changing, with police now saying that it was a SWAT team — and not a sole officer — who killed the suspects.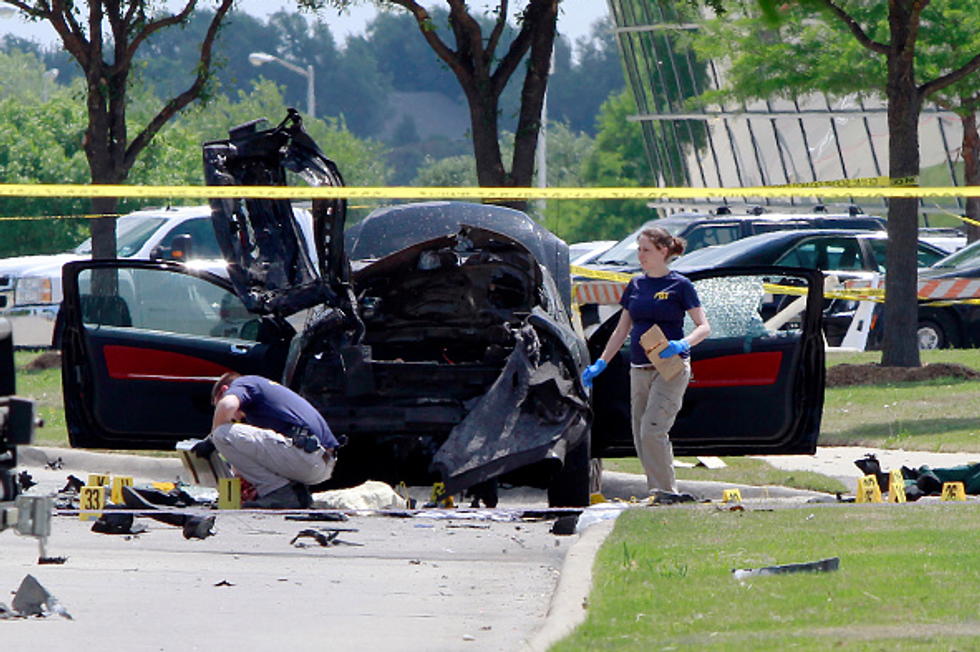 Investigators work the crime scene outside of the Curtis Culwell Center following the May 3, 2015 shooting at a Muhammad cartoon contest event in Garland, Texas. (Ben Torres/Getty Images)
Authorities initially said it was an unnamed cop who was able to neutralize Elton Simpson, 30, and Nadir Soofi, 34, with the use of his .45-caliber pistol. On Monday however, Garland Police Chief Mitch Bates revealed new details that provided a different account.
Bates said the unnamed officer shot and wounded Simpson and Soofi during the May 3 attack, but that his shots did not kill them. It was members of a SWAT team who emerged a few seconds after the altercation began who ultimately terminated the suspects' lives, the Washington Post reported.
"The Garland police officer returned fire with his duty pistol and wounded both suspects," Bates said during a Monday press conference. "Within seconds, four members of the SWAT Tactical Response Team responded and also engaged both of the suspects, who continued their efforts to attack those at the location by retrieving additional weapons and ammunition."
He said that the SWAT team used assault rifles and duty pistols to kill both Sipson and Soofi.
"Dozens of rounds were fired by the suspects and the officers," Bates said.
Authorities later discovered that the suspects had three assault rifles, three pistols and hundreds of rounds of ammunition both on the assailants and inside of their vehicle.
Bates also said reports that the Garland Police Department had information before the shooting that Simpson or Soofi might attack the event were "not accurate."
"No one ... not the Garland Police Department, the FBI, the Texas DPS, nor any other agency had any information prior to the event that either suspect may target this event," he said. "No information was 'missed' or 'ignored.'"
The Muhammad cartoon contest was organized by Pamela Geller's American Freedom Defense Initiative.
(H/T: Washington Post)