An Oregon woman with an independent, handmade clothing line, whose top-selling product is a black tank top with the stripes of an American flag and the text "#MERICA" in place of the stars, is accusing Target of ripping off her design.
Melissa Lay, a stay-at-home mom, told KATU-TV she started her company Sandilake Clothing about a year ago. According to the company's website, Lay started designing screen-printed T-shirts because she couldn't find other clothing that fit her family's "fun and free-spirited lifestyle."
She started selling some of her designs on Etsy, but it was the #MERICA tank that really took off.
"[B]efore I knew it, everyone wanted one!" she stated on the website.
And Target appears to thinks so too.
KATU reported that a friend first alerted Lay to the similar design in a Seattle Target, and yet another sent her a photo of it in a Texas store. Lay herself sought one out in Clackamas, Oregon.
The news station reported that there are some subtle differences between Lay's tank and that being sold by the major retailer. Target's version features a more distressed design, lower quality fabric and a cheaper price.
Lay told KATU she was "blown away" when she saw the shirt in Target. On Etsy, her #MERICA design, which sells for $25, has more than 700 reviews with an overall five-star rating.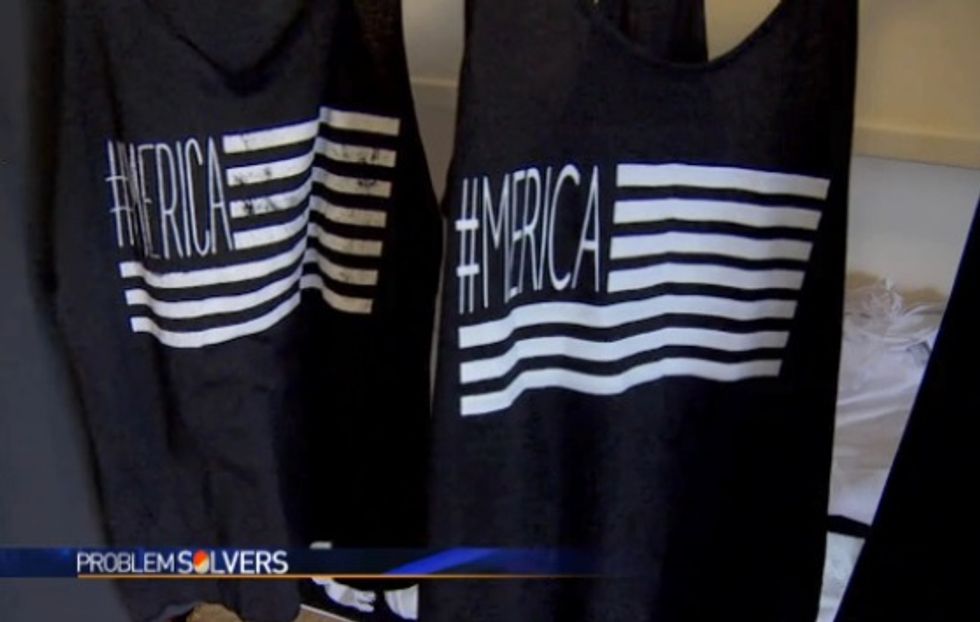 Target's design appears on the left and Lay's on the right. (Image source: KATU-TV)
In a blog post, Lay wrote that she was "shocked, confused, and frustrated when I discovered one of Sandilake's first five original designs available for sale in Target without my prior knowledge."
"Our #Merica tank grew this business and I couldn't be prouder of this design," she continued in the post. "It was created last year to inspire your 4th of July celebrations and patriotism in our great country. It exemplifies the American spirit of fun and freedom."
Lay said she was further disappointed when she saw the design in Target, a store she said she loved to shop at, because "it makes me look at their products differently."
"I won't be buying graphic T's because who knows if they're ripping off of other designers and artists," she wrote.
Lay said she contacted Target's corporate offices and was told she could file a complaint in the mail. But she told KATU she fears she would have to spend thousands of dollars if she were to fight the issue legally and she still could lose, not having a copyright on the design.
"I don't know what I'll do," the mom said at this point.
Target told KATU that it is aware of the issue and is reaching out to Lay.
Watch the news station's report:
Lay did not immediately respond to TheBlaze's request for comment.
(H/T: Buzzfeed)